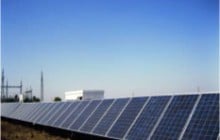 A 500MW solar auction in the Indian state of Gujarat, held by Gujarat Urja Vikas Nigam Ltd. (GUNVL) has seen a winning low bid of INR2.65/kWh (US$0.041), which is slightly higher than the previous major auction in Rajasthan that saw INR2.44/kWh.
However, several industry executives at the REI Expo near Delhi today told PV Tech that, despite the correction from the last auction, they were surprised at how low the prices were still and said they should have been far higher.
Gujarat has lower irradiation than Rajasthan and the last few months have seen greater uncertainties arise such as the GST tax additions and the looming threat of anti-dumping duties, which it seems many REI delegates are now expecting to be introduced. Questions remain about at what level they will be set.
Moreover, developers in this Gujarat auction will have to find and purchase land for themselves, unlike at the Rajasthan Bhadla solar park.
Jewellery firm GRT Jewellers put in the lowest bid of INR2.65 for 90MW. Meanwhile, state-owned firm Gujarat State Electricity Corporation (GSEC) won 75MW at a tariff of INR2.66/kWh and another state-run firm Gujarat Industries Power Company (GIPCL) also won 75MW at a tariff of INR2.67/kWh.
Major Indian PV player Azure Power also won 260MW at a price of INR2.67/kWh. PV Tech attempted to speak to Azure Power at REI about the prices, but the firm would not comment before an official company release is issued.
Executives at REI said the prices were risky given the various uncertainties and the projects will have to be carried out with no hiccups, such as delays, currency exchange fluctuations, land acquisition troubles or higher than expected anti-dumping duties.
Many felt that Indian solar tariffs are expected to come out at a fairly flat rate in the coming 12 months.