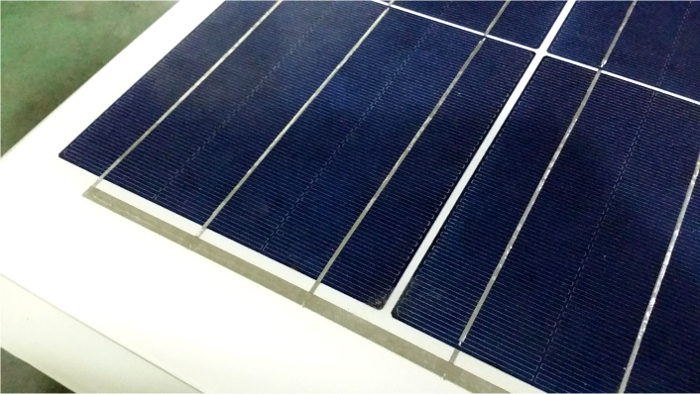 Shanghai HIUV New Materials Co has introduced a newly developed 'pre-crosslinking' EVA. The G401W EVA, part of a new G Series range is designed specifically for double glass PV modules with the aim of eliminating a series of issues encountered with conventional EVA materials in the lamination process.
Problem
Common problems resulting from white EVA encapsulant lamination are typically related to its overflow on the panels' internal components, formation of wrinkles on the EVA surface of the final laminate, and cell shifting effect due to the panel internal pressure after the EVA reaches its melting point. A controlled 'pre-crosslinking' effect, allows eliminating this problems in production giving the panel a high degree of well-defined appearance.
Solution
HIUV New Materials uses Electron Beam technology to crosslink plastic materials to improve product performance. Polymers chains are cross-linked in the same way it is formed in a common laminator at high temperatures, with the difference that polymer bonds are controlled before the material utilization in a so called 'pre-crosslinking' stage. The specially tuned EVA is therefore ready to be used by the module maker in order to laminate white double glass panels free of defects, according to the company. The mechanical characteristics of the G401W EVA have been specifically designed to solve glass bending effect happening in the laminator, so that there will be no bubbles formation on the edges or unfilled spaces due to EVA leaking. The high reflection rate of G401W EVA material is intended to provide a substantial increase in the overall power performance of PV modules with a typical gain against a conventional PV panel with a single backsheet of around 3W. The simplified processing procedure for double glass lamination also eliminates the need to prolong lamination time and increased productivity.
Applications
Double glass PV module lamination.
Platform
The ability to tune the material is claimed to eliminate all typical production defects allowing very high production yield rates. Additionally, PV modules adopting G401W can be laminated in very fast time and structure remains simple with a single layer of G401W on the cell back side, making it suitable for all the commercially available laminators. G Series EVA film G401W thickness is 0.58mm, width 970-1000mm, length per roll 150m; paper core inner diameter is 76.2mm. With Polyethylene bags sealing and carton boxes packaging.
Availability
Currently available.