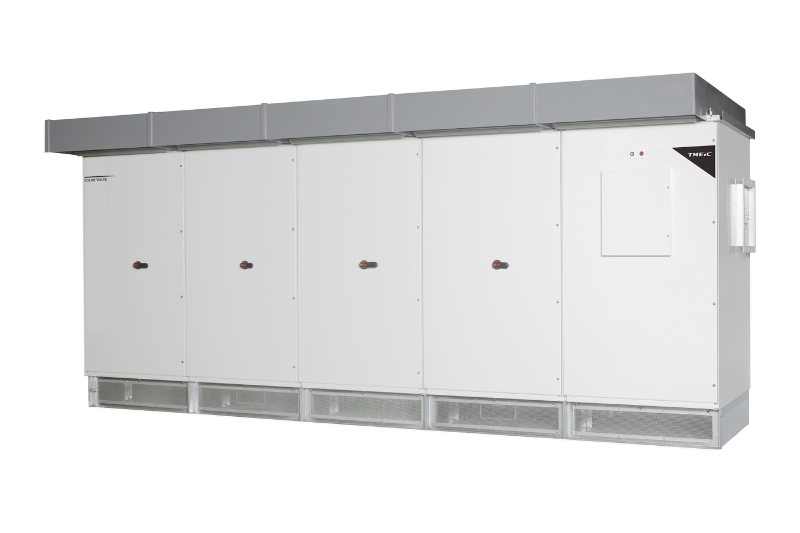 Toshiba Mitsubishi-Electric Industrial Systems Corporation (TMEIC) has started shipments of the newest inverters in the 'Solar Ware' 'Samurai' Series 1500VDC, 2700kW / 2700kVA central inverters. The Samurai's new thermal solution offers a cooling system designed for the desert environment, and offers an operating range of 50 ~ 950V.
Problem
A significant percentage of utility-scale PV power plants are located in regions that experience extreme climate conditions such as desert regions that are subjected to extreme fluctuations in temperature and potential hazards such as sand and dust. PV inverters are required to withstand such conditions and maintain high uptime.
Solution
The new 1500V Solar Ware inverter builds upon the Samurai Series patented multilevel inverter technology, which is claimed to achieve as much as a 56% of switching loss reduction offering maximized and optimized efficiency, with a wide MPPT range. The series also offers flexible DC-input configuration to meet complex array configurations and an advanced hybrid cooling system for desert environments. The inverter runs without fan operation up to 50% load. Heat-pipe cooling significantly simplifies thermal management, because it uses fewer parts and only a slow-speed fan with a heat pipe heat sink. The Fan-less mode runs when the inverter is below 50% load at 50°C. Natural convection provides necessary cooling. Cool air enters from the bottom, fl ows through the heat pipe, and hot air is exhausted from the top. The new Solar Ware Samurai 1500V inverter offers maximum efficiency of 98.8%. Built on decades of engineering experience in power electronics, Solar Ware inverters are claimed to offer the industry's most advanced grid management in an efficient, compact footprint.
Applications
Utility-scale PV power plants in harsh environments.
Platform
The 'Solar Ware' 'Samurai' Series uses an advanced hybrid cooling with the same physical size as the TMEIC1000V inverters. Reduced cable mass is used to minimize cost and enhance flexible plant design and required fewer combiner box and number of inverters.
Availability
April 2016 onwards.