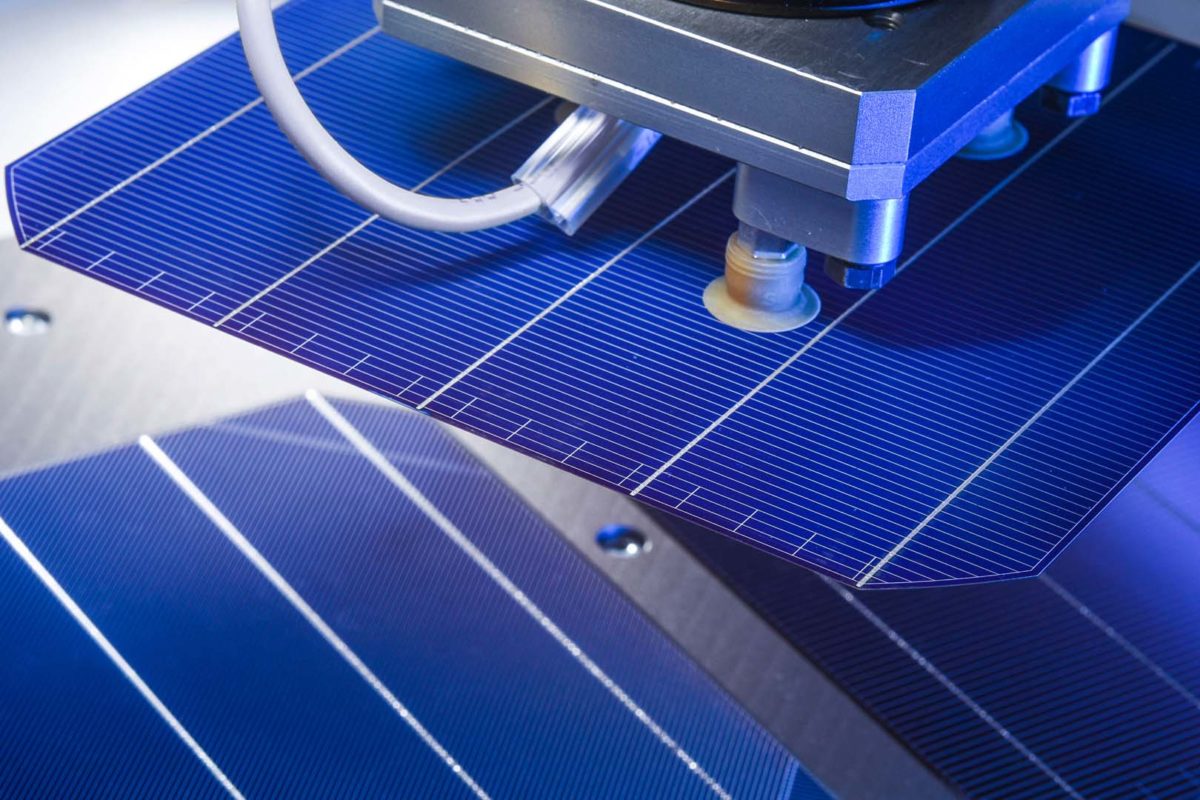 Technology investments into advanced PV cell manufacturing have been at record levels in the past few years, with high-efficiency concepts seeing investment levels not seen since the days of turn-key thin-film lines a decade ago.
The days of simply adding a new factory with mainstream p-type multi Al-BSF technology are long gone, having been the modus operandi of the PV industry as it moved from 10GW to 50GW per annum production levels.
Being comparable with mainstream production today is not an option anymore when designing new lines and factories for cell production. The question is more focused on: which n-type option should be chosen? Or: how can a 5GW facility move p-mono PERC production costs to levels no-one else can compete with?
This article discusses some of the reasons why the industry has changed radically in the past few years, in terms of cell production and technology, and outlines the topics and sessions to be covered at the forthcoming PV CellTech 2019 conference in Penang, Malaysia on 12-13 March 2019.
Cell technology China-investment drive
When we look at c-Si manufacturing today, we see polysilicon becoming a China-dominated activity, with the prospects for producers outside China very bleak now and getting worse. The only thing that is likely to prevent this could come from government support for local producers or an unexpected trade-war that favours non-Chinese produced poly. Otherwise, polysilicon supply to wafer makers (also in China) appears to be how the PV industry is set to play out over the next phase of its growth.
Similarly, wafer supply is also a China-operations today. There is simply no chance for a company outside China to compete with mono ingot pullers that have 20-30GW of capacity located in low-cost areas of China. If China was still multi-heavy (as it was when GCL-Poly led the way), then there would be a place for overseas mono production. Today however, this is not the case. Mono rules in China and before long, China will supply more than 95% of wafers to the PV industry.
Of course, the above has not come about by chance. This has been a country/state goal, and it has largely played out as hoped for. Indeed, relationships between leading multi-GW poly, ingot and wafer producers in China are not like any other country; collectively they have played together to create a situation where poly and wafer supply ends up fully in the hands of Chinese companies.
The reason for outlining the supply control of polysilicon and wafers is to build up a picture of what is driving cell production and technology today, and how this is impacting on the PV technology roadmap and the current fascination of all-things n-type.
Today, China is in the process of prioritising a few companies to be 10GW-plus pure-play cell producers (although for now each is still harbouring aspirations of global module supply). This is not too different to what happened before with polysilicon and wafers.
Almost regardless of the technology chosen, a 5GW cell fab in China (with the company having alignment with domestic wafer suppliers and cell/module leaders in China) basically destroys most cell production business plans of western companies in the solar industry today, unless there is true technology differentiation (such as SunPower or LG Electronics) or there are tariffs that level the playing field out in certain countries.
Overseas operations are then at the behest of China-money (Vietnam, Thailand, Malaysia).
The other major China factor impacting cell production and technology today comes from the funding that has been going into n-type variants, in particular heterojunction. Add in here n-PERT and the desire to add other upgrades such as passivated contacts, half-cut, singulated, shingled, bifacial, and multi-grids.
Then ask the question: What is the real PV technology roadmap!
In the past few years at PV CellTech, the event has been highly successful in offering a 2-3 year window into what project developers and EPCs will be confronted with at the module supply level. Therefore, PV CellTech 2019 looks like it has plenty of options to explain and make sense of.
Since the 2018 event back in March, there has been no shortage of ideas for PV CellTech 2019. Here is what we have come up with in terms of the session topics.
Morning Session 1: The cell production landscape in 2019: which technologies are really in mass production today?
This session will set out exactly which cell technologies make up the 100GW-plus being manufactured in 2019. This will involve looking closely at wafer supply, in particular mono wafers for n-type and p-type cell production, in addition to cell capacities and utilizations across the different high-efficiency segments making up the industry today.
Information presented will clarify exactly how much cell production is coming from p-mono PERC, new n-type capacities across n-PERT and heterojunction lines in China. Part of this will include what is available today for mono cell producers (both n-type and p-type) and how mono wafer supply levels are currently playing a key role in mono cell production levels.
Morning Session 2: Keeping both multi and mono p-type cells competitive in the market
During 2018, the PV industry has been equally supplied by multi and mono cell technologies, with mono set to be the market-leader in 2019. This contrasts hugely with the 70-80% market-share levels coming from p-type multi just a few years ago.
Both p-type mono and multi producers have been driving one another to increase cell efficiencies, where operating lines with improved yields, narrower distributions and lower production costs.
This session will hear from some of the multi-GW cell makers that have been instrumental in setting the benchmarks for cost/efficiency across both p-type mono and multi technologies.
Afternoon Session 1: Passivated contacts: what is needed for this process flow to become a mainstream offering in the PV industry?
The widespread roll-out of passivation layers on the rear side of solar cells (from p-type PERC, n-PERT and advanced HJT/IBC) has been instrumental to enable higher-efficiency process flow arrangements. While one of these is clearly the ability to access bifaciality, it has also stimulated production equipment upgrades to both improve passivation layer deposition, but also for passivated contacts, removing the need for laser openings on the rear layer stacks.
Moving to passivated contacts has, until now, been the domain of a small number of advanced n-type cell producers, but is currently been implemented by more mainstream segments of the cell production sector. Starting with n-PERT enhancements (potentially making this technology more differentiated and competitive with best-in-class p-mono PERC producers), the use of passivated contacts may soon see adoption across p-type cell producers, but much is still to be learned if this is really to happen.
This session will explain what passivated contacts are, where concepts such as TOPCon or poly-Si fit in, and what progress has been made so far to bring the upgrade technology to mass production. The presentations will also look at which equipment companies are best positioned to supply drop-in process tools, and what remaining challenges need to be overcome before passivated contacts become a standard, easily-adopted process flow stage for existing and new cell lines.
Afternoon Session 2: Heterojunction cell expansions: is 2019 to be a breakthrough year for Chinese HJT in multi-GW mass-production?
Investments into new heterojunction cell capacities in China can be considered among the most ambitious and disruptive technology threats to mainstream p-type offerings to the PV industry today. Furthermore, the potential performance levels have the scope to threaten existing premium n-type producers, including the only company that has a long track-record making heterojunction cells, Panasonic/Sanyo.
With many of the investments spanning the period 2017-2018, and lines being installed/qualified during the second half of 2018, it seems that 2019 will be the year when first mass-production results will be seen.
This session will focus on the companies seeking to drive new HJT production levels to the 5-GW-level in the next 12-18 months, what average cell efficiencies are coming out of mass production lines, utilization rates and production costs. The goal will be to determine how close these new entrants are to Panasonic-performance and best-in-class China p-type cost, throughput and utilization rates.
This also raises the question of whether heterojunction will re-emerge as the new platform for market-entry (or re-entry) strategies for funding in Europe or other non-Asia regions, especially if the highly-vocal plans from Enel and Hevel stimulate confidence that sufficient differentiation to Chinese n-type or p-mono PERC capacities exists.
Day 2: 13 March 2019: Morning Session 1: The rise of p-mono PERC: enhanced performance from cell-cutting, bifaciality, multi-busbar/grid-interconnects, copper plating, etc.
There is currently a wide range of upgrade options being pursued by p-mono cell producers, looking at getting the most out of the p-mono cell structure. This includes half-cut cells and singulated strips, 5-to-6 busbars, multi-wire interconnections, and many more efficiency-enhancing process flow changes.
During 2019, and likely into 2020, this will keep p-mono PERC based cells as the mainstream offering to the PV industry. However, what is the intrinsic limitation of the p-type substrate, and how can p-type mono compete if n-type expansions are proven to offer higher output yields with lower manufacturing costs?
This session will review the upper limit of p-type mono, indirectly providing the target metrics that n-type cells must satisfy before they can start taking market-share from p-mono PERC cell producers.
Morning Session 2: n-PERT and variants: benchmarking with state-of-the-art p-mono PERC and HJT/IBC mass production leaders
Multi-GW of n-type PERT lines have been added in China during the past few years, with many companies initially adopting process flows transferred from ECN (starting with the Panda lines installed by Yingli Green almost a decade ago).
Chinese new-entrants over the past few years that wanted to differentiate themselves from multi-GW scale p-type market-leaders typically chose the n-PERT route, as opposed to the more challenging HJT/IBC alternatives. For many companies in China, the goal was to emulate the performance of LG Electronics, but at China cost levels. This story began with Yingli many years ago, had a brief flirtation across non-China proponents in Korea and the US, and then returned to China a few years ago, largely viewing the success in production of LG.
Today, n-PERT producers are being forced to react to p-mono PERC advances, while seeking to approach levels seen from the higher-performing HJT cell platforms. In practice, p-mono PERC advances made the n-PERT investments look poorly judged. However, the reality was that n-PERT efforts had underperformed and needed to be market-leading in performance, not simply using any process flow that involved starting with n-type material.
With some of the leading Chinese cell makers still keen to add high levels of n-PERT based capacity in 2019, can this technology – through adding passivated contacts, multi-wire interconnections and other advanced features – emerge as a viable alternative that bridges the gap between state-of-the-art p-mono PERC and HJT/IBC cell types?
One difference to the non-HJT n-type plans in China during 2019 is the entrance of the major p-type producers, perhaps forced to show n-type pilot-line or GW-plans to the outside world and not wishing to consider HJT until there is more standardization with equipment and costs are better known.
However, while some of these Chinese companies have >5GW cell capacity, the truth is they are still somewhat novices to the high-spec, advanced cell arena with their p-mono PERC capacities coming after market-leaders such as Q-CELLS, REC Solar, SolarWorld and others paved the route for PERC into mainstream p-type production.
Morning Session 3: Advanced inspection, yield optimization and cost-controlling measures; maximizing the potential of high-efficiency cell production with the lowest production costs
A key challenge for many of the new high-efficiency cell concepts (from p-mono PERC to all n-type variants) is to ramp up production lines with optimized processing, so that the efficiency of cells produced can be predicted and controlled.
This is being enabled today through new inline inspection tools, modelling and feedback loops that can also troubleshoot process tool issues that could adversely impact performance levels. New factories in China are becoming more intelligent as a result of this.
This session will focus on how cell production lines can be optimized and what cost benefits are on offer through higher yields and uptime metrics. The role of inspection and yield optimization has moved to a new level in the industry today – especially in China. Government mandates to move away from legacy manual low-cost operations to fully-automated, true-fab-like manufacturing has created now a production climate that is ideal to move to line optimization through intelligent manufacturing. The use of advanced cell concepts only elevates the importance here.
Afternoon Session 1: PV technology roadmap I: the views of leading cell producers and materials/equipment suppliers
This session is the first of two parts (closing out the event) that focus specifically on the technology roadmap for the PV industry, looking at the next 12-18 months and then out 3-5 years.
Understanding the real PV technology roadmap has been a major challenge for the PV industry during its growth from 1GW annually to north of 100GW today. Even a few years ago, few predicted that p-mono cells would grow from 20% to 60% market-share, for example.
Existing roadmaps – and those shown by GW-level cell makers – are equally confused, with some simply thinking that moving from p-multi Al-BSF to hybrid HJT/IBC cell processing is something that will simply happen in the next 5-10 years as a matter of fact.
These forecasts fail to account for commercial reality of course.
However, with so many new concepts being championed and strong investments still flowing into technology-differentiated new entrants (often at the multi-GW level of capacity), it is now very important to know in which direction the industry will move, and which c-Si technology platforms may end up being side-lined, in exactly the same way that the industry bypassed a-Si and CIGS options several years ago.
The brutal reality is that when the industry moves from 100 to 200GW it is very unlikely this will see p-multi, p-mono, n-PERT variants, HJT and IBC all being mainstream options. GW-scale then will be niche and being a long voice at the GW-scale in a 200GW end-market may have marketing kudos but is a loss-making game.
Hearing the arguments from leading cell producers and key equipment/materials suppliers is essential though, as part of the overall technology roadmap for the industry. Whether there is alignment here is a different issue and is therefore a key output expected to be discussed during invited panel discussions following the roadmaps presented.
Afternoon Session 2: PV technology roadmap II: forecasts from third-party trade bodies and PV-Tech
How technology evolves in the PV industry remains the most-asked question, and it is fitting that PV CellTech now prioritizes this during the closing sessions of the event as a regular feature.
Many factors drive the roadmap, not simply what may appear as obvious to many or what the current market-leaders hope will unfold going forward. In the past couple of years, mono wafer supply has been the most important issue for the PV cell technology roadmap, effectively moving p-mono from 20% to 60% share-levels.
PV CellTech will therefore close with an interactive Q&A / panel-discussion. Knowing what to expect during the next 2-3 years in cell mass production has been the number-one reason most people have attended PV CellTech in the past: March 2019 looks set to be no different!
How to get involved in PV CellTech 2019
The March 2018 event was sold-out, and we expect March 2019 to be exactly the same. We continue to limit the audience, in order to ensure networking can be done best. The strong interest in the event now from the global cell manufacturing community is again allowing us to be selective in the range of companies needed to make the overall event work.
To attend the event, make suggestions on participation, or give some general feedback to the topics to be covered, please visit the PV CellTech 2019 website here.