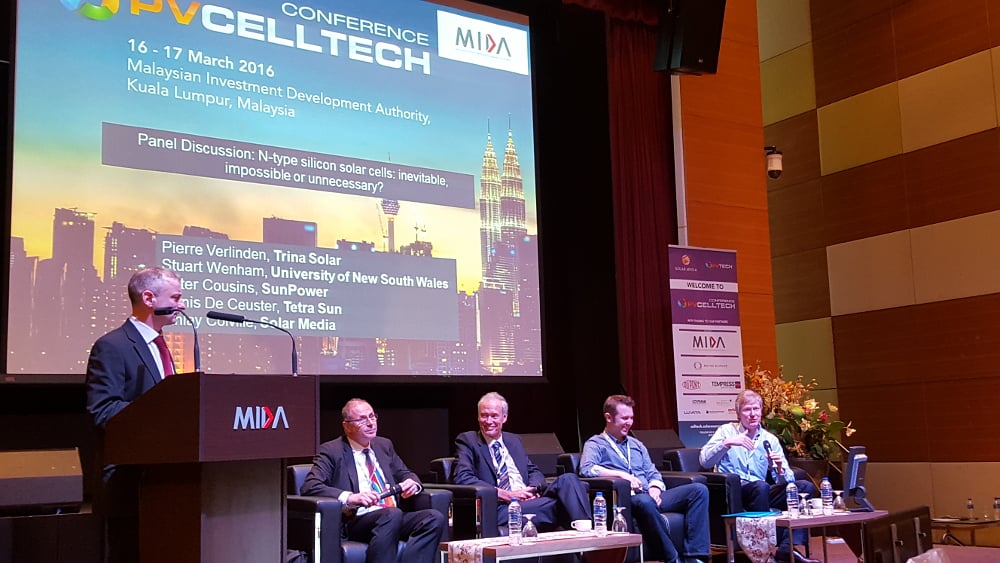 With the industry's leading PV manufacturing event, PV CellTech 2017, just a few weeks away on 14-15 March 2017 in Penang, Malaysia, PV-Tech took the opportunity to speak with the Chairman of the Technical Advisory Board, Finlay Colville, on what we can expect to learn from the event this year.
Thank-you Finlay for taking the time to talk with PV-Tech about the PV CellTech event in Penang in March. Before we get into the event for this year, what were your main takeaways from the inaugural event last March?
We had the idea back in 2015 to create a unique event in the PV industry that had been sorely missing: to invite the CTOs and Head of R&D from all the leading solar cell manufacturers to speak about their company's technology, roadmaps and challenges in mass production. It had been an event lacking in the PV calendar, with other events tending to be exhibition-based or highly academic in focus.
Last year's inaugural event turned out to be a great success, and we quickly discovered that almost everyone at the event agreed that this type of focused commercial stage for the industry had been missing all those years.
In addition to the top-20 cell and module manufacturers being present on stage, we also brought in the key supply-chain to the industry, through the leading wafer suppliers, and equipment, materials and gas companies that often work closely with the companies in bringing new process flows to fruition.
Lastly, we complemented this with the leading research institutes that are often pivotal in creating technology transfer platforms for companies to implement advanced cell processes into their factories.
How will the event be different this March in Penang, compared to last year?
This year, we have placed greater focus on bringing in some of the cell manufacturers, currently outside the top-10 in cell production, but are potentially going to have a big impact in 2017 and beyond. This includes for example presentations from Adani, Boviet Solar, Talesun, Sunpreme, Astronergy, and Indosolar.
We have kept our focus however on the major players influencing solar cell manufacturing and module supply trends, with CTOs and Head of R&D from JA Solar, JinkoSolar, Wuxi Suntech, Canadian Solar, Yingli Green and LERRI Solar among the leading Chinese headquartered companies giving keynote talks.
We know that China is having a strong impact on global supply and demand this year, as it did during 2016, but manufacturing is still a global industry. What about cell manufacturers from countries outside China?
Yes, this is very true and there are several aspects to this that we have factored into the final agenda at PV CellTech 2017.
We have talks from SunPower and SolarWorld for example that very much characterise the more mono-based focused of cell makers outside China. Also, when you factor in the talks from companies like Adani and Boviet Solar, we really are going to see how leading cell makers from the different regions are addressing the challenges of increasing efficiencies while lowering production costs.
Many of the cell makers are still highly dependent on wafer supply, and there has been increased focus by some mono wafer suppliers to take customers away from legacy multi wafer supply arrangements. How will CellTech cover wafer production and supply issues?
This March will see increased focus on the importance of wafer manufacturing. In fact, the opening invited keynote talk has been awarded to LONGi Green Energy, as this company has instrumental in making mono wafer supply a multi-GW low-cost and high-quality offering in the industry in the past few years.
Also, we have talks on diamond wire sawing, and black silicon solar cell manufacturing, with Canadian Solar's talk focusing on this very issue.
With several talks also covering n-type manufacturing, including heterojunction and bifacial production, the question of n-type wafer supply will certainly be debated and discussed in depth, and which wafer supplier can make the move to multi-GW n-type supply in the next few years.
You mentioned black silicon, which is being seen by many in the industry as the next move for p-type multi, but what about PERC?
Last March at PV CellTech, we had presentations from the top-6 companies doing high volume PERC production. This year, we are continuing and expanding the focus on PERC, and we have talks specific to multi PERC and also the latest results and plans from the leading mono PERC manufacturers.
Last year, many of the attendees left the event asking us: what after PERC? This year, we hope that answer will emerge over the two days.
What about thin-film? This wasn't a focus at last years event and since then we have seen First Solar in the process of moving from Series 4 to Series 6 panels and are committing record levels of capex over the next two years and the re-emergence of CIGS. How will PV CellTech cover thin-film companies?
Yes, this year we have dedicated one session specific to thin-film, to address this very issue. First, I will personally give a short presentation on the current status of thin-film manufacturing, providing metrics to benchmark technologies like First Solar's Series 6 against where we expect p-type mono and multi 72-cell module powers to be by the end of 2018.
Then we have a panel session, with personnel from the two leading thin-film producers, First Solar and Solar Frontier, on the stage.
I continue to see thin-film as a complementary technology in the industry, adding to n-type, p-type mono and p-type multi as different options to the market. Therefore, it is highly valuable to be reviewing them all during the two days at PV CellTech.
Finally, if you had to pinpoint a few key questions you would like answered once PV CellTech 2017 ends, what would there be?
There are many topics here, but a few would include: are the capacity expansions in Southeast Asia going to keep coming online for the next few years, and will some of the more contract-based companies be able to implement advanced cell processes like PERC and black silicon; where are we know on all the PERC announcements, in terms of fab utilization and expansion plans, and are people making PERC cells with competitive cost structures; is black silicon really going to keep p-type multi as the leading cell type for the next few years, or will there be a faster transition to p-mono or n-type than we are currently expecting; will manufacturing in India finally be a major driver in 2017 with Adani's new facility, and when will we finally see some of the Chinese companies break ground of overseas sites in India; and like my colleagues from last year, what next after PERC!
Thanks again Finlay, I think I share the sentiments of the entire industry in being excited about the event in Penang in March, and if we get answers to just a few of these critical issues, then we will all be much more educated on cell manufacturing and trends moving forward.
The PV CellTech event takes place in Penang, Malaysia on 14-15 March 2017. For more information on the event, the agenda and how to register, please follow this link.