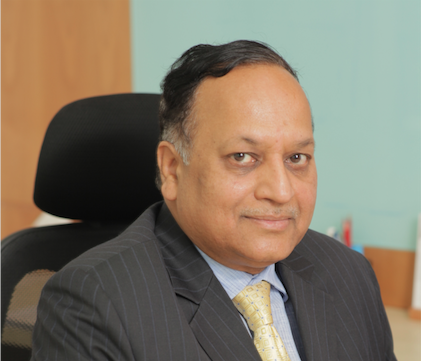 India's solar market had one of its first hiccups when module prices went up mid-way through last year and since then several more uncertainties have hindered progress. PV Tech caught up with Sunil Jain, chief executive and executive director of Delhi-headquartered renewable energy developer, Hero Future Energies, to discuss power demand, safeguard threats, module pricing and tender activity in India's utility-scale PV segment.
What is your take on the safeguard duty and potentially fresh anti-dumping threats looming over the Indian solar sector right now?
Sunil Jain: A 70% tariff could make tariffs go up by 1.5 rupees (US$0.023), at a time when the government wants cheap power. We believe that is not the right step for the market in the present scenario, especially considering that government is a signatory of COP21.
Having said that, the government is duty bound to represent the domestic industry and so there are two ways of protecting it. One is through anti-dumping measures, and the other is to incentivise the local industry through some investment incentives or cash incentives.
Some form of incentive for domestic manufacturers could negate the need for anti-dumping duties and allow PV tariffs to remain below three rupees. Continued low prices are important as India is going into a power surplus situation and states are less willing to buy expensive power.
Recent utility-scale auctions have seen a recalibration of tariffs and lower interest – for what reasons?
The Karnataka state bid, which was a district bid for 20MW projects each – to be very honest it surprised me. The prices should have gone even higher than that.
Firstly, the bids are coming out in an election year and you have to commission those projects within 12 months, to avoid political risk. That's quite a challenge in Karnataka considering the land issues and therefore it surprised me with people going so aggressive.
Secondly, there's no certainty of the pricing of the modules. I do not see module pricing going down substantially in the next 12 months, especially up to November, given that China has again committed to putting up another 45-50GW this year – their cycle tends to peak during the second quarter. So if people have to commission the projects by April next year, they have to start buying modules before November, when prices are still high.
However, with anti-dumping measures in the US against the Chinese, the market needs volume and the only volumes are coming from India right now. I'm not seeing any great volumes coming through in other markets except one or two Gigawatts here and there – that's all. Bigger volumes will come from India, China and the US, so definitely I see a slight dip in module prices from November onwards.
Secondly, the timelines were too aggressive and not only that, the module prices have not softened – they are still rolling around 32 cents. This on top of GST, anti-dumping fears etc. It was always going to be very high risk and I don't see how lenders are going to look at it. However, the industry has done well to send a message to say that these low tariffs are not sustainable in the long run unless there are low panel prices and low equipment prices.
Despite recent uncertainties, are you positive about the long-term trajectory over the next 2-5 years?
What government is doing is well directed, there is no doubt of that, but please understand what is the main issue – there is no power demand growth in the market. Ideally the elasticity ratio of energy to the GDP growth is almost 1-to-1. I believe it has fallen down to 0.8. That's the key issue and the reason why is that the Indian economy GDP is growing more as a service industry rather than a manufacturing industry. If you see the insurance sector, the BPOs, all that is going up. They are not power hungry. Power hungry is manufacturing. Once manufacturing takes off, the demand for energy will grow and therefore your demand for solar will definitely grow, because its such cheap energy.
Today what is happening is the Discoms are lapping up this energy because for 25 years they are getting it cheaper. They know the demand will go up and there are very few thermal power plants coming up – only ones that were already in the pipeline.
India is a large country and the prime minister's plan of 24/7 power for all by next year will give another pump for the consumption of energy.
So achieving 60-70GW of solar target – leave the rooftop aside – can be done, but please understand that any projects that have to be commissioned by March 2022, will have to be bid out by 2019 or latest by early 2020. Therefore, you need to bid out some 30-40GW of projects in next 2-3 years, which could be a challenge, but the ministry is doing a good job with several Gigawatts already announced and more to come.
What do you make of the withdrawal of NLC India's major solar-plus-storage tender, even after an auction took place?
We are as an industry very disappointed, especially on the storage front. A lot of tenders with storage have been cancelled and that does not send the right signal. My request to the government is that it will be good if they can do their homework and detail first and then only come out with a tender and whatever happens then it should be honoured. Otherwise I believe that the industry will not go anywhere. The industry is ready for storage but if there is no proper policy in place I'm afraid we will miss the bus.
Did you have interest in SECI's consultation on 10GW of floating solar?
We will look at it. 10GW is ambitious. Again it boils down to what is the tariff. If today you are struggling to buy power at 3 rupees, would somebody still offer 10GW of power purchase at 3.5 or 4 rupees? Floating solar is going to be more expensive.