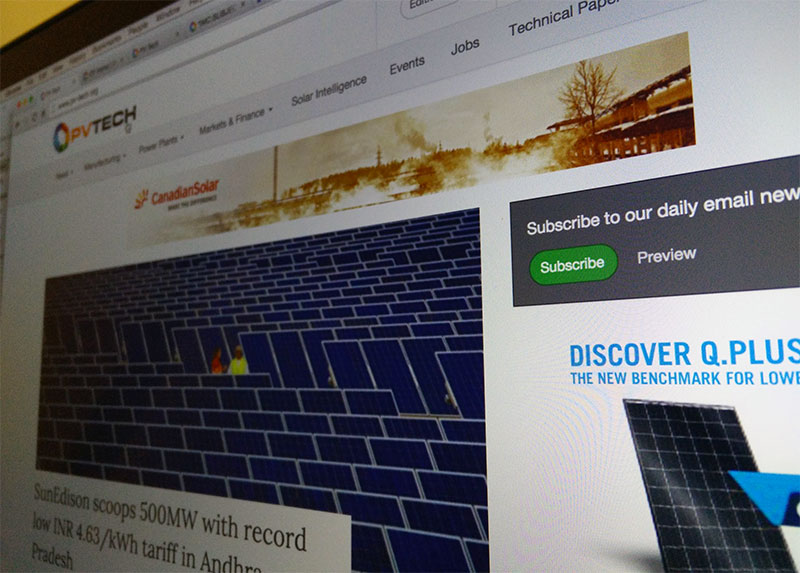 Solar Media is pleased to unveil the new-look PV Tech.
The site has been redesigned and enhanced based on extensive feedback from you, our readers, who told us you wanted more in-depth technical and analytical content, a clearer navigation and better usability on the move.
With those points in mind we have reworked the site's main navigation around three overarching topics – manufacturing, power plants and markets – that our analysis has shown are areas of greatest interest to you.
Within those umbrella areas we have created a number of new sub-sections, including off-grid solar, operations and maintenance, and storage, reflecting some of the emerging areas of interest for the industry. This enhanced categorisation of our content will enable more user-friendly browsing of the wealth of material on PV Tech.
The site also integrates for the first time the extensive in-depth articles contained in our quarterly print publications, Photovoltaics International and PV Tech Power. In addition to the full editions of these journals being available to download in full as before, the new site allows articles to be browsed and downloaded individually.
Another refinement is that the site is now fully responsive to use on smart phones, meaning you can now browse all our content on the move.
As always, we welcome feedback on what we're doing. If you have comments or queries, please contact us here.