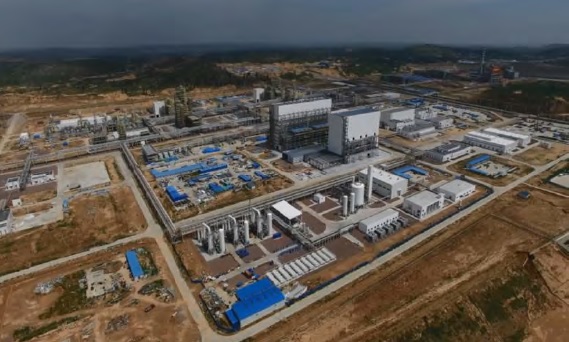 Polysilicon producer REC Silicon expects its FBR (Fluidized bed reactor) polysilicon production to decline 42% in the third quarter of 2018, after recently announcing further cuts in workforce and production at its Moses Lake facility that would operate at only 25% utilisation rates. The company noted that it was evaluating the possible suspension of all of its solar related materials business in the US.
In reporting second quarter 2018 financial results, REC Silicon noted that there was little hope of FBR production increasing in the US, while the US and China trade war continued. The company is targeting total polysilicon production at around 9,284MT in 2018.
President and CEO, Tore Torvund, said, "Although our semiconductor and silane gas business in Butte remains strong, it is regrettable that we had to reduce our headcount by 85 highly-skilled employees. Despite having the most advanced polysilicon manufacturing technology; REC Silicon has no access to the largest market for polysilicon in China due to the 57 percent duty imposed by China. We need the United States and Chinese governments to cooperate in ending the solar trade dispute between the two countries to prevent additional job losses and to enhance the value of the solar industry in the United States and China."
The company has also been beset with new challenges after the Chinese government cut support for downstream PV utility-scale and Distributed Generation (DG) power plants as the market overheated in the last two years, resulting in a decrease in polysilicon demand and a major price decline, just as its Yulin, China JV plant started to ramp production.
REC Silicon said that the Yulin plant continued to operate at reduced capacity utilization during the second quarter, having produced approximately 1,000MT of granular polysilicon during the quarter, compared to around 800MT in the first quarter of 2018. The company had a target of 8,000MT from the plant in 2018.
PV Tech has recently highlighted that with a slowdown in downstream PV plant building in China, many polysilicon producers in the country have reduced production and undertaking extended annual maintenance to limit ASP declines, until demand picks-up.
According to an investor note from ROTH Capital analyst, Philip Shen, approximately 30% of China's polysilicon capacity is currently idled, primarily through extended facility maintenance periods that could see capacity in July over 40% lower than it was in May, 2018.
REC Silicon noted that general market polysilicon ASP's had declined to around US$11.14/kg inside China in July, down from US$16.74/kg in April, 2018.
Polysilicon ASP's in China are therefore comparable with prices overseas.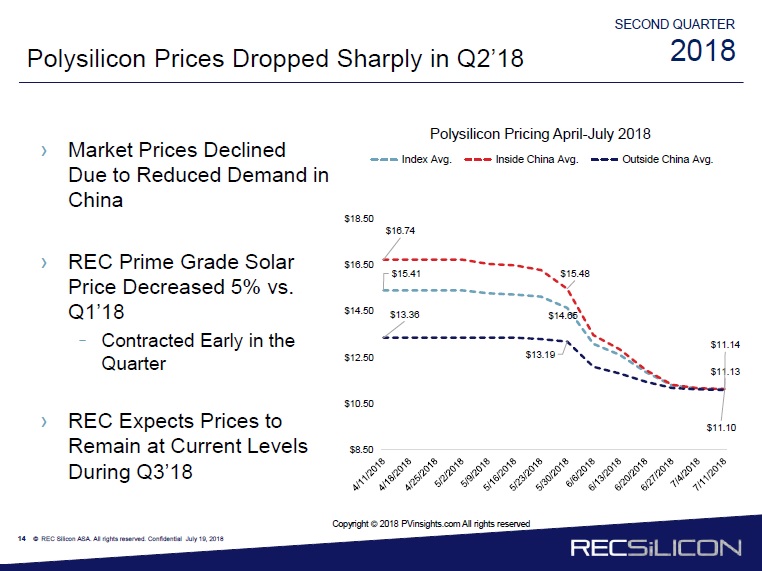 With FBR production cuts, REC Silicon's cash production costs were USD 13.4/kg at the end of the second quarter of 2018, compared to US$9.40/kg in the previous quarter.
As a result, FBR poly production costs are higher than ASP's and demand from Taiwan wafer producers, a key market for the company comes into question, especially since demand for Taiwan wafers wane in China.
Financial results
REC Silicon reported second quarter 2018 revenue of US$58.9 million, down from US$69.6 million in the previous quarter, 15.3% quarter-on-quarter decline. The decrease in revenues was primarily due to lower sales volumes of polysilicon which declined by 28.5% to 2,077MT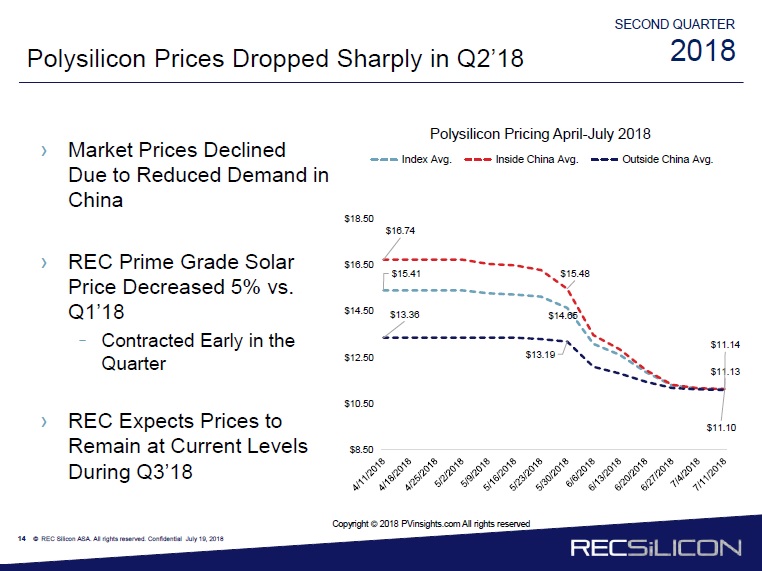 The company reported a net loss of US$9.6 million, compared to a net profit of US$14.6 million in the previous quarter.

REC Silicon also reported impairment charges of US$340.4 million, due to the market disruption from the curtailment of solar incentives in China, as well as continued trade barriers preventing sales in China from its US operations.
REC Silicon reported a cash balance of US$42.4 million, compared to US$69.6 million at the end of the previous quarter.