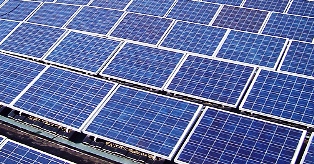 Canadian Solar subsidiary Recurrent Energy has announced that its 60MW Barren Ridge PV project in California has reached commercial operation.
The installation, also known as the RE Cinco project, provides electricity and associated renewable energy credits (RECs) to the Los Angeles Department of Water and Power (LADWP) as part of a long-term power purchase agreement.
Shawn Qu, chairman and chief executive officer of Canadian Solar, noted: "We are proud to work with LADWP to bring solar power to the city of Los Angeles and share their commitment to a clean energy future. This is the company's third US solar project to reach commercial operation this year, a milestone that would not be possible without the hard work and collaboration with our partners."
LADWP will use the PV energy produced by the Barren Ridge solar project to power over 25,000 homes in Los Angeles.
LADWP executive director of power system Michael Webster added: "We are committed to reaching 50% renewables by 2030, and this solar project plays an important role in reaching that goal. In addition, large-scale transmission line projects like our Barren Ridge Renewable Transmission Project facilitates a renewable energy hub that brings a thousand megawatts of wind and solar energy into the city of Los Angeles. By utilizing these new transmission lines and systems, LADWP is bringing renewable energy home."
The Barren Ridge plant, located in Kern County, California, began construction in fall 2015 and created 230 peak construction jobs.