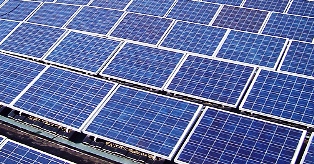 Canadian Solar subsidiary Recurrent Energy has signed off on a 20-year power purchase agreement for 45MW of PV power with Bay Area Rapid Transit (BART), the fifth largest public transit network in the US.
The BART Board of Directors approved the PPA on 7 December 2017.
The PPA, which stands as BART's first ever PPA for utility-scale PV power, was the result of a renewable energy procurement process that it launched in May 2017 as part of the organization's Wholesale Electricity Portfolio Policy. As part of the policy, BART is required to receive 100% of its power from renewable resources by 2045.
BART sustainability director Holly Gordon noted: "Utility-scale solar power is a vital part of cost-effectively meeting our sustainability commitments. It is very important to us to work with an experienced development partner like Recurrent Energy who will help us achieve our goals."
Power will be provided to BART from Recurrent Energy's 45MW Gaskell West 2 PV project in southern California. The project is expected to reach commercial operation in 2020.
Dr. Shawn Qu, chairman and chief executive officer of Canadian Solar, said: "Solar power is a perfect match for BART's commitment to using cost-effective and clean energy. We are proud to support BART's progress towards 100 percent renewable energy while also diversifying Recurrent Energy's customer base."