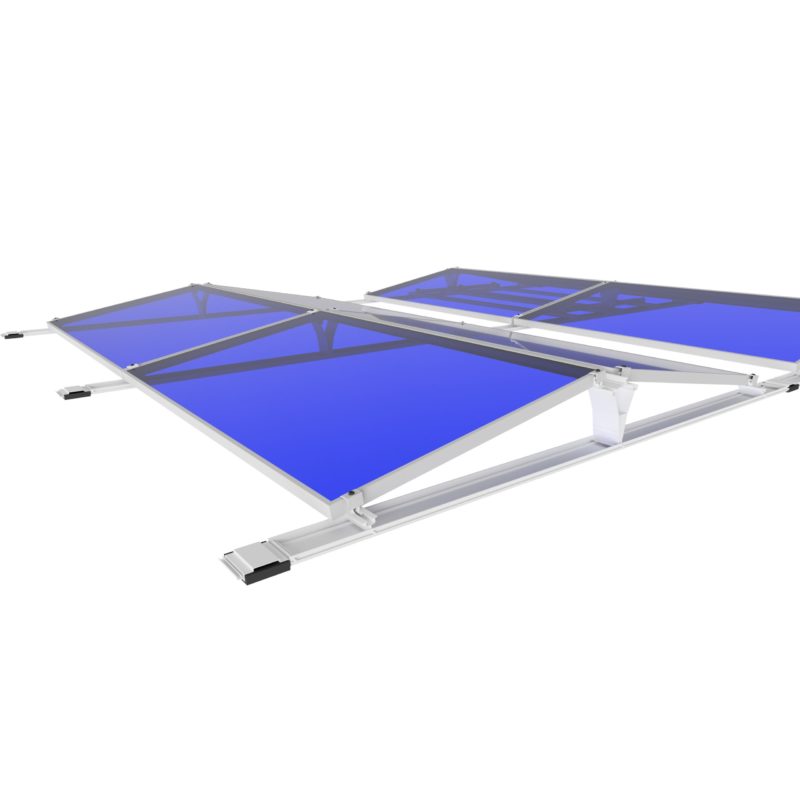 Renusol has introduced its optimized FS10-EW system for mounting photovoltaic systems on flat roofs without penetration. Thanks to the innovative screw connection and the lightweight but high-tensile design, modules with a 10° inclination with an east/west orientation can be easily installed on any flat roof.
Problem
Conventional systems with long rails may shift over time because they expand more when the temperature fluctuates and then slither down the slanted roof like a caterpillar.
Solution
The connectors of the new FS10-EW are able to absorb and offset any temperature expansion. In the new system, the screw joint between the rails and connectors does not need any nuts. The system requires just five main components and the standard Renusol module clamps, which makes mounting and storage very simple. The maximum rail length is 2.3 m. Fewer components and shorter rails provide advantages for wholesalers, while installers can mount the rails quickly and easily; for transporting components to the site; and also for installation operators, as the intelligent design rules out installation errors or re-adjustment.
Applications
The FS10-EW rounds off the FS10-S / FS18-S product series – the south-facing system for flat roofs which has been available since 2016.
Platform
The lightweight construction boasting a system area load of 1.2 kg/m2 without a module and ballasting, and the design optimized in the wind tunnel enables solar installations to be mounted on roofs with particularly low load-bearing capacities, where penetrating the roof membrane is undesirable. By calculating the ballasting for each individual project, either simply online using the Renusol PV Configurator or by the Renusol technical service on request, the system stability on the roof is guaranteed without compromising the statics.
Availability
April 2017, onwards.