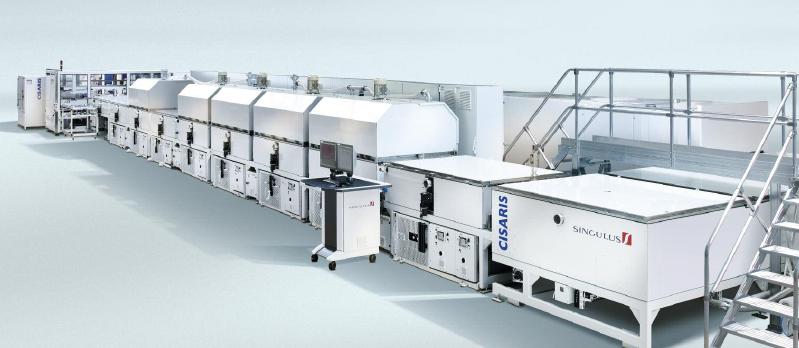 The revival of European thin-film manufacturing equipment suppliers in 2017 proved to be remarkable and more importantly is expected to continue through 2018 as the solar industry works through a wave of new orders, primarily from China, Malaysia and Vietnam.
New capacity expansions in CIGS (Copper-Indium-Gallium-Selenide) in both rigid (glass/glass) and flexible substrate format in China and CdTe (Cadmium Telluride) in the US, Malaysia and Vietnam, courtesy of First Solar transitioning to its large-area modules known as Series 6.
According to PV Tech's recent analysis of capacity expansion announcements in 2017, a total of almost 4GW of new thin-film production plans were revealed, up from just over 1GW in 2016.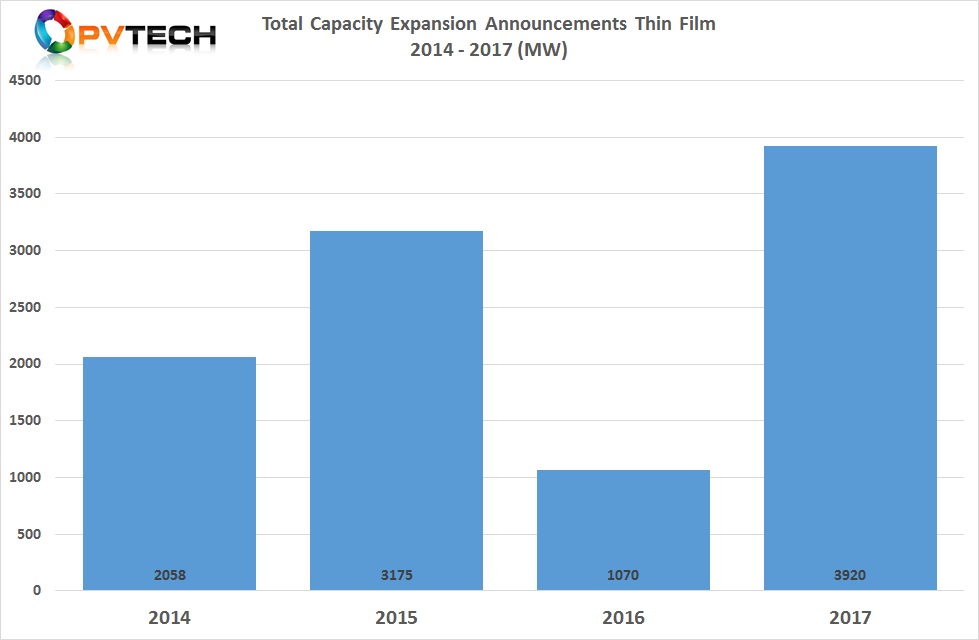 Since publishing the PV Tech's full-year report, Hanergy Thin Film Power Group (Hanergy TF) revealed in its 2017 annual financial report that it had created a completely new business model that provides new industrial parks in China a selection of a-Si, CIGS, GaAs and c-Si heterojunction (HJ) turnkey production lines to provide local governments, providing revenue from downstream programs and access to solar technology that could attract other hi-tech companies to new industrial parks.
PV Tech's analysis of new contracts reported by Hanergy TF highlights a total of 2,140MW of thin-film turnkey line orders in 2017 and a 600MW of silicon heterojunction production plan. Total equipment orders outlined in its annual reported reached 2,740MW.
Hanergy's previous acquisition of several former CIGS module manufacturers such as Solibro, Mia Sole and GSE meant that some of the tools were originally sourced from European equipment suppliers and as such could potentially benefit from Hanergy's new business model and potentially taking total thin-film capacity announcements past 6GW in 2017.
Manz AG
Recently, Manz AG reported record revenue which increased by 40.7 % to €325.0 million and importantly for the company a return to profitability. EBIT was €1.6 million in 2017, compared to a negative EBIT of €35.9 million.
New order volume at the end of 2017 reached €222.0 million. Manz is also working through providing tools and technology transfer with Chinese partners, Shanghai Electric Group and the Shenhua Group on a new production plant under construction and tools supplied in 2018 for production ramp in 2019.
Singulus Technologies
Singulus Technologies also turned around its financial position 2017, not least due to Chinese state-owned enterprise China National Building Materials (CNBM), owner of Germany-based CIGS thin-film manufacturer, AVANCIS. CNBM is building two CIGS production lines as part of potentially further expansions.
Singulus recently reported revenue of €91.2 million in 2017, a 32.6 % increase over the previous year. EBIT was negative by €1.2 million, compared with a negative EBIT of €17.4 million in 2016.
Dr.-Ing. Stefan Rinck, Chief Executive Officer noted, "In the business year 2017 we have improved our sales by more than 30 % and attained leading positions within the international competition in key segments of the photovoltaics market. Our company has grown again and we were able to further expand our business activities. We are determined to successfully continue this growth path in the current business year 2018 as well."
Singulus also reported that its order backlog at the end of 2017 stood at €106.7 million, slightly lower (€109.9 million) than the prior year. New order intake was €88.0 million in 2017, compared to €152.1 million in the previous year.
However, Singulus noted that it had already secured contracts exceeding €30 million in the first quarter of 2018.
The company guided that in 2018 it expected a significant increase in sales compared with the previous year. Sales are expected to be in a low triple-digit million euro range. The EBIT was forecasted to be positive in a mid-single-digit million euro range.
The main sales and earnings drivers are expected to come from its Solar segment business based on production lines for CIGS thin-film solar modules and shipment of contracted lines as per the schedule in 2018.
LPKF Group
Industrial laser systems specialist LPKF has been benefiting from First Solar's Series 6 transition, being the supplier of record for laser scribing tools. In its recently released 2017 annual report, the company cited a 48% increase in PV thin-film revenue. The company does not split out thin-film financials separately.
LPKF reported total revenue of €102.1 million in 2017 and a positive EBIT of €4 million, after small losses in 2016.
New orders reached €113.2 million in 2017, a 7% increase from the prior year. The company noted that its thin-film sales were set to continue and had added new flexible capacity to meet demand.
The company has also benefited from demand coming from China as well as First Solar, not least in launching a new laser scribing tool (Allegro) that was claimed to have more than doubled productivity.
Riber SA
Recently, Riber received a new order valued at over one million euros from Singulus for its Selenium linear evaporators required in CIGS production.
The company had previously received the same order in October 2016 from Singulus. The new order is expected to be delivered in the second half of 2018.
centrotherm
PV specialist equipment supplier centrotherm had also secured a number of sputtering systems tool orders for two turnkey CIGS thin-film facilities being supplied by Manz in 2017.
Its Photovoltaics segment order backlog stood at €140.906 million at the end of the first half of 2017, and its Thin film & special systems segment had an order backlog of €13.429 million, which included the CIGS tools for Manz.
However, other woes have meant the centrotherm is expecting to report lower revenue in 2017 than guided.
With new CIGS and CdTe manufacturing plants currently under construction and new capacity expansion announcements expected in 2018, equipment orders for thin film technology and revenue recognition through 2019, are assured.