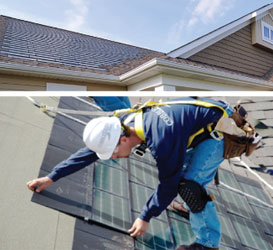 Updated: US-based PV installer RGS Energy has struck an exclusive deal with Dow Chemical to exclusively sell its third generation (3.0) solar shingles under the 'POWERHOUSE' brand said to use conventional crystalline silicon solar cells rather than the original CIGS (Copper, Indium, Gallium, Selenide) thin-film substrates.
RGS said that the exclusive domestic and international licensing agreement related to all commercial activities for the new product, including supply chain management, marketing, sales, installation and warranty.
"This enhanced POWERHOUSE™ 3.0 system comes at an opportune time," said Dennis Lacey, CEO of RGS Energy. "At an increasing rate, goals and targets are being set for renewable energy. Some localities are mandating solar for new build homes. Customers also increasingly want their solar installations to be an aesthetic and technical improvement integrated with a home renovation, rather than a hefty module that is bolted onto their rooftop. POWERHOUSE™ 3.0 solar shingles fulfills this need. We have been the POWERHOUSE™ solar shingles official warranty service provider since 2015. Given this familiarity with Dow and POWERHOUSE™ solar shingles, we are in a unique position to commercialize POWERHOUSE™ 3.0 solar shingles."
RGS also noted that the base assembly and electrical connector components were expected to continue to be made in the US by US-based companies, however for competitive reasons the solar laminate including the c-Si solar cells was expected to be made outside the US.
RGS expected UL product certification for the 3.0 product version during the first quarter of 2018, while accepting orders in advance of final written certification.
As a BIPV (Building Integrated Photovoltaic) product, RGS said it would also target the new build market.
RGS previously raised US$16.0 million of financial capital in the first quarter of 2017 to restart stalled installations and rebuild its direct sales channels business. According to SEC filings, RGS generated US$6.07 million in revenue in the first half of 2017, generating a net loss of US$8.06 million. The company needs around US$16 million in quarterly revenue to breakeven, according to SEC filings.
Financial terms
Following the press announcement, RGS said in an accompanying SEC filing that the licensing agreement was with Dow Global Technologies LLC. The terms included an upfront payment of US$1.0 million from RGS to the licensor due in 10 days from the signing of the agreement. This would be followed by a further US$2.0 million once UL or IEC certification (both required) has been granted. The second payment would due 30 days after the first certification from either body was granted.
An ongoing quarterly royalty fee amounted to 2.5% of the net sales price of each licensed product sold by licensee. The agreement was set for when the last patent on the product was set to expire to or last for 10 years after the first commercial sale or use of the products in any form began.
Dow Chemical was said to have only deployed around 1,000 POWERHOUSE installations across 18 US states since its initial launch back in 2009.