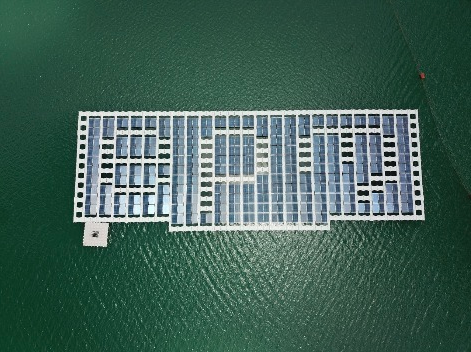 EPM installs Colombia's 'first' floating PV project
18 April: Colombian utility EPM has installed what it claims to be the country's first floating solar plant, standing at 100kW at the El Peñol reservoir.
The pilot project will test the technology and its fundamentals in comparison to ground-mount and rooftop systems. For this purpose, traditional solar panels will be installed on a roof at the Guatapé Central camp, under the same irradiation conditions.
EPM general manager Jorge Londoño De la Cuesta said: "With this pilot project we seek to verify if the floating systems of solar panels have an energy performance of more than 10% or 15% compared to traditional systems on land or in the roof, thanks to its proximity to water, which allows them to be more refrigerated and take advantage of the greater radiation from reflection in the water."
The pilot solar park has 368 panels and is located near the collection tower, so as not to interfere with the dam in its role as a tourist attraction. The plant has been set up across two 50kW modules and is expected to generate approximately 145MWh of electricity per year.
Last September, Innova Capital Partners and French floating PV specialist Ciel & Terre (C&T) also agreed to jointly develop floating solar plants in Colombia. C&T has already completed Brazil's first floating solar project.
Iran's South Khorasan Province gets first 10MW solar project
18 April: The first solar power plant in South Khorasan Province with a capacity of 10MW has been constructed by Aftab Taban Desert Company in the city of Khusf, according to SATBA.
The project required investment of €14 million, 100% of which was provided by a foreign investor from South Africa.
Clenergy bags orders form Japan, Vietnam and Thailand
18 April: Clenergy this year has secured orders to install a 50MW project and a 53MW project respectively in Kagoya and Sendai Highlands, Japan.
This follows a 69MW order from Vietnam and a 5MW order from Thailand.