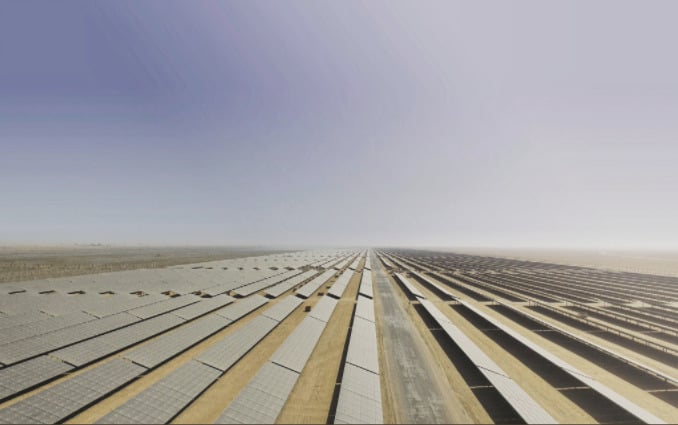 UPDATED: Saudi Arabia's Renewable Energy Project Development Office (REPDO) has shortlisted local firm Acwa Power and a consortium led by Japanese conglomerate Marubeni Corporation to develop 300MW of solar PV in Sakaka, Al Jouf.
Last October, REPDO's bid opening ceremony drew a world record low bid of Halala6.697/kWh (US¢ 1.78567) from Abu Dhabi Future Energy Company (Masdar) and EDF Energies Nouvelles. Meanwhile, Acwa bid significantly higher at around US¢2.342/kWh and Marubeni bid at US¢2.66/kWh.
At the time commentators noted that the large gap of more than 0.5 cents between the top two bids perhaps denoted strong regional competition, with Abu Dhabi-based Masdar trying to gain favour over local firm Acwa Power. However, the Saudi government also made it clear that each bid would be thoroughly evaluated for compliance with the requirements of the RfP including local content mandates before the final shortlisting.
Thus, REPDO announced on Thursday night that Acwa and Marubeni along with its consortium members Khaled Ahmed Juffali Energy & Utilities Limited and Axia Power Holdings BV are the two frontrunners to develop the Sakaka project as part of Round 1 of the National Renewable Energy Program (NREP).
The project will be officially awarded later this month backed by a 25-year Power Purchase Agreement (PPA) with the Saudi Power Procurement Company (SPPC). Meanwhile, the deadline for financial close of the Sakaka project is February this year.
REPDO stated: "All eight bids that were submitted have been subjected to a detailed evaluation of material compliance to RFP requirements, including the 30% local content component for Round 1 NREP projects. All companies that have submitted bids for R1 Sakaka PV RFP are invited to participate in future projects of the NREP."
Article updated to clarify that Acwa Power and Marubeni have been shortlisted separately.
PV Tech published a detailed analysis of the record low bidding in October last year noting that these tariffs are on an LCOE basis and looking at the financial backing behind both Acwa Power and Masdar.