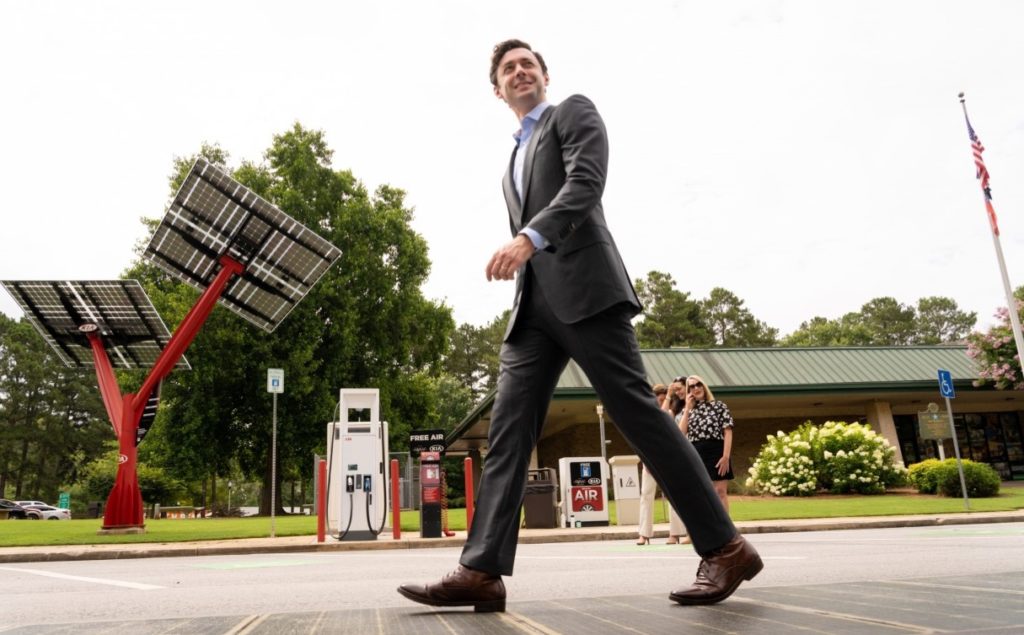 Establishing domestic solar manufacturing across the whole supply chain in the US is a national security issue because the country has become so dependent upon Chinese-made PV products, US Senator for Georgia Jon Ossoff has told PV Tech Premium in an exclusive interview.
"We've become heavily dependent upon Chinese supply chains, which is a national security risk and introduces the prospect of tainted polysilicon produced potentially with forced labour in Xinjiang province," said Ossoff.
"The United States allowed Chinese dominance of multiple energy and national security-sensitive supply chains, and the advanced energy industry is a geostrategic sector.
"I want to emphasise that this is crucial to US energy independence, energy security and national security, and the United States needs a robust industrial base in these strategic sectors. Instead, we had become and have become reliant on Chinese supply chains and value chains."
Senator Ossoff has been highly proactive in pushing for a solution to these issues, having written the Solar Energy Manufacturing for America Act (SEMA), which was passed into law in August last year, establishing incentives at every stage of the solar value chain for each unit of polysilicon, wafers, cells and modules produced within the US.
The purpose of this legislation was to bring industrial capacity to the US and specifically to attract it to the state of Georgia as a hub in advanced energy, manufacturing and innovation. The senator noted that when he first introduced the legislation it was considered "a long shot" but there were enough crucial factors for it to pass.
Ossoff's comments come a month after the largest clean energy investment in US history was announced by South Korea-headquartered PV manufacturer Qcells, with US$2.5 billion on the table for a 3.3GW ingot, wafer, cell and module manufacturing plant in Bartow County, Georgia.
After taking office, the senator aimed to build on Georgia's existing strengths given that the state already hosted the largest solar module manufacturing facility in the western hemisphere, the Qcells 1.7GW module assembly facility in Dalton, which is now being significantly expanded. Georgia also has a unique logistics capability with the Port of Savannah and Hartsfield Jackson International Airport as a hub for these supply chains.
Reflecting on the impacts of SEMA, which was included in the broader Inflation Reduction Act (IRA), Ossoff said: "My legislation is having precisely the impact that I'd hoped, which is we've seen billions of dollars of solar capex committed to Georgia, which would not have been committed except for these incentives. And there's a real possibility that on the basis of my legislation, the US could build for the first time a fully integrated solar value chain, anchored right here in Georgia."
Building relationships for Georgia's advance energy future
The senator has been actively building relationships with the business leaders who can make such investments. After being elected, he led his first trade delegation to Korea where he met with the leadership of Qcells to discuss solar production in Georgia, the Hyundai chairman about the importance of expanding electric vehicle manufacturing and the SK chairman on opportunities to expand heavy lithium-ion battery production.
"That outreach and the legwork that my team and I have put into building private sector relationships, selling the state of Georgia and then creating a policy environment that is conducive to those investments is why we are now where we are," he said.
That team is maintaining constant contact with a range of clean energy sector firms who are interested in bringing business to Georgia, and work is being done to fund research capacity and underlying infrastructure for such developments. Tellingly, in November 2022, lithium-ion Gigafactory company FREYR Battery chose Georgia for its planned US production facility.
Having brought together Republican and Democratic officials and leaders in academia, the private sector and the energy sector to plan Georgia's future in hydrogen energy, the senator has also appropriated funds to expand advanced hydrogen research at the Georgia Institute of Technology.
Due to confidentiality, Ossoff was not able to share details of any forthcoming clean energy investments in the state, but he said he was "optimistic" about attracting substantial new investment.
Anti-dumping and domestic content
Last December, the US Department of Commerce clarified its position on the anti-dumping and countervailing duty (AD/CVD) investigation, saying it would allow the import of modules manufactured in third countries using Southeast Asian-made cells.
"The trade-related difficulties just demonstrate the need for the United States to develop our own industrial base in the sector," said Ossoff.
The US solar industry is also waiting for guidance to clarify what specific equipment will be classified as 'domestic content' which is necessary to gain bonus tax credits or 'adders' for using American-made products in PV projects under the IRA. This is one of the most talked about issues in the industry today.
"I'm sensitive to the patience of the industry to get the Treasury Department guidance as soon as possible," said Ossoff. "I want that to be done as expeditiously as possible so that producers have certainty about the economic environment."