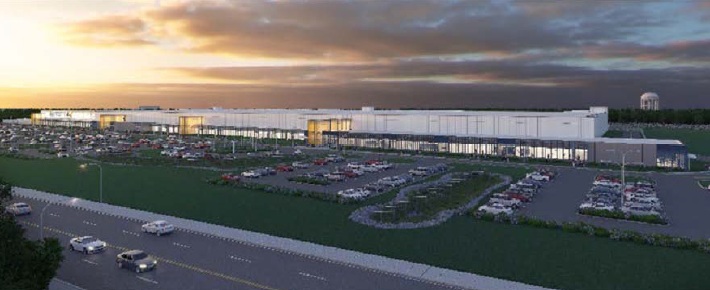 Panasonic's solar manufacturing deal with Tesla at the former SolarCity 1GW solar cell and module assembly plant at RiverBend, Buffalo, New York State, which was recently renamed Gigafactory 2 by Tesla is to be ramped to its 1GW nameplate capacity exclusively by Panasonic in 2019.
Initial production of solar cells at Gigafactory 2 for Tesla's new roofing tiles product range is still expected to be operational in the summer of 2017, according to Tesla's annual financial report for 2016.
The wording in the financial report regarding Panasonic's role at Gigafactory 2 indicates that Panasonic's high-efficiency HIT (Heterojunction with Intrinsic Thin layer) cells and modules would be ramped to its 1GW annual capacity, beginning in 2019.
'This agreement provides that Panasonic will manufacture custom photovoltaic (PV) cells and modules for us, primarily at Gigafactory 2, and that we will purchase certain amounts of PV cells and modules form Panasonic during the 10-year term, with the intent to produce PV cells and modules totaling approximately 1 gigawatt annually beginning in 2019.'
PV Tech recently highlighted a number of known unknowns regarding the Tesla/SolarCity/Silveo/Panasonic solar manufacturing relationship and specifically the role (if any) of the Silevo cell technology that was initially planned to be produced at the facility and formed the key contractual obligations between SolarCity and with the Research Foundation for the State University of New York that would be responsible for the construction and equipment investment totalling US$750 million by New York State.
Simply put, the Buffalo facility in its current footprint would not be able to produce both the Silevo and Panasonic cells and modules at 1GW capacity levels.
However, the nail in the coffin for SolarCity's Silevo technology adoption can also be found in Tesla's annual report and does not leave much room for misinterpretation.
'As of December 31, 2016, the Company determined that the two remaining milestones will not be achieved by Silevo. As a result, the Company changed the estimated probabilities and adjusted the accrued contingent consideration balance to $0, for the two remaining milestones.'
Accordingly, the Company recognized a gain of $84.0 million, which is included as an offset to general and administrative expense.'
Silevo had three key milestones to meet for its investors to receive full remuneration of the US$200 million all stock transaction that stood at a further US$150 million in respect to milestones. SolarCity said at the time that the change would relate to Silevo investors that reside outside the US (China).
The revised acquisition terms between SolarCity and Silevo included the following:
1. Silevo completes a new research and development production facility in the US that is capable of volume production with target efficiency requirements.
2. Silevo achieves both volume production with target efficiency requirements an at the R&D facility, while also completing and commissioning its first 1GW facility.
3. Silevo achieves volume production with target cost and efficiency requirements from the 1GW facility, all before December 31, 2017.
Initially, payouts were planned in two 50MW ramp phases at US$50 million a phase, and a final US$50 million in earnings for a 100MW production ramp and production cost level (undisclosed) by 2016.
SolarCity noted that it had agreed to fund Silevo's planned capacity expansions according to the revised plans, while all three phases of the earn-outs were now fixed.
With the two remaining milestones cancelled as well as the payouts, speculation over the Silevo involvement in Gigafactory 2 can be put at and end.
Separate SolarCity financial filings also reveal that its headcount declined by almost 20% by the end of 2016, which included manufacturing job losses. These would possibly relate to Silevo's 100MW pilot line in Fremont, California, which is related to the first of three milestones related to the acquisition terms and conditions set by SolarCity.
With Panasonic investing its own money in Gigafactory 2 and responsible for supplying 1GW of solar cells and modules per annum in 2019, Tesla is potentially liable to pay financial penalties to the NY Research Foundation.
According to Tesla's annual report:
'Although we continue to remain on track with our progress at Gigafactory 2, our expectations as to the cost of building the facility, acquiring manufacturing equipment and supporting our manufacturing operations may prove incorrect, which could subject us to significant expenses to achieve the desired benefits.'
Tesla's annual report highlighted that:
'If we fail in any year over the course of the term of the agreement to meet these obligations, we would be obligated to pay a "program payment" of $41.2 million to the Foundation in such year.'
It remains unclear at this time if these clauses can be amended or whether Tesla would be obliged to pay $41.2 million every year of the 10 year agreement.