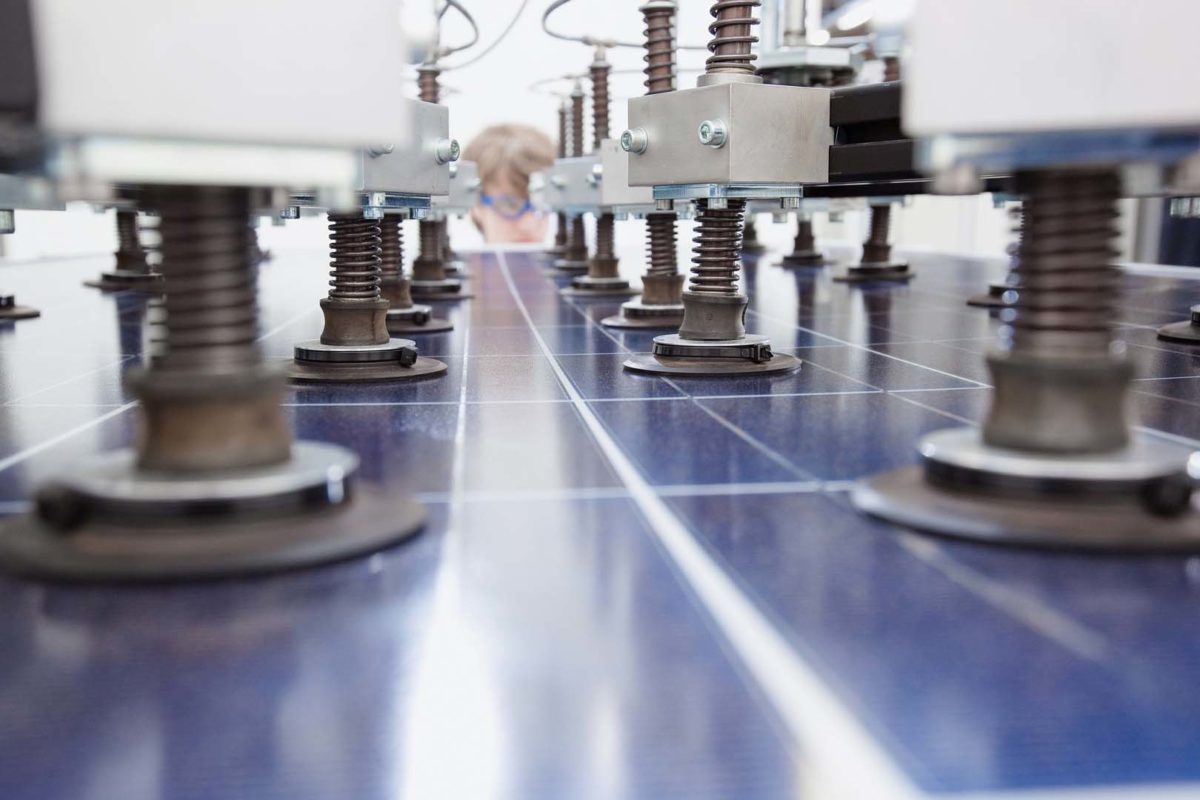 The big-six c-Si module suppliers in the solar PV industry today – Canadian Solar, Hanwha Q CELLS, JA Solar, JinkoSolar, Trina Solar and Yingli Green – collectively known now as the 'Silicon Module Super League' (SMSL), are forecast to increase market share again in 2016, taking their collective market share of global module supply to almost 50%.
New research undertaken by the Solar Intelligence research team, within PV Tech's parent company Solar Media, has now fully modelled out the expected capacity, production and shipment forecasts for each of the SMSL companies to the end of 2016. This includes in-house effective and annualised capacity levels across the upstream value chain, in-house production levels, outsourcing and OEM supply, and final module shipments by quarter.
The analysis includes the current and guided in-house capacity upgrades, debottlenecking, line efficiency enhancements and new fabs (often located across Malaysia, Thailand and South Korea), out to the end of 2016.
The full results will be featured in our forthcoming PV Technology & Manufacturing report, due for release in January 2016.
Further inputs have been obtained through our extensive research, as part of our inaugural PVCellTech conference, on 16-17 March 2016 in Kuala Lumper, Malaysia, which will feature technology overviews from the SMSL players, in addition to key stakeholders driving current and next-generation c-Si cell technology in volume manufacturing.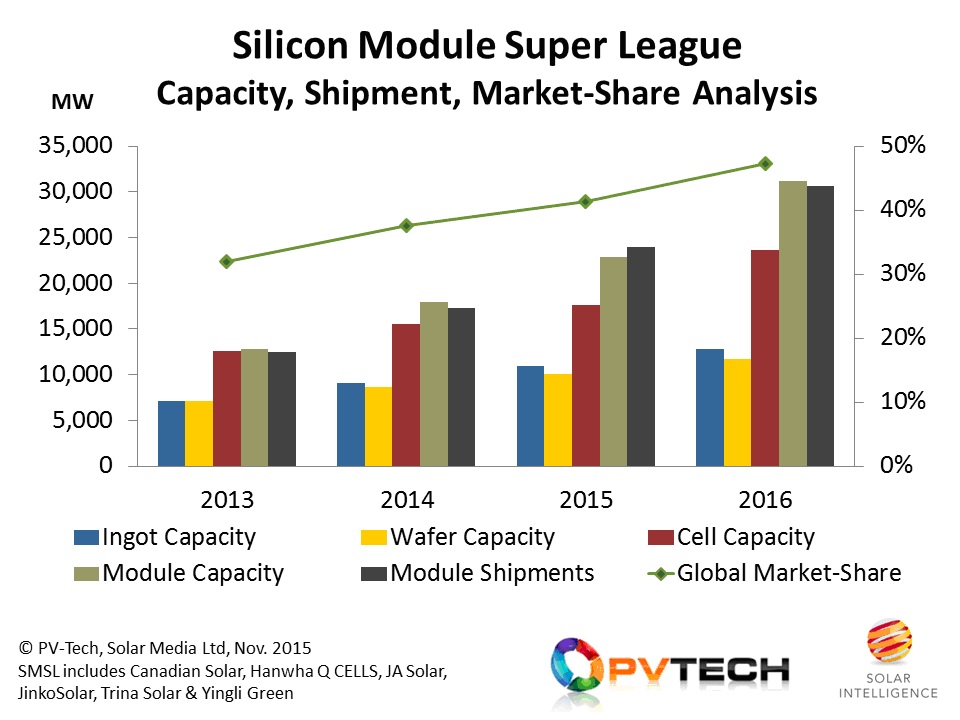 Shakeout and consolidation for real now
The solar industry has gone through various alleged shakeout and consolidation phases during the past decade. But the current push by the SMSL big-six c-Si module suppliers is now ushering in a shakeout that is far more real, more relevant, and is now set to reshape solar cell manufacturing in a way not seen before.
Previous shakeout phases have largely been of an academic nature, when considering end-market supply. Often shakeouts before were compilations of companies that were simply at the start-up funding stage, or had adopted technologies (often thin-film) that were never ramped into volume production nor had any actual effect on market supply dynamics.
Now the shakeout and consolidation is for real, as would fully be expected when considering that just six c-Si module suppliers are being forecast to meet almost 50% of global demand next year.
From a pool of several hundred module suppliers, even those in somewhat zombie mode, the prospects of competing with companies shipping 5-6GW of modules annually, as part of diversified third-party/in-house supply channels via global sales outlets, are limited at best.
While a number of module suppliers (often in China, Southeast Asia or Europe) are holding on to OEM or tolling business, courtesy of the SMCL big-six, this has to be considered a short-term play that will ultimately result in exit from the industry. Indeed, as increased capacity comes online outside China (not through OEM partnering) by the SMSL, then the need for OEM supply will finish.
We are now forecasting the big-six SMSL to ship more than 30GW in 2016, through a mix of in-house and OEM supplied cells and modules. For clarification, the 30GW is a non-GAAP definition, far better aligned to examining the real issues at large with production and supply. Indeed, the 30GW forecast is assuming that the one company yet to report/guide during the current round of investor calls – Yingli Green – sees no meaningful year-on-year increase in non-OEM shipments.
During the next couple of weeks, we will feature more top-line findings from our research activities on the SMSL, including technology and capex forecasts for 2016, in addition to the split between in-house and outsourced component supply across the value-chain and the split between cells produced within and outside China.
The six SMSL members are all presenting at the PVCellTech conference in Malaysia in March, 2016. Further details here.