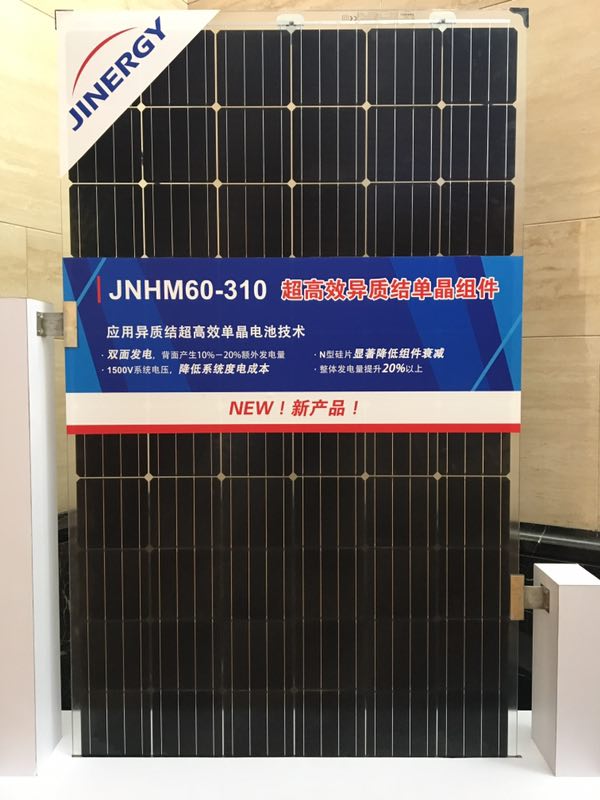 High-efficiency PV module manufacturer Jinneng Clean Energy Technology (Jinergy) said it would be starting mass production of its N-type monocrystalline bifacial heterojunction (HJ) modules, which were showcased at its Technology Developer Forum ahead of SNEC 2017 in Shanghai, China.
The new bifacial HJT module is said to use solar cells with conversion efficiencies of around 23%, featuring excellent performance in weak light, leading temperature coefficient of -0.28%/℃, and ultra-low degradation with N-type silicon wafer substrates. The module also benefit from an efficiency gain of between 8%-20% due to the bifaciality, depending on the albedo surface reflecting light to the back-side cell.
"Compared with other ultra high-efficiency solar cell, HJT solar cell is manufactured in less procedures," noted Dr. Liyou YANG, general manager of Jinergy. "We hope to cut the cost through breakthrough of key technologies and mass production. Currently, mass production cost of HJT module is US$0.7/W and Jinergy aims to reduce the cost to under US$0.4/W within three years."
Jinergy expects to enter volume production at its module manufacturing base in Jinzhong, Shanxi Province, China in 2017.