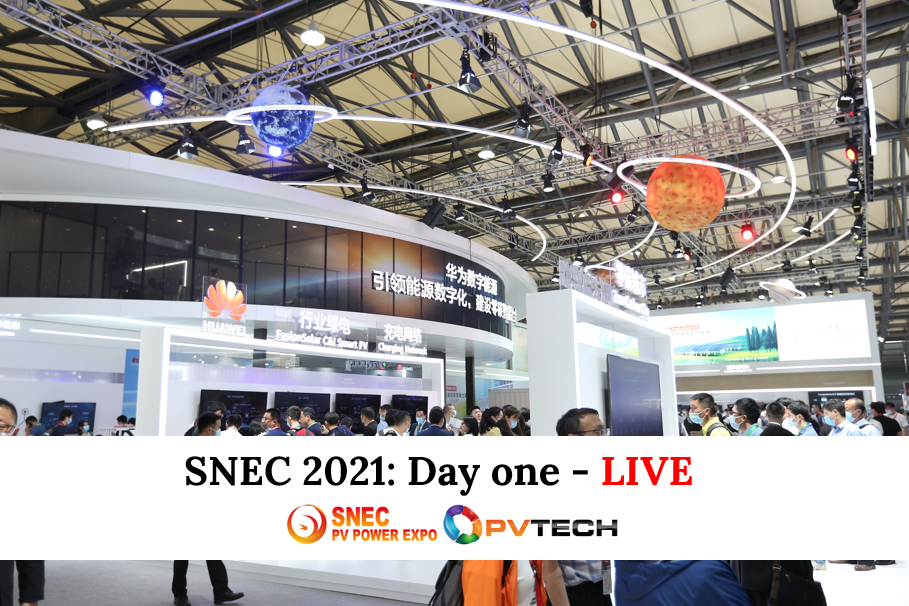 Welcome to PV Tech's live coverage of the SNEC PV Power Expo 2021. PV Tech will be reporting live from the exhibition floor in Shanghai, bringing you exclusive video interviews, product demonstrations, insight, analysis and much, much more.
Over the coming days, PV Tech's China-based editorial team will be interviewing some of the industry's leading companies and most influential figures, discussing new technologies and products as well as the main topics of discussion within the industry.
This story will be updated throughout the day, so be sure to check in regularly as PV Tech provides you live coverage from SNEC 2021.
For our readers in mainland China, the above video can be accessed via YouKu by clicking here.
---
01:30 CST / 17:30 BST / 13:30 ET – End of day one
And that concludes our live coverage of SNEC 2021 day one. It's been a fantastic day full of expert insight and analysis of some of the industry's key themes and hurdles, and we've also witnessed some of the best, most cutting-edge technology the industry has to offer. We're thoroughly looking forward to day two tomorrow.
All of our interviews can be seen below, but for quick access there is a list below. For our readership in mainland China that cannot access YouTube, all interviews will be uploaded to YouKu and shared shortly.
01:15 CST / 17:15 BST / 13:15 ET – Eco-friendly manufacturing
PV Tech speaks to Guifu Zou, director of wafer, cell and module manufacturer LDK Solar's R&D centre, to learn about how the company aims to reduce the power consumption of solar manufacturing by up to 20%.
01:00 CST / 17:00 BST / 13:00 ET – LDK Solar product launch
One of the early stalwarts of the solar industry, solar wafer, cell and module provider LDK Solar is currently undergoing something of a renaissance and is firmly in the 210mm camp. The company hosted a new product launch earlier today, and PV Tech was on hand to get all of the details.
L-R: The product launch ceremony held at LDK Solar's booth earlier today, which attracted quite a crowd. Guifu Zou, director of LDK Solar's R&D centre, then spoke to PV Tech. All images copyright PV Tech.
00:10 CST / 16:10 BST / 12:00 ET – Yingli's booth tour
The video below includes a whistle-stop tour of Yingli's booth this year, and there are also some pictures from the exhibition here.
L-R: Xulong Yin, chairman of the board at Yingli Solar, speaking to PV Tech's Lili Zhu. Murray Wang, senior sales manager at Yingli, provides PV Tech with a tour of the company's booth. Yingli's Ray-Mo 144-cell and 120-cell bifacial modules. The exhibition stand in full. All images copyright PV Tech.
00:00 CST / 16:00 BST / 12:00 ET – Yingli plots a return to the top
Earlier today we spoke to Xulong Yin, chairman of the board of directors at Yingli Solar, to discuss the manufacturer's ambition to return to the top group of solar module makers. Late last year the company's restructure was formally approved, and we spoke to CFO Yiyu Wang shortly after to learn how the restructure would work in practice. Now, nearly seven months on, Xulong Yin tells PV Tech more about those plans.
23:15 CST / 15:15 BST / 11:15 ET – Growatt booth tour
Ray Cheng, head of overseas marketing at Growatt, gives us a tour of the company's booth and talks us through the inverter and smart energy solution provider's solutions targeted at the C&I market, which are also designed to be compatible with high-power, large-format modules.
23:00 CST / 15:00 BST / 11:00 ET – Inverters take the limelight
It's not just solar modules on display and the subject of discussion this week. A host of inverters and smart energy technology solutions can also be seen, and earlier today we caught up with Growatt to view the range of inverters the manufacturer is exhibiting this week. The company recently opened a new manufacturing facility which takes its output capacity to 20GW, underlying Growatt's growth ambitions.
L – R: Ray Cheng, head of overseas marketing at Growatt, speaks to PV Tech about the company's range of products on display this year. Delegates at SNEC 2021 attending Growatt's booth. One of the many inverter products the company is exhibiting at SNEC 2021. All images copyright PV Tech.
22:25 CST / 14:25 BST / 10:25 ET – Polaris Li speaks to PV Tech
22:00 CST / 14:00 BST / 10:00 ET – Seraphim targeting growth in South East Asia, Australia and Europe
Earlier today PV Tech spoke to Polaris Li, president at module manufacturer Seraphim, who explained how the company was targeting growth in South East Asia, Australia and Europe as the sector looks set for 50% growth this year.
Speaking to PV Tech, Li explained that Seraphim is exhibiting multiple module formats this year, demonstrating modules using 158mm, 166mm, 182mm and 210mm formats as the manufacturer looks to cater for demand for multiple outputs, while also delivering BOS savings for customers.
Li also revealed that Seraphim's S5 product, using 210mm-sized cells, is expected to start shipping later this year.
Pictures from Seraphim's booth at SNEC 2021 can be viewed below.
L – R: Seraphim president Polaris Li revealed to PV Tech the manufacturer's key markets for 2021, while regional sales manager Evelyn detailed the products on display at the exhibition this year. Seraphim SIII bifacial half-cell series module on Seraphim's stand, and the exhibition continues to be busy throughout the opening day. All images copyright PV Tech.
18:00 CST / 11:00 BST / 06:00 ET – SNEC PV Expo 2021 closes for day one
The show floor is now closing on day one at SNEC 2021, but fear not – we have a host of exclusive videos to bring you this evening/afternoon/morning, no matter your time zone.
17:10 CST / 10:10 BST / 05:10 ET – Sungrow FPV director of R&D centre Hao Wu speaks to PV Tech
Hao Wu, director of the R&D centre at Sungrow Floating PV, speaks to PV Tech from the show floor about the growth of floating solar installations and technologies.
15:40 CST / 08:40 BST / 03:40 ET – Taking floating solar forward
Sungrow FPV, the inverter manufacturer's floating solar-dedicated subsidiary, is exhibiting its products this week and we've been to visit the booth.
Captions L – R: Sungrow's booth at the SNEC 2021 welcoming exhibitors today. Second row: Sungrow FPV demonstrated its floating solar floating technologies. Hao Wu, director of the R&D centre at Sungrow Floating PV, speaks to PV Tech. All pictures copyright PV Tech.
15:15 CST / 08:15 BST / 03:15 ET – Bumper crowds at the exhibition
International visitors are obviously absent from this year's show, but the Chinese delegation has come out in force at SNEC 2021.
14:45 CST / 07:45 BST / 02:45 ET – Hoymiles and Dupont unveil their SNEC 2021 offerings
We've heard from two exhibitors already today, inverter supplier Hoymiles and materials provider Dupont. Hoymiles is promoting its full line-up of microinverters at SNEC this year under the banner of 'Bigger than Ever'. Also on display is Hoymiles' Gateway DTU-Pro-S data transfer solution, which is timely considering the renewed emphasis on data and telecommunications infrastructure in the industry at the moment. Perhaps most notable from Hoymiles this year is its claim to be the first provider of a microinverter capable of supporting 182mm large-format modules.
"With quality, efficiency and cost-effectiveness in mind, all our new products are designed to significantly improve the operating performance of the system and reduce the cost of electricity per kilowatt-hour, making sure our customers benefit from lower costs while enjoying the unmatched efficiency of our products," Zhao Yi , deputy general manager and director of R&D Center of Hoymiles, said.
Dupont meanwhile is exhibiting its transparent backsheet solutions featuring its Tedlar clear film. Transparent backsheets have weight advantages over glass, a subject which is also at the forefront of industry conversation given the recent introduction of larger-format modules that weigh in excess of 30kg, some upwards of 40kg.
14:00 CST / 07:00 BST / 02:00 ET – Images from the Goodwe booth
We'll be speaking exclusively to Goodwe later today – tune in for that interview later – but the inverter supplier's booth at the exhibition is attracting visitors.
12:10 CST / 05:10 BST / 00:10 ET – Welcome to SNEC PV Power Expo 2021!
Reporting live as SNEC PV Power Expo 2021 opened today, PV Tech's Carrie Xiao and Lili Zhu discuss what we can expect to see on the show floor.
12:00 CST / 05:00 BST / 24:00 ET – Solar & Storage Finance Asia
As the exhibition starts to liven up, a quick word that our publisher Solar Media returns to South East Asia (albeit in a virtual capacity) next month for the seventh annual Solar & Storage Finance Asia conference, bringing together financiers and developers to further the solar and storage sectors across the continent. More details on the event, and an exclusive discount, can be found below.
11:15 CST / 04:15 BST / 23:15 ET – Pictures from the exhibition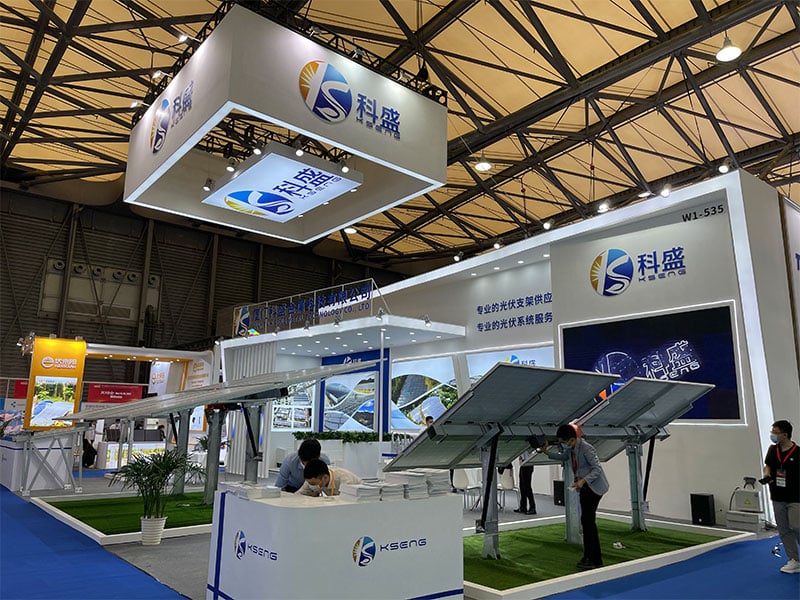 10:10 CST / 03:10 BST / 22:10 ET – What to expect from the show floor
SNEC is always a showcase of new technologies and products, and this year will likely be no different. At SNEC 2020 we caught glimpses of some ultra-high output modules, some with outputs upwards of 800W, and while the industry may not have seen modules of that size and power in standard operation as yet, the 10 months since SNEC 2020 has been very much dictated by the release of 600W+ modules from the industry's biggest names. We expect this year to be much of the same, with n-type modules also a common sight on the exhibition stands. We've seen much action in n-type product development (not least a smattering of new cell efficiency records announced in the past week), but our own head of market research Finlay Colville, author of the PV Manufacturing and Technology Quarterly Report, has written on how the technology will dominate R&D spending from 2024 onwards. You can read more here.
09:30 CST / 02:30 BST / 21:30 ET – Calls for polysilicon unity
The conference element of SNEC 2021 started yesterday of course, and the rather sizeable elephant in the room of polysilicon and other material price inflation was discussed. As reported by Bloomberg yesterday, some of the industry's largest manufacturers called on the supply chain to improve cooperation to better balance supply and demand.
The average spot market price for polysilicon inched upward again this week, rising from RMB200/kg recorded last week to RMB206/kg. While the rate of increase slowed somewhat compared to previous weeks, that the price continues to rise is of real concern.
Discussions between supply chain players are likely to continue this week, so it will be interesting to monitor any announcements or movements in price in the weeks ahead.
09:00 CST / 02:00 BST / 21:00 ET – Welcome
Good morning (or indeed, good evening to our US-based readers at this time of day/night!), and welcome to our live coverage of SNEC PV Power Expo 2021. Our China-based editorial time is in place and already roaming the show floor, and we'll be bringing you exclusive insight until the show floor closes this evening.
We have a busy day lined up. Today we'll be speaking to representatives from the likes of JA Solar, Seraphim, Sungrow, Goodwe, Ginlong, Yingli and many more.
This story will be updated throughout the day, with new videos, pictures and stories filed directly from the show floor.