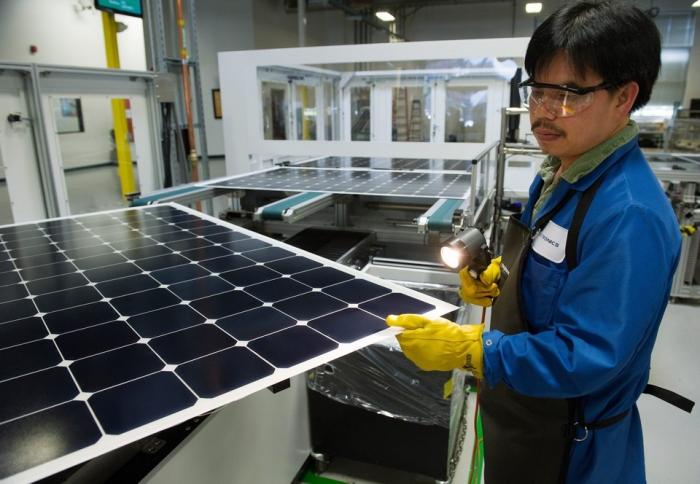 PV Tech's preliminary analysis of global PV manufacturing capacity expansion plans in the third quarter of 2016, highlight an absence of China based solar cell and module manufacturers making new announcements for either domestic or overseas production.
As previously reported by PV Tech, the months of July and August, 2016 represented almost zero levels of new capacity expansion activity, which marked an end to significant capacity expansions globally through the first six months of the year.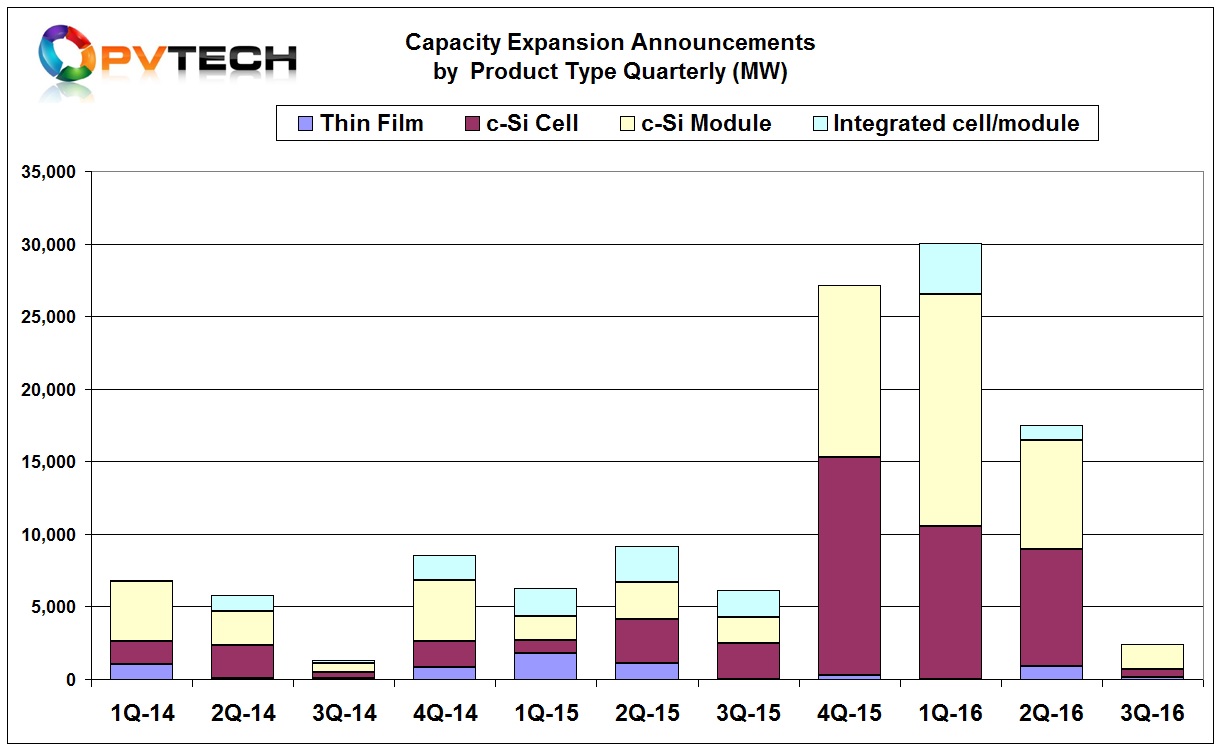 Considering a total of over 13GW of combined (thin-film, cell, module and integrated) capacity expansions had been announced for China in the first half of 2016, the absence of China-based announcements in the third quarter of the year is noteworthy.
The significant curtailment in expansion plans mirrored the beginning of weak end-market demand in China, overcapacity warnings and plummeting average selling prices (ASP's) across the upstream supply chain.
Curtailment was quickly followed by the start of manufacturing restructuring and consolidation, resulting in job losses that reached over 2,500 at the end of the third quarter of 2016, according to PV Tech's ongoing analysis.
High-efficiency PV module producer and project developer SunPower was the first to react to the changing industry landscape in August with the closure of its module assembly plant in the Philippines and moving production tools to its Mexican facility with the loss of around 1,000 jobs.
This was later followed by the company acquiring AUO's portion of the two companies' joint venture solar cell facility in Melaka, Malaysia.
'Silicon Module Super League' (SMSL) member also said in reporting second quarter financial results that it expected global in-house module capacity to reach 5.8GW by the end of year, instead of previous guidance of 6.43GW. This was then followed by confirmed reports of 130 manufacturing job losses at its PV module assembly plant in Guelph, Ontario.
Integrated PV module manufacturer SolarWorld also announced the loss of 500 'temporary' workers at its three manufacturing facilities in Germany, while Tawian-based solar cell and module manufacturer Motech Industries announced job losses of 200.
Other producers, trimming headcount include Malaysia-based solar cell producer TS Solartech, Singapore-based REC Group and US-based Mission Solar, which recently announced with 87 job losses the closure of its solar cell (200MW) manufacturing lines.
Combined capacity expansion announcements in the third quarter of 2016 reached only around 2.4GW, driven primarily by 1.7GW of module assembly plans, 520MW of solar cell plans and 170MW of CIGS thin-film plans.
September recovery of sorts
However, September's preliminary analysis indicates a small recovery from the July and August lows, yet the key module assembly expansion plans (1.5GW) announced by India-based Vikram Solar are spread-out through 2019, indicating a cautious approach, characteristic of the company with previous expansion announcements (250MW) made in May, 2015 and completed in 2016.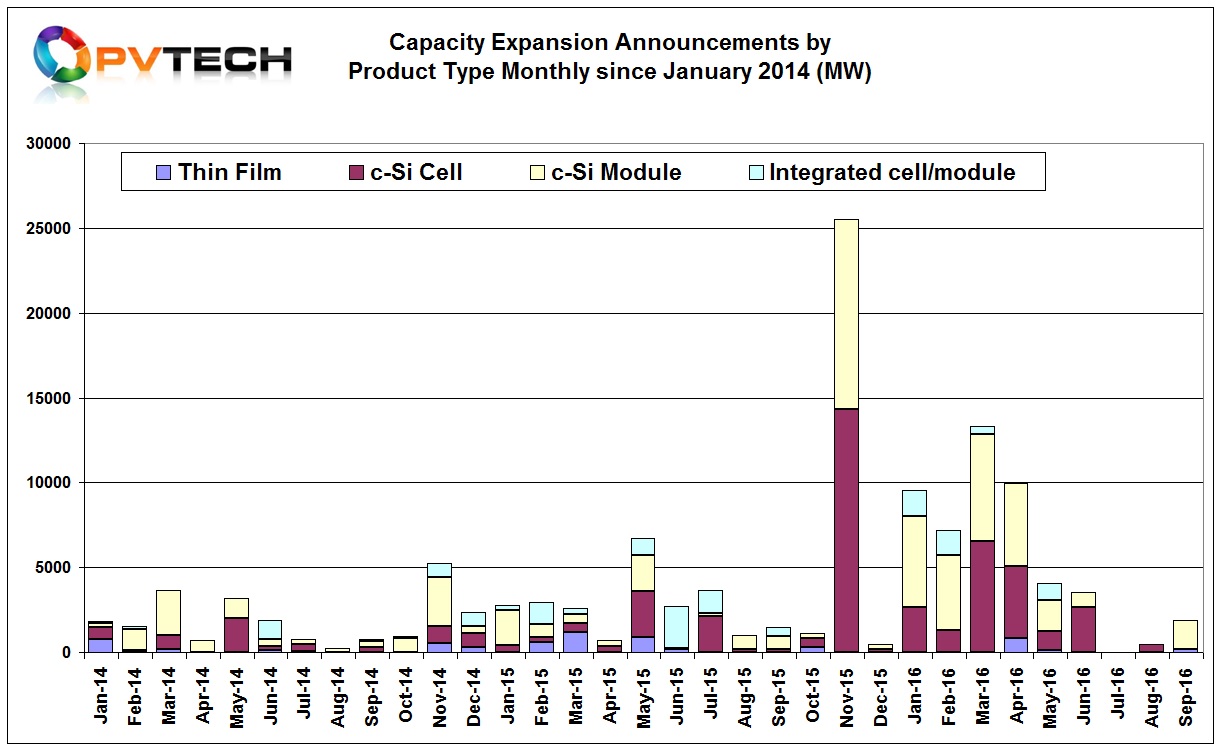 It should also be noted that Vikram Solar accounted for the majority of module assembly expansion plans in September, which only totalled 1.7GW.
Bucking a trend of fourth months in September was renewed thin film activity. Germany-based OPC flexible thin-film producer Heliatek announced the equivalent of around a 140MW expansion with a major investment round.
However, preliminary analysis indicates that no new solar cell or integrated cell and module manufacturing expansion plans were announced in September.
Capacity expansion revisions
PV Tech has tracked over 18.5GW of solar cell and over 23.5GW of module assembly capacity expansion plans announced in the first-half of 2016.
So far, the majority of job losses in the upstream manufacturing sector have been attributed to restructuring and streamlining as well as lower utilisation rates from a limited number of manufacturers.
Dependent on how severe the current period of overcapacity persists given the potential for a lack of end-market demand growth in 2017, further expansions are expected to be severely muted and many existing plans carry an increased risk of being pushed-out or cancelled altogether.