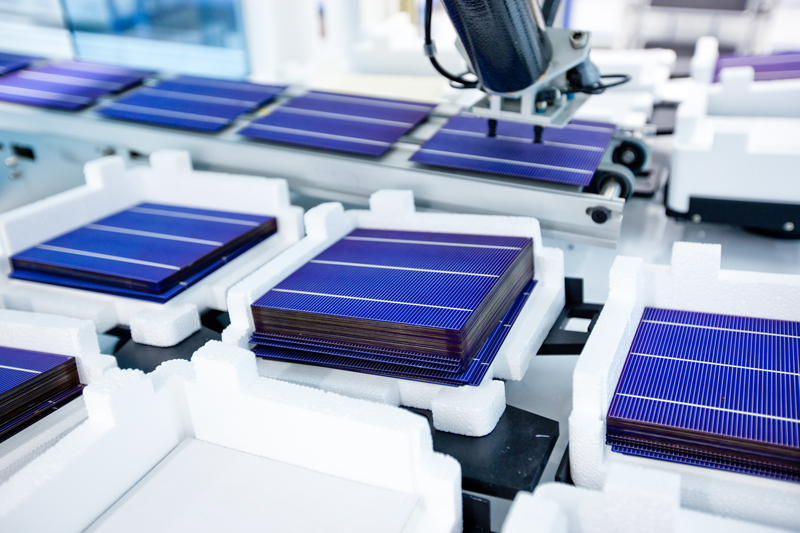 For years, the term consolidation was brandished around in the solar industry, as though it was somehow inevitable that the industry would converge to the situation where there were a few leading cell manufacturers meeting 80% of the industry demand.
However, such forecasts were somewhat naïve and simplistic, and generally failed to understand the diverse product offerings and company strategies in the mix, not to mention the extreme regionality of demand from a manufacturing standpoint.
This blog summarises the latest research from PV Tech, ahead of the PVCellTech conference in Malaysia, 16-17 March 2016, where almost all of the top-20 cell manufacturers are presenting on their cell technologies and plans for future expansions and upgrades.
Before we outline some of the factors preventing wholesale consolidation at the cell production level, let's have a look at supporting data that shows the contributions of the top-10 cell producers and how this group's market share has increased over the past few years.
In fact, the reference point for the top-10 cell producers is based on looking at forecasted 2016 in-house cell production forecasts and then seeing how this group satisfied global demand in the past few years. Cell production also is used in its broadest sense, essentially ensuring that cell production by First Solar (by way of CdTe cell/panel manufacturing) is included. Only First Solar falls into the analysis here, with the only other thin-film producer of note (Solar Frontier) having output metrics that are well short of that needed to get into a top 10.
Hanwha Q CELLS number one cell producer in 2016; 2015 too close to call
The graphic below shows the increasing share of our top 10 for 2016, revealing a growth of global cell production from 38% in 2013 to 48% in 2016. As such, it is perhaps reasonable to conclude that a breakaway of sorts is underway for cell production, but as discussed below, there are a whole bunch of other factors to consider other than simple production output by megawatt volume.
The top-10 cell producers forecast for 2016 are expected to approach 50% of end-market supply this year, with Hanwha Q CELLS set to lead the industry in terms of in-house cell production.
In fact, 2016 is actually an easier year in which to forecast the leading solar cell producer than 2015, with few prizes on offer for calling out Hanwha Q CELLS at this early stage, albeit with the caveat that its expansion plans across Southeast Asia proceed as planned. Our current checks do suggest that things are largely progressing to Hanwha's proposed schedule and even if Hanwha Q CELLS misses out by a few megawatts or so on being the number one cell maker for 2015, having market-leading status in 2016 will almost certainly be on offer.
Hanwha Q CELLS is speaking at PVCellTech, in the dedicated PERC session, alongside talks from Sunrise Global Solar, REC Solar and Gintech. The 'other' leading PERC manufacturer, SolarWorld, is also speaking at PVCellTech.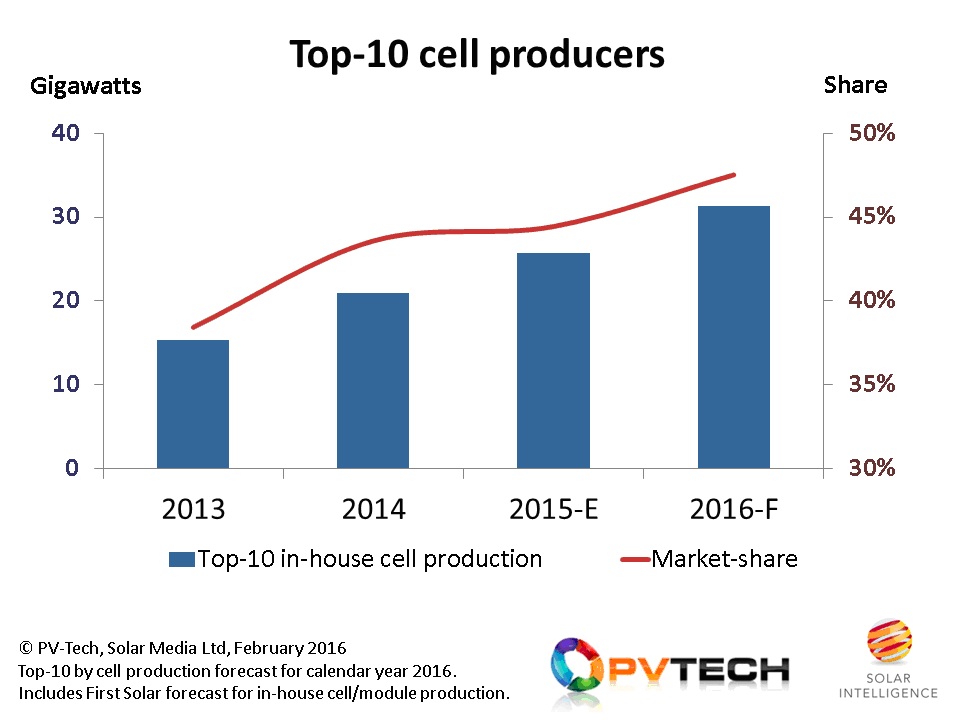 2016: the year technology leadership is reprioritised by marketing
To those who lived through the days of solar cell manufacturers prioritising marketing budgets to position themselves as technology leaders before the downturn, it could be the return of Q CELLS as the leading cell producer by volume in 2016 that finally acts as a catalyst to many integrated solar manufacturers/developers realising that having the leading technology in-house is a massive deal from a marketing standpoint, not to mention investor confidence on what's being deployed for 20 years.
Technology leadership is a key sales and marketing tool in every adjacent (non-solar) technology segment today, and it remains somewhat perplexing that some solar companies will allocate considerable resources to gaining presence in a downstream end market while setting aside almost nothing to conveying to the outside world that leading technology is a key component of their product offering. In recent years, technology advances have largely been confined to press releases summarising R&D activities.
Looking at the top-10 cell producers for 2016 and this group's collective in-house cell production and market-share yields only limited value, however, as it masks really what is happening with solar cell production today.
Several years ago, while mainland Europe was the dominant end-market driver, there was a case for normalising cell production metrics across the globe, as the strategies of most cell makers were not entirely dissimilar. And furthermore, at this time there was even some mileage in doing side-by-side comparisons of thin-film versus c-Si, n-type versus p-type, and mono versus multi.
Today, these comparisons are of extremely limited value, despite the best efforts of many to draw some conclusions on production activity of companies pursuing different technology paths, in particular following announcements for mono ingot and wafer expansions.
Let's now discuss some of these factors, before proposing a new landscape for solar cell production, the basis of which has formed the structure of the two-day agenda at PVCellTech in Malaysia next month.
Made-in-China, Sold-in-China, Installed-in-China
First, we have to consider the impact of China, and the effects on domestic manufacturing that have unfolded due to the country creating local demand that is essentially a served addressable market that exists purely for the benefit of Chinese cell and module fabs that mostly came about in the days when Chinese manufacturing was exporting almost everything to Europe (and for a brief period, the US).
Currently, about 15-20% of cell production globally is undertaken by Chinese companies that are almost exclusively serving demand (or it could be said, creating the need for demand) within their domestic market. Therefore, there is a strong case to decouple this completely from what is happening outside China, and from Chinese-branded manufacturers that have a global module sales footprint coupled with overseas cell and module manufacturing in Southeast Asia.
Looking at the global industry less China – based on the demand pull on cell manufacturing – we can now discuss some of the different strategies that are making the case for cell production across n-type and p-type, mono and multi.
Don't compare n-type with p-type
Looking at n-type manufacturing, we have very different strategies in play from SunPower, Panasonic and LG Electronics. Each seems to work, or can be justified within group operations. And while the processing used by each cell maker is largely unique, the modules shown to the end market allow for each of these companies to retain a differentiated offering and a technology roadmap that should sustain this market position.
SunPower and Panasonic are both speaking at the PVCellTech conference, with First Solar (TetraSun) also presenting on the latest developments related to the company's 100MW pilot line in Malaysia.
But perhaps the biggest unknown for now is what is really behind LG Electronics' recently announced plans to increase n-type capacity in South Korea, and it may be quite some time before this is clear to see.
It is far from a given that a strategy to scale to multiple gigawatts of premium performance product can be fully sustained by restricting sales channels to residential or small commercial rooftops through third-party installers and distributors; if this is the end-goal and LG sticks to this route-to-market, then the barriers may simply be having sufficient market share of rooftop demand and relying upon the ASPs being high enough to justify the incremental panel costs compared to p-type multi.
Regardless of cell technology approach, doing nothing today is not an option
When combining the different approaches across p-type mono or multi, and standard or PERC based processing, with the n-type activities of the above-mentioned companies, it is clear that every company now needs to have an in-house roadmap that sees panel powers increasing, while ideally manufacturing costs decline.
In this respect, it is perhaps more valuable to have strong intelligence at the benchmarking level, rather than devising a marketing campaign that seeks to pitch one technology against another. The advances made on p-type multi in the past few years have been a key factor in this new outlook for c-Si cell manufacturing, notwithstanding the process upgrades from First Solar across its thin-film CdTe lines. There are now a range of options for panel efficiencies in the 17-20% range, aside from premium n-type offerings sitting above this.
Over the next few years, various technologies will certainly co-exist, spanning thin-film (First Solar and Solar Frontier) and c-Si n-type and p-type variants. Therefore, knowing exactly how each is going to progress from a technology standpoint has never been more pertinent.
This has been factored in as a key component of the PVCellTech agenda, where – in addition to the above companies mentioned – the latest technologies from leading p-type c-Si cell manufacturers, including Trina Solar, Neo Solar Power, JinkoSolar, Zhongli Talesun, REC Solar, and JA Solar, will be presented.
Conclusions from PVCellTech will set the scene for next 12-18 months
With PVCellTech offering the first ever real-world manufacturing platform for leading cell manufacturers to present on their company's cell technologies, the findings from the two-day event in Malaysia during 16-17 March 2016 will certainly help in understanding what the near-term cell technology mix to the industry will be in 2016 and 2017.
As an extra bonus for PVCellTech, Markus Fischer of Hanwha Q CELLS will also be presenting on the latest ITRPV roadmap, and it will be fascinating to see how this compares to the presentations being given by the top cell makers at the event.
Covering the latest technology and manufacturing developments, the inaugural PV CellTech technical conference is being held in Kuala Lumpur, Malaysia on 16-17 March, 2016.The event is organised by PV Tech's publisher, Solar Media. More details here.