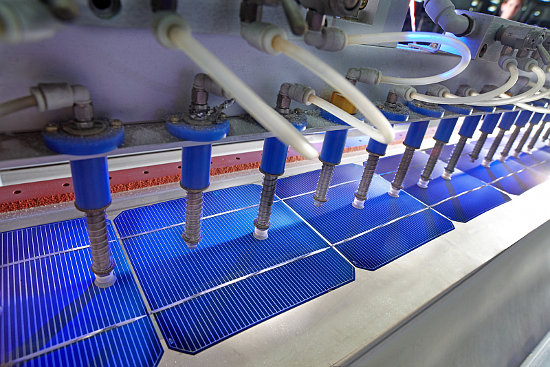 New research undertaken by Solar Intelligence, part of PV Tech's parent company Solar Media Ltd., can exclusively reveal the forecasted breakdown of production for the different technologies being used within the solar industry in 2016.
Using new proprietary methodology, developed over the past six months by the in-house research team at PV Tech, the findings reveal the continued push from a diverse range of cell architectures, with no sign of any significant push to consolidation across the different n-type or p-type, mono or multi, and standard or advanced cell processes being used in production today.
The main conclusion from our new research is the continuation of company strategies across different cell substrate types, with growth forecast across the board, and sustained optimism by wafer and cell suppliers to pursue in-house roadmaps and end-market supply tactics.
We have chosen to segment production data across established industry terminology that breaks out p-type mono and multi technologies into standard or advanced categories. This may appear at odds with some other long-term forecasts that are holding firm on PERC being a well-defined cell process that will be adopted widely throughout the industry.
With regards to PERC, we retain a degree of caution, as the announced capacity expansions using PERC are not translating directly into cell production yet, although the growth in p-type advanced groupings is clearly heavily weighted to adding rear-side passivation layers and using lasers for contact openings.
Caution is being applied, as the solar industry can be prone to knee-jerk reactions when forecasting technology changes for p-type manufacturing. One only has to recall the misplaced optimism over the past decade for laser fired contacts, wrap-through variants, selective emitters and cast-mono substrate adoption: and not to mention legacy thin-film market-share projections or the dye-sensitized and organic solar cell aspirations of yesteryear. But perhaps the main reason for not applying PERC to the chosen cell technology groupings for now is that PERC is a very specific cell type, and the challenges in implementing widely into p-type multi lines are considerable.
In the same way that improved front-side paste supply, multi busbar forming and fine-line printing became the low barrier-to-entry routes to front-side cell improvements in the past few years, applying a passivation layer to the rear side of solar cells should probably be taken in isolation as one of several steps that could be used to enhance productivity going forward.
Therefore, assuming a mass migration to a PERC specific architecture does seem somewhat simplistic, and acts somewhat as a smokescreen to other cell process improvements that may be undertaken in parallel or as additive changes.
As a consequence, we prefer to follow advanced cell process flows as a separate category for now, within which the PERC upgrades are included, or indeed any non-standard process flows within which adding rear passivation layers is one of the new process steps.
The results of our new research are shown in the figure below, where we have taken historic activity back to 2013 to show the trends observed during the past few years.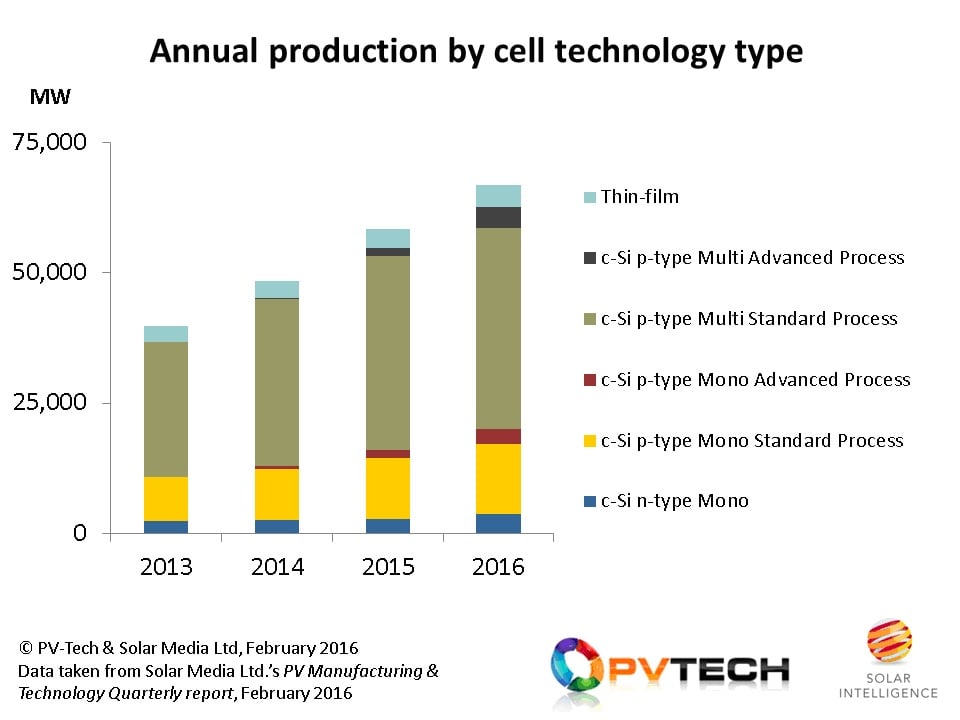 The overall split in production output across p-type mono and multi categories is not expected to see any huge change in 2016, compared to 2015. This comes in spite of the ambitious mono ingot and wafer expansion announcements of the past six months, many of which are yet to show signs of coming to fruition.
It is interesting to note here that statements on the solar industry seeing rapid growth in p-type mono, compared to p-type multi, are coming mainly (and perhaps not surprisingly) from the supply side (ingot and mono producers) and not from the cell community. Furthermore, the calls for mono supply are even less visible from the segment of the solar industry that really matters here (developers and EPCs).
That said, p-type mono production (across wafer and cells) is forecast to grow in 2016, but this has to be viewed alongside the considerable expansions for p-type multi that tend to fly under the radar when it comes to company press releases.
Putting p-type aside and focusing on n-type, again there is growth year-on-year, but it will not be until 2017 before we know if SolarCity's Silevo plans can fulfil on the ambitious plans to shift a legacy R&D operations into an effective GW-scale production site. Many have tried and failed in the past, and with meaningful production metrics not yet available from SolarCity, a high degree of risk still has to be assigned here.
The other company that has announced long-term n-type expansion plans is LG Electronics, but again, the output from this is not going to be visible until 2017 or whether the rooftop market can absorb the increased module supply at the continued premium ASP expectations.
Indeed, what will happen in 2017 is likely to be a key output from the forthcoming PV CellTech conference in Kuala Lumper, Malaysia, 16-17 March 2016, where senior technologists from almost all the top-20 cell manufacturers in the industry are lined up to present on company manufacturing activities and plans. Details on how to register for the event can be found here.
To subscribe to our new PV Manufacturing & Technology Quarterly report, please contact John Browne at Solar Media Ltd.