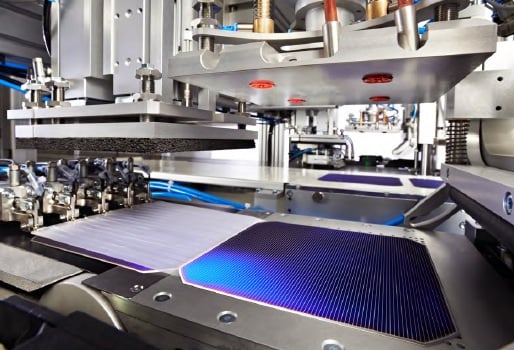 In the past few days, we have featured some of the key trends in the solar industry during 2016, including the changing face of c-Si cell spending and the strong capex into new facilities in countries such as Thailand, Vietnam and Malaysia. The technology split of solar cells produced in 2016 was also reviewed, showing the resilience of p-type multi and the factors that have been holding back further market-share gains for p-type mono.
We also revealed that Hanwha Q-CELLS had become the leading solar cell producer in 2016, by volume produced, before outlining the full top-10 cell producers ranking. And lastly, yesterday, we revealed the top-10 module suppliers for 2016, showing that JinkoSolar was the clear leader.
All the data and graphics were taken from our PV Manufacturing & Technology Quarterly report release from January 2017 and covered the topics at the forthcoming PV CellTech conference in Penang, Malaysia, 14-15 March 2017.
The question now turns to 2017, and what to expect from these companies, in addition to the key equipment and material suppliers that are critical for new process flows being introduced into production lines, ultimately driving up cell efficiencies and panel power ratings.
Lastly, it is important to note the role of the key research institutes active in technology transfer today, and which new concepts are likely to find their way from lab-to-fab in 2017.
The other category we should include here are the differentiated cell makers which may be smaller in terms of volumes and sales/marketing reach, but could potentially offer a glimpse into some of the advanced concepts that could be mainstream in a few years. Also within this category are the non-standard wafer producers, in particular kerfless variants being advocated by the likes of 1366 Technologies, NexWafe and Crystal Solar.
This article provides a broad overview of the themes that may prevail over the next 11 months that could impact most, if not all, the above mentioned companies and groupings. We also take a quick look at the upcoming PV CellTech conference in Penang, Malaysia, 14-15 March 2017 and reveal some of the companies confirmed to be at the event.
Southeast Asia capacity will continue to grow
There is a certain inevitability that the current trend to add new capacity, or relocate existing capacity, to countries in Southeast Asia, will go through a boom-and-bust cycle. But for now, there is no sign of pushback in this regards.
In fact, as we head into 2017, it is likely that the trend will continue to gather pace. And when softness does kick into mainland China end-market demand (assuming it does), then there are going to be many cell and module producers that have no option but to get equipment out of China. Here we may see a second wave of international ambition from our grouping of China-centric midstream producers that have been sheltered from the outside world by virtue of playing within a 20GW+ domestic market.
The other interesting development for cell and module capacity in Southeast Asia relates to contract manufacturing: what a change there has been in this regard in the past couple of years. We are planning to run a dedicated blog on this topic next week on PV-Tech which will show clearly how this has changed in the past few years.
More PERC and business for equipment suppliers
There seems to be nothing stopping the upgrade path for PERC, at least from a p-mono standpoint. It would appear that a tipping point has been passed and now it will simply become a must-have addition to p-mono production lines.
The opportunity here for PECVD and laser ablation tool suppliers is huge. The only outstanding question would now appear to fall on p-multi and whether the recipe here can be cracked across the mainstream p-multi community, and not confined to a select few.
PERC has resurrected equipment spending for many tool suppliers, and laser tool suppliers are certainly top of this list.
The use of lasers in c-Si cell fabs has been the topic of much research and debate over the years, with the early optimism of edge isolation being swept aside by wet etch equipment suppliers. The other applications for lasers in cell lines were then considered viable during the days of the selective emitter fad that was never realized at the time.
It is interesting to see the topic of selective emitter formation so quiet these days. Silver paste optimization and multi busbar improvements have certainly become the go-to routes to improve front surface performance, but this will have a finite lifetime. Within the next few years, almost certainly there will be a return to some of the selective emitter schemes. And at this point, the use of lasers will be more respected than feared by the industry.
Which companies will drive the changes?
With hundreds of companies still making cells and modules, and various types of production equipment to the industry, there are many voices and opinions regarding technology roadmaps today. But to understand which companies are driving change in technology and production, there is a subset of 50-100 companies that are the key ones to follow.
The figure below provides an insight into this range of companies, taken from the current list of companies that will be at the PV CellTech conference in Penang, Malaysia, 14-15 March 2017. We have divided this into the categories that were flagged up at the start of this blog.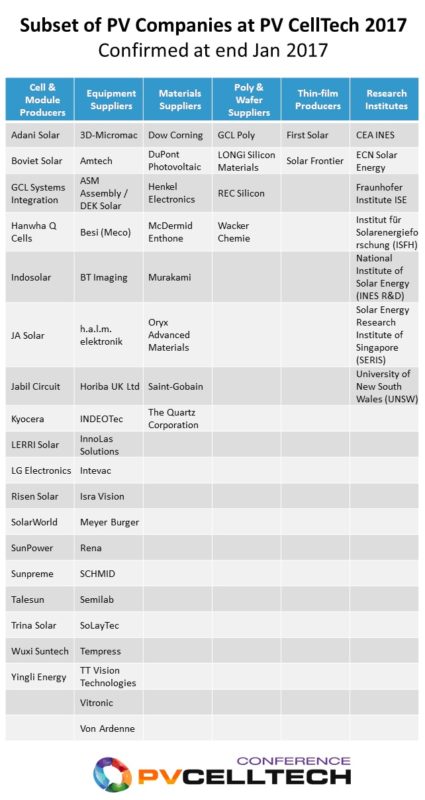 In looking at this list, we probably have our first glimpse into the companies that will control how the PV manufacturing landscape looks like in the next 11 months.
There are likely to be a further 50-100 companies at the event in Penang in March 2017, and by this time, we will have the manufacturing stakeholders in the same place, at the same time, talking production technology.
As a preview to what the PV technology roadmap really looks like, I am personally just counting down the days to the event. Details on how to register can be found at the PV CellTech conference website.