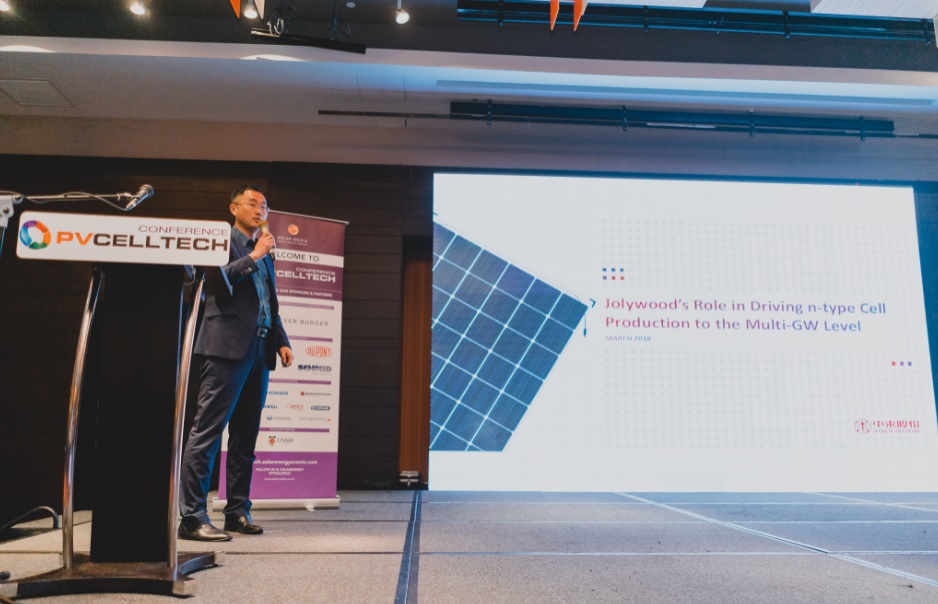 Capital expenditure (capex) for c-Si manufacturing (covering ingot/wafer and cell/module stages) is forecast at approx. US$9 billion in PV Capex in 2019, consistent with levels seen during 2017 and 2018.
The largest part of this comes from cell equipment, accounting for just under half of c-Si PV capex, or about US$4 billion per year during the period 2017-2019.
Capex operates with different drivers, compared to end-market demand within the PV industry. Various factors make capex analysis different also to those undertaken during the last major capex peak phase of 2010-2011. Capex is cyclic in nature, and is also one of the best leading indicators of industry-wide downturns. One of the first things cut when cash is running out is capex, although (similar to R&D spending), some players up investments at this time.
Ahead of the forthcoming PV CellTech 2020 meeting in Penang, Malaysia on 10-11 March 2020, this article discusses the key factors behind the annual US$4 billion cell capex trends of the industry in recent years.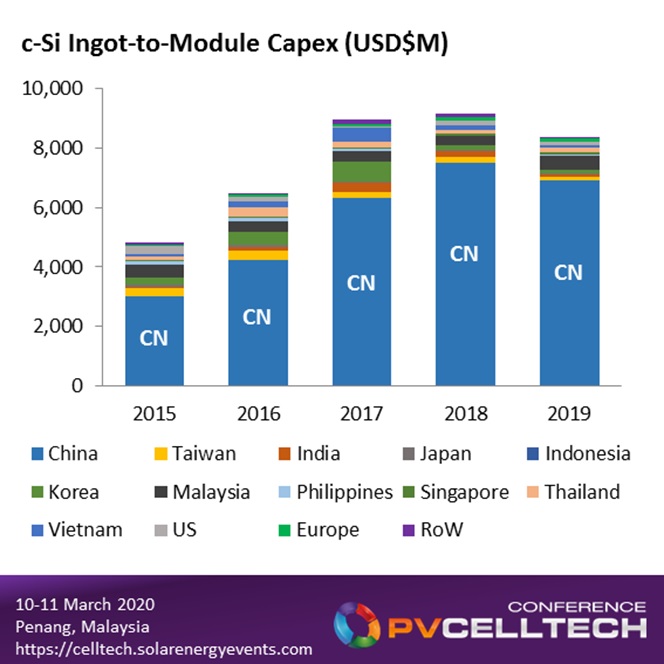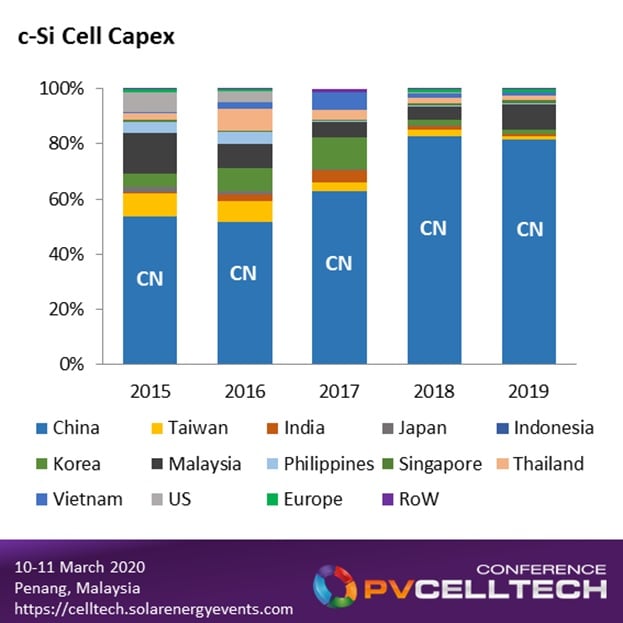 Capex for c-Si now at record-lows
One of the main factors keeping capex from growing today is the cost-reduction seen for new capacity additions. GW-levels of ingot/wafer plus cell/module capex is now running at about 15c/W, especially when dealing with the 5-10 GW increments that new sites in China are being specified at.
It is now lower cost to build a new 5 GW fab, than to retool five GW-fabs with outdated (often p-multi) lines. This is the first time this has happened within the industry, and suggests that we are in fact in a technology-buy phase, and not simply keeping old lines running at any cost.
Economy of scale from China-built capacity (using made-in-China equipment) has seen dramatic cost-reduction in the past 2-3 years. The barrier-to-entry for Chinese players is not capex: it often depends on the technology-chosen (copying p-mono PERC or trying something more challenging related to n-type) or being able to secure product sales (sometimes for cells, typically for modules).
Back in the last capex upturn of 2010-2011, a c-Si cell line was costing close to the 15c/W figure above (now covering ingots, wafers, cells and modules). Adding GW-levels of integrated ingot-to-module capacity was costing about 3-5 times that of today. This is the main reason for overall PV capex (c-Si ingot-to-module) being lower today compared to 2010/2011 despite the huge increase in nameplate capacity being brought online. Embedded within this of course are tool productivity improvements and line throughputs being much higher than before (not forgetting fab automation and efficiency/module-power improvements).
5-10 GW c-Si capex levels influencing n-type decision-making in China
The low capex for p-type c-Si capacity (ingot to module) now makes n-type capacity (especially cell-based) a potential barrier-to-entry for Chinese manufacturers. This appears to be more emphasized for heterojunction, where PECVD tools alone can cost more than an entire p-type mono line.
Therefore, if the end-goal is to add 5-10 GW of new capacity (which is becoming the new China standard), the extra capex for HJT quickly places constraints on spending plans. Therefore, it is no surprise that much of the argumentation from China for overlooking HJT today comes from capex, not the challenge of ramping lines with efficiency, distribution, and cost targets.
It is fairly easy for Chinese companies to justify not going for HJT today based purely on 'high capex' talk, but this is also coming from the acknowledgement that there is no low-cost China supply-chain anywhere near being in place.
Many of the initial wave of Chinese companies talking about HJT investments seemed to think that tapping into Sanyo's legacy process flow or tool supply-chain design would be a simple and effective route. Sanyo (Panasonic) designed its heterojuction production lines about 20 years ago – the world is a different place today.
In part, this is one of the issues behind the new push for the most standard n-type variant growing in popularity within China (PERT, TOPCon or other research-institute named process flows). I will look more closely at this on PV-Tech in the next couple of weeks, as this topic is rapidly becoming a key feature of the 2020 PV CellTech agenda.
I noted in blogs on PV-Tech in the past couple of years that it would be JinkoSolar's decision-making here that would be the key driver for n-type in China – this appears to be what is happening now and will certainly be on the rise during 2020/2021.
China-made c-Si equipment spending
While many of the c-Si cell leaders are staying loyal to European equipment suppliers for some wet-etch and deposition tools for p-type lines, much of the US$4 billion spent annually now on cell lines is staying in China.
One of the largest winners from this in recent years has been (Shenzhen) SC New Energy, whose revenues are dominated by cell equipment sales and has allowed the company to claim over 10% of the cell capex market now. Having key customers like Tongwei is obviously a massive help here, similar to supply chains for other c-Si capex heavyweights such as Zhonghuan, where tool suppliers' existence hinges largely on the success of just one or two local players adding multi-GW of new capacity each year. In many ways, they become in-house business units of their customers.
It remains to be seen how well positioned Chinese tool makers are today to play in any strong n-type capacity additions in 2020. If this was purely coming from HJT, the prospects would be weak. If coming from n-PERT/TOPCon variants, it could be mixed bag, where initial buying could come from Europe in the hope that Chinese tool suppliers would then learn how to meet production specifications. Knowing for example how S.C. intends to meet n-type cell capacity additions will be a big question during 2020.
Capex to be understood fully at PV CellTech 2020
Understanding capex for 2020 and beyond will again be a key topic addressed during PV CellTech 2020, in particular how much can be expected from new n-type lines in China and elsewhere.
To get involved in PV CellTech 2020, or to register to attend the event on 10-11 March 2020 in Penang, Malaysia, follow the links here.