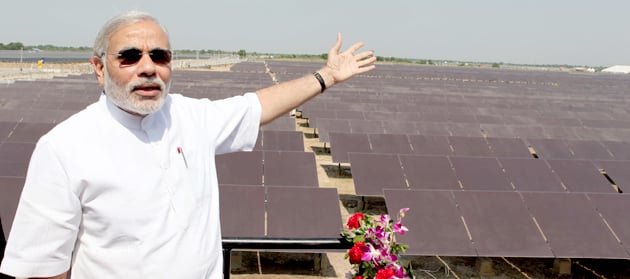 Solar is dominating India's renewable energy revolution, but there is a need to push various financing mechanisms for each solar segment to reach the country's vastly ambitious targets, according to a new report from Bloomberg New Energy Finance (BNEF).
In the same week that India's energy ministry revealed that solar installations are well ahead of wind the first time, standing at 1.75GW and 1.3GW respectively in FY2016, BNEF pronounced that "PV is rapidly emerging as the king of Indian renewables" in its 'Financing India's Clean Energy Transition' paper.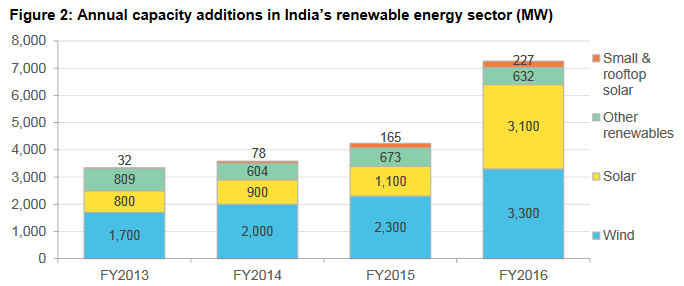 Indeed, with most of the Indian population embroiled in the Diwali festival this week, the market has been growing so fast that the news keeps coming.
Now the world's third largest energy market, catering for an economic boom unmatched anywhere else in the world, India has had to balance its vast coal capacity additions with that of renewables and there are fairly positive signs with renewables already having a cumulative CAGR of 15% which is higher than 12.5% for coal power plants.
BNEF forecasted that India is on a trajectory to install more than 10GW of renewables per year from 2017 as large-scale renewables, rooftop solar and off-grid sectors show impressive growth, but this would be short of the plus-12GW of solar per year that will be required as the 100GW by 2022 target approaches.

Utility-scale PV
Solar PV has seen a 59% CAGR in the last four fiscal years to reach 6.8GW installed capacity at the end of March 2016. However, while it accounts for just 2% of grid-tied generation capacity, it is growing twice as fast as wind and coal. Solar also has a wide geographical spread as opposed to wind, which is concentrated in the southwest. European and Asian firms are most dominant in solar at present.
MNRE figures recently showed that the sector had reached 8.6GW and Bridge to India reports that the country is even closer to 10GW.
Rooftop
The small and rooftop solar sector will require an additional US$50 billion to meet its 40GW by 2022 target. A cumulative CAGR of 108% is also required in the next six years. Rooftop PV is now the fastest growing renewable power sub-segment in India's clean energy market. Annual installations have increased nearly three-fold – from 72MW to 227MW – in the last three financial years and this trend is expected to continue.
The cost of electricity from new rooftop projects is falling, and now lies between US$69-92/MWh
Shantanu Jaiswal, BNEF's lead India analyst, said rooftop solar costs are "now competitive with tariffs paid by industrial and commercial consumers and often comparable to average residential electricity rates".
However, BNEF said third-party financing under the RESCO model for rooftop solar is under-developed at present.
The report stated: "We estimate that US$610 million was invested in rooftop solar segment across the country between FY2013 and FY2016, but the lack of financing for RESCO projects raises concern as it is a dominant part of other major solar markets. This is a big drawback."
A report from advisory organisation the Climate Policy Initiative (CPI) recently found that third party financing could support more than half of India's solar rooftop segment by 2022, but several policy initiatives must be introduced to make this model attractive.
Bridge to India also reported that India has now surpassed 1GW of rooftop solar with grid parity reached by most C&I consumers.
Finance
Asset finance for renewables has grown from US$6.6 billion in FY2014 to US$10.5 billion in FY2016 with solar cornering the most investment in the past financial year. BNEF reported that Indian government organisations and multilaterals have so far contributed 49% and 66% of the debt finance for wind and solar respectively.
The 135GW utility-scale renewables target means that cumulative capacity would have to increase more than three times between 2016 and 2022, requiring investment of nearly US$100 billion.
The report stated: "Indian project developers are trying to meet this capital requirement through various means, including increasing borrowings from multilateral organisations and issuing green/masala bonds. While Securities and Exchange Board of India is still finalising the modalities for the formation of quoted infrastructure investment trusts (similar to US yieldcos), Indian renewable energy developers are already planning to list assets adding up to US$1.3 billion under this mechanism."
Ashish Sethia, head of APAC power and gas markets at BNEF, said: "Reaching US$10 billion yearly investment was a significant event, and so was the issuance of the first green bonds. The next one to watch out for on India's clean energy journey would be the listing of infrastructure investment trusts."
India also has the highest cost of capital in the Asia-Pacific region. Increasing capital flow and reducing financing costs will both be critical to meet targets
Whatever the dominance of renewables or coal, the ever increasing demand for electricity will be sustained for many years to come.