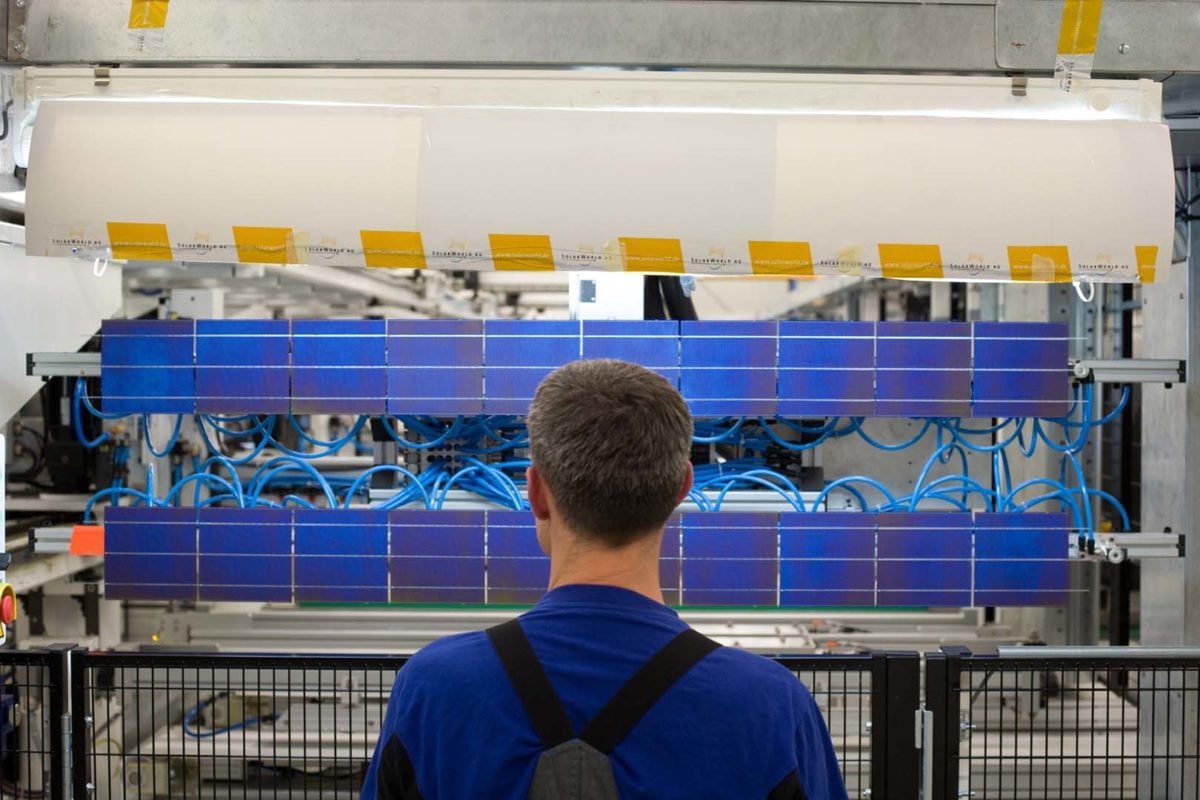 Updated: Integrated PV module manufacturer SolarWorld AG has officially announced that it has been forced into bankruptcy proceedings.
SolarWorld AG said in a financial filing that the management Board had conducted a diligent review of business conditions and its indebtedness and concluded it should file for insolvency immediately.
SolarWorld had struggled for years to return to profitability after chronic overcapacity and module price declines devastated the solar industry for several years before recovering in 2014.
The company recently reported preliminary first quarter 2017 results, which included revenue of €186 million, but losses of €18 million, compared to losses of €41 million in the previous quarter.
SolarWorld had also been hit hard by rapidly declining solar module ASPs in the US in the second of 2016, caused by increased capacity coming on-stream from major rivals such as JinkoSolar, Trina Solar and Hanwha Q CELLS that were outside China to circumvent existing anti-dumping duties in the US, which had kept prices artificially higher.
SolarWorld AG had cash and cash equivalents of €84 million at the end of the first quarter of 2017, according to preliminary results released.
Recently, SolarWorld in Germany shed around 400 jobs as it sought to transition away from production of multicrystalline wafers, cells and modules and become a dedicated mono-PERC producer of only high-efficiency modules in an effort to stay competitive.
Globally, SolarWorld had a total of 3,034 full-time employees at the end of 2016, according to its annual report. SolarWorld Americas has over 800 employees.
At this stage it remains unclear whether key subsidiaries such as its manufacturing and sales arm in the US, SolarWorld Americas Inc., would also be forced into bankruptcy separately to the holding company.
SolarWorld Americas had spearheaded a successful campaign to get the US Commerce Department to impose two rounds of anti-dumping duties on Chinese imported modules and then Taiwanese producers.
The impact of module price declines of over 30% in 2016 on US-based PV manufacturers has been severe.
Mission Solar based in Texas closed its N-type mono high-efficiency solar cell plant with a nameplate capacity of 200MW in October, 2016 with the loss of at least 87 jobs and cut module assembly production to around 50MW.
Relative US start-up Beamreach Solar went bankrupt in January, 2017 and the pilot-line facility recently came up for sale.
In March, high-efficiency cell and module manufacturer Suniva filed for bankruptcy citing imported module price declines behind the decision to seek protection, soon after it had doubled production capacity to over 400MW. Suniva was majority owned by China-based diversified renewable energy firm, Shunfeng International Clean Energy (SFCE).
Should SolarWorld Americas file for bankruptcy it would technically bring to an end volume production of crystalline silicon solar cells and modules in the US. SolarWorld Americas told PV Tech that it did not have any further information to share at this time other than what was provided by SolarWorld AG in its financial statement.
First Solar has temporarily taken two production lines out of operation at its Perrysburg, Ohio facitly in the fourth quarter of 2016 to be retrofitted to produce its large-area (Series 6) modules, which is expected to restart production in mid-2018. Currently, its has two Series 4 lines in full operation at the facility, according to updates from First Solar to PV Tech.
With effectively no volume cryrstalline solar cell manufacturing production in the US for around a year it will be interesting whether anti-dumping duties will remain in place, which were intended to protect PV manufacturers in the US.
However, during SNEC 2017, PV Tech was told that China-based PV module manufacturer, Seraphim, which has a module assembly plant in Mississippi had ramped to 160MW annual capacity but was doubling capacity in the next few months to meet demand.
Update 12/05/17
SolarWorld AG has confirmed that its key German-based subsidiaries have also filed for insolvency proceedings at the local court of Bonn on May 12, 2017.
The affiliated companies following SolarWorld into bankruptcy include its wafer through to module assembly operations SolarWorld Industries Sachsen GmbH and SolarWorld Industries Thüringen GmbH.
Ingot/Wafer and cell operations under SolarWorld Industries Deutschland GmbH and SolarWorld Innovations GmbH, its R&D operations also entered insolvency proceedings in Bonn.
SolarWorld AG also confirmed that the insolvency court had appointed insolvency administration law firm, Horst Piepenburg as the preliminary insolvency administrator for these companies.
Update 13/05/17
US subsidiary SolarWorld Americas Inc., has said for the first time since its parent company went bankrupt that it was planning to operate its manufacturing plant in Hillsboro, Oregon and other operations as normal.
"We deeply appreciate the ongoing support of our loyal customers in the Americas at this tumultuous time for the solar industry," said Juergen Stein, U.S. president of SolarWorld. "Together, we are striving to maintain our leadership role in the U.S. solar manufacturing industry for years to come."
SolarWorld Americas also noted that it was 'continuing to implement efficiencies and working with external partners to position the company for stabilization and a continued competitive position in the marketplace.'
SolarWorld Americas employs over 800 people and is the largest and one of the few crystalline-silicon solar cell and solar PV panel manufacturers still operating in the US.