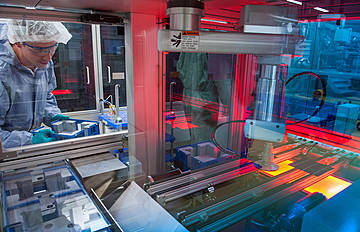 According to SolarWorld's 186-page annual report for 2015, and a presentation by Dr. Holger Neuhaus, Managing Director, SolarWorld Innovations GmbH at the inaugural PV CellTech conference held in Malaysia last week, high-efficiency products will be the key focus of its expanded manufacturing capacity and technology migrations in 2016.
At the core of SolarWorld's high-tech strategy is migrating all solar cell production to PERC (Passivated Emitter Rear Cell) technology and moving from three busbars to five in order to boost conversion efficiencies and limit capital expenditures at the same time as these changes are relatively simple and low-risk ramps, compared to entire new cell concepts such as heterojunction, according to Neuhaus at PV CellTech.
Currently, SolarWorld claims to have upgraded between 800MW to 1GW of conventional Al-BSF production lines to PERC, predominantly monocrystalline since transferring from its pilot line in 2012. According to Neuhaus, migration to PERC on a total nameplate capacity of 1.5GW was in progress.
Indeed, in SolarWorld's 2015 annual report, further PERC migration to full production status would be 'gradual', notwithstanding that increased production utilization in 2015, due to increased shipments and tight capex control prevented a more aggressive switch.
SolarWorld's PV CellTech presentation also revealed that average efficiencies of PERC cells in high-volume production had achieved 21.4%, resulting in PV module power distribution average of 303.3W.
More is expected in 2016, according to Neuhaus as the company plans further PERC optimization with cell efficiencies at its pilot line pushing 21.8% with over 50% of processed cells.
SolarWorld has also developed a bi-facial version of its current PERC cell that has entered production and more capacity is expected to be allocated to bi-facial cells and modules in 2016.
Possibly to meet further monocrystalline PERC and bi-facial module demand, SolarWorld noted in its latest annual report that it would be re-starting updated monocrystalline ingot pulling production at its manufacturing plant in Hillsboro US along the lines of its restart of production at the former Bosch facility at Arnstadt, Germany in 2015.