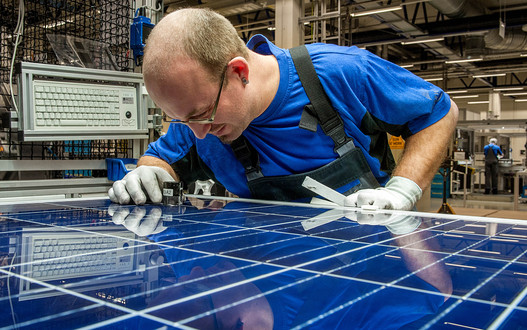 Integrated PV manufacturer SolarWorld is to shift its production focus to monocrystalline PERC (Passivated Emitter Rear Contact) cells and modules and away from multicrystalline to build economies of scale with high-efficiency only products. With the realignment of production to mono PERC products, including bifacial modules, around 400 jobs would be lost by the end of 2019.
SolarWorld said that smaller production 'entities' in Arnstadt, Germany and solar cell production in Freiberg, Germany would be relocated with emphasis on production in Arnhem and Thuringia.
"In Arnstadt, we took over Europe's largest cell-making facility from Bosch three years ago and have consistently increased its output since then, with the help from Freiberg employees," noted Frank Asbeck, CEO of SolarWorld in an online interview. "That is why only Arnstadt can be our cell site in Germany. Conversely, this applies to module production. This should be located at Germany's most modern module factory, in Freiberg. That is why we will shut down the considerably smaller module production in Arnstadt."
Monocrystalline ingot/wafer production at its facility in Arnstadt would be expanded and diamond wire wafer saws used at the Frieburg facility. Module assembly would remain at its Freiberg facility.
The company also noted that it would invest a mid-double-digit million amount in the expansion and the improvement of its high efficiency technologies, while its R&D subsidiary, SolarWorld Innovations would focus on efficiency-enhancing PERC processes.
Overall module production would be raised to around 2GW over the next two years, up from around 1.3GW in 2016.
The company had previously announced in September, 2016 around 500 job cuts.
Financial results
In a separate statement, SolarWorld said that preliminary 2016 revenue increased by 5%, compared with the prior year, reaching €803 million. Total product shipments were 1,375MW, up from 1,159MW in 2015.
However, SolarWorld reported negative Earnings before interest, taxes, depreciation and amortization (EBITDA) of €24 million and a negative EBIT of €99 million for 2016.
The company noted that the large EBIT loss included impairment charges related to its restructuring amounting to €25 million, which was said to not be cash relevant.
SolarWorld had cash and cash equivalents of €88 million at the end of 2016.
The company guided total product shipments in 2017 to be in the same range as 2016.