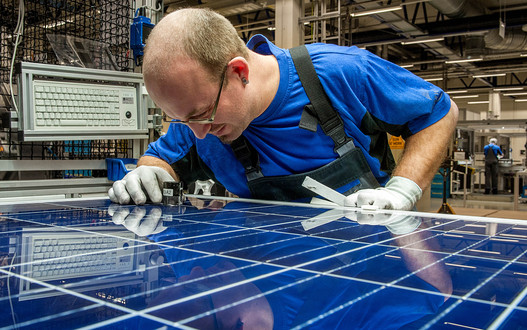 Integrated PV manufacturer SolarWorld has started using two module assembly subcontractors to boost capacity to meet demand in the US and Europe, according to the company's first half 2016 financial report.
In the financial filing, SolarWorld noted that its existing module assembly facilities in the US and Germany were operating at 100% utilisation rates, while its dedicated 72-cell module line at its facility in Hilsboro, Oregon was still in the production ramp phase.

As a result of capacity constraints, recently highlighted by PV Tech, SolarWorld has been using a major Canadian headquartered EMS (Electronics Manufacturing Services) firm with a module assembly facility in Thailand to supply PV modules to the US, while employing a US headquartered EMS firm with a facility in Europe to supply modules across the region.
SolarWorld also noted in the financial filing that the modules were multicrystalline and supported higher in-house utilisation of its wafer production facilities, lowering production costs. The company noted that it had started using subcontractors since June, 2016.
Checks by PV Tech indicated that SolarWorld could be using Canadian EMS firm, Celestica in Thailand and US EMS firm, Jabil Circuit in Poland.
Export data indicates SolarWorld was shipping modules from Celestica in Thailand to the US since March, 2016.