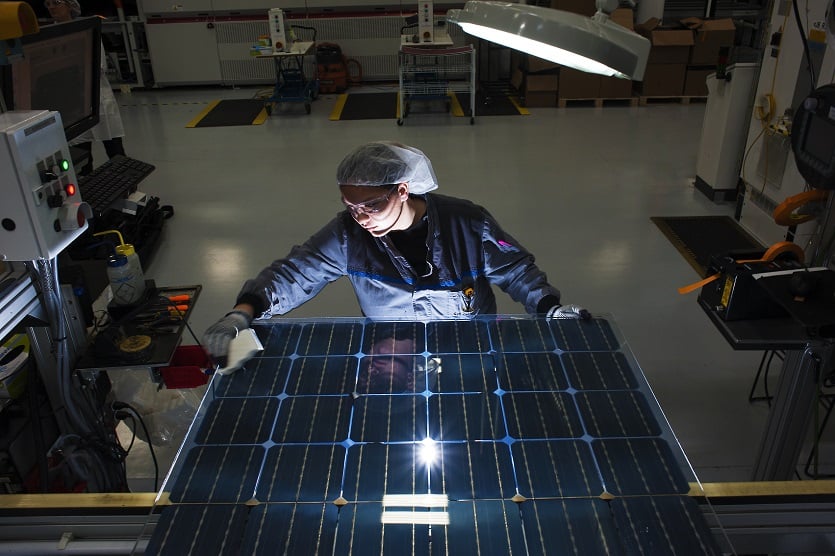 PV module manufacturer SolarWorld has started producing its first bifacial Bisun modules at its US manufacturing facility in order to test their capability against standard modules using advanced p-type mono-PERC cell architecture.
The testing will take place on a 205kW solar system at the University of Richmond in Virginia, which will be the first commercial installation of the SolarWorld bifacial Bisun modules.
The Bisun technology is able to generate electricity from direct solar radiation on the front side as well as reflected sunlight on the backside, and SolarWorld claims these modules can generate up to 25% more energy than standard mono-facial modules.
Power generation from bifacial modules also depends on the distance they are installed away from the surface below as well as the reflectivity of that surface. Consequently, the modules will be installed on two roofs – one with gravel and another with a white material thermoplastic olefin (TPO) – to vary conditions in the testing.
SolarWorld will co-own the systems with the project developer Secure Futures. Installation is expected to be complete this spring and the University of Richmond will purchase the power generated.
Mukesh Dulani, US president of SolarWorld, said: "Thanks to the university, we will provide a system that produces clean power while also demonstrating the in-field capabilities of technological innovation. Aside from making the university greener, this installation will provide a strong set of performance data in a real-world application. Bifacial PERC modules represent a significant technological advancement in photovoltaics."
SolarWorld recently reported PV module shipments of 1,159MW for 2015.