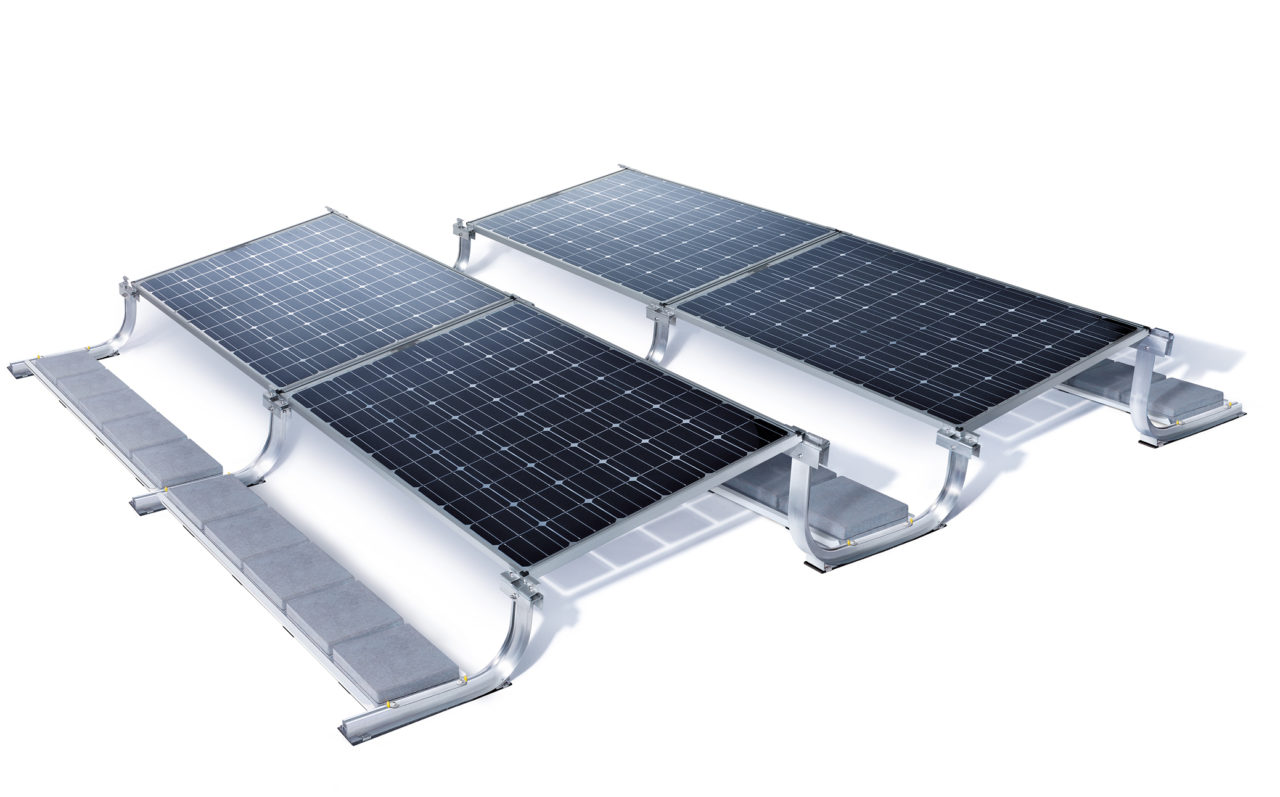 SolarWorld has launched a new era of modules for free-field and flat roof systems. The new 'Sunmodule Bisun' is a solar module active on both sides (bifacial) that converts light from all directions into electrical energy. This ensures up to 25 % more yield per installed kWp, depending on the surface on which it is installed. The modules are expected to be provided in 270Wp through 331Wp configurations. SolarWorld has also developed a new racking system for flat roofs that is optimized for the bifacial technology.
Problem
Growing demand for high-performance and high yielding PV modules to reduce installation costs through fewer modules and BOS (Balance of System) requirements do not always maximize available space as conventional modules cannot take advantage of reflected light from a roof or ground surface to provide higher performance.
Solution
The duo cells used in this module contribute to power generation through their active rear side. The double-sided light utilization, the so-called bifaciality, is based on the further development of PERC (Passivated Emitter Rear Cell) technology. If the solar module is used on surfaces such as light-coloured concrete or white membrane, more light is reflected into the module and the energy yield increases further. The brighter the surface, the higher the output generated. However, the bifacial module also produces more output than comparable standard modules on non-optimized surfaces such as grass, sand or trapezoidal sheeting. The Sunmodule Bisun also has a long lifespan through the use of glass on the front and rear sides of the module. This glass/glass technology also ensures high mechanical durability and improved degradation behavior and has a 30-year linear performance guarantee, with at least 86.85 % output after 30 years.
Applications
Ground-mounted systems and flat roofs.
Platform
'Sunfix Bisun' mounts the module at a distance of 30 cm to the roof surface optimizing light capture for energy harvest. The increased elevation ensures optimized energy harvest without sacrificing the performance of the racking system. The racking system consists of five pre-assembled components (3 legs adjusted to a module tilt of 10°, ballast tray, and, cable routing) and can be installed using only one tool. It is fixed to the roof through ballast. Roof bolts can be integrated into the system if required. The legs are made of sturdy, weather-resistant material of stainless steel and aluminum. The system does not need long rails – the longest part of the system is only 80cm long. This means it is easy to transport and needs little storage space. Sunfix Bisun can be attached to flat roofs with a roof-tilt of up to five degrees. It is suitable for various rooftop covers such as bitumen, gravel, foil or green roofs. The module and racking system are available immediately.
Availability
June 2016 onwards.