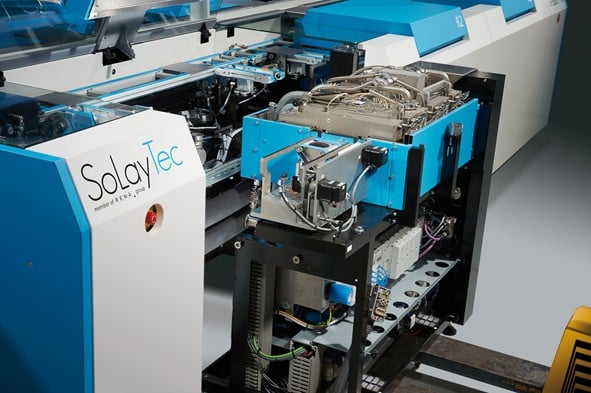 Atomic layer deposition (ALD) equipment specialist SoLayTec, a subsidiary of Amtech Systems, has launched its second generation InPassion ALD tool for PERC cells.
According to the company, combined with the newest direct PECVD, it can annually produce up to 130MW, including the integrated anneal process.
The new product has been hailed by SoLayTec as "a highly cost-effective solution" capex-wise and has published customer data to back this claim up. The main improvement of the second generation model is cited as the uptime and net throughput of the machine. The company also claimed that TMA usage and efficiency gains edge the new product above competitors.
"For PERC integration the Al2O3 ALD machine only, is not the complete solution. A customer also needs a PECVD capping machine for covering the Al2O3 layer. So far a customer needed at least six direct PECVD tubes to meet the ALD output of 3600wph. Since the 10th SNEC exhibition in Shanghai, [Amtech subsidiary] Tempress introduced the SPECTRUM PECVD which has at least the same net capacity as the InPassion ALD. So now capex wise we have a highly cost effective solution available for our customers", said Roger Görtzen, co-founder of SoLayTec and director of marketing and sales.
During Intersolar Europe 2016, leading PV cell manufacturer Hanwha Q CELLS published results of using the InPassion ALD compared with their MW-PECVD system. A comparison of the two technologies found that the SoLayTec product offered a 0.15-0.25% better efficiency for multi-cSi PERC compared to the MW-PECVD AIO×.
The evaluation showed that this efficiency was achieved by "optimising the process flow and integrating a post-deposition anneal into the SiNx capping process," as stated by a Hanwha Q CELLS research paper. The technical paper also found that the SoLayTec product demonstrated improved passivation quality resulting in the Voc gain remaining constant during light and elevated temperature induced degradation measurements.
"At SoLayTec we are very proud of this result, confirming our efficiency benefits at an important tier one cell manufacturer", said Görtzen, in a statement. "For our customer this gives a wider opportunity to use our ALD system, besides PERC applications also for other high efficiency cell concepts like: n-PERT, IBC, PERL and the latest Topcon approach," he added.
Tempress and SoLayTec are both part of the Industrial Affiliation programme at research institute imec. At Intersolar, imec and its partners presented the latest results of their large area n-type IBC cells of 22.8%. Imec already proved that ALD Al2O3 was a good passivation material for p+ emitters, but in this work the ALD from SoLayTec plays a significant role to passivate also the n+ emitter, the company explained. In the past, the standard passivation method was always by using Wet thermal SiOx, but now also for IBC concepts the gain is +0.3% by using the ALD Al2O3 layer.
SoLayTec recently performed a PERC integration for a customer in Asia. This ramp-up of a standard multi cell line into mono PERC reached a daily capacity of 50,000 PERC solar cells, with a stable cell efficiency of 20.6%.
The PV CellTech 2017 conference, focussed specifically on solar cell manufacturing, will take place in Penang, Malaysia on 14-15 March 2017. More information on how to get involved in shaping the content of the event can also be found at the PV CellTech 2017 website. Watch out soon for details on the agenda, which will be announced at the start of August on PV Tech, with an accompanying feature to explain the rationale and methodology involved.