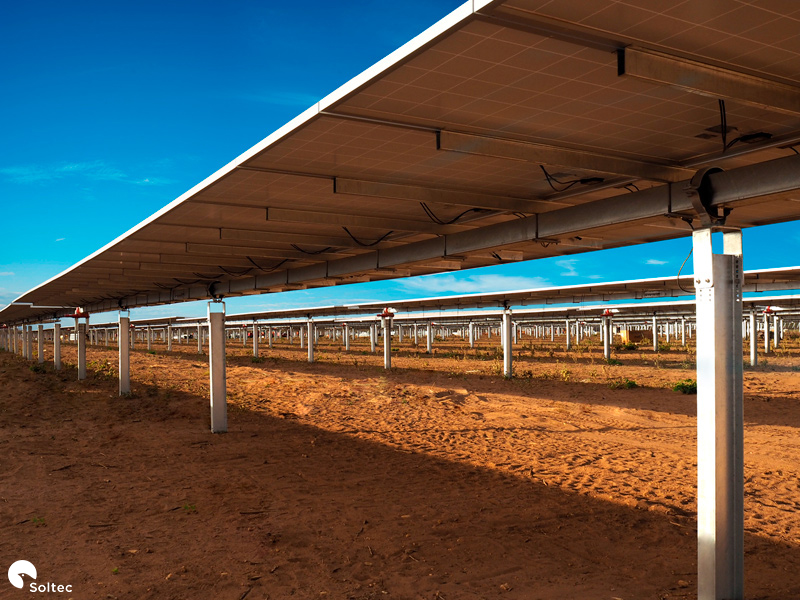 Bifacial technology is to be incorporated to what has been described as South America's largest PV project under construction.
Spain-headquartered Soltec will roll out its SF7 bifacial trackers at Enel's 475MW São Gonçalo project, according to an agreement between both firms.
The scheme in São Gonçalo do Gurguéia – in the northeastern state of Piauí – broke ground last October, when it was billed as South America's top PV project under construction.
At the time, Enel said it would invest BRL1.4 billion (US$390 million, based on last October's rates) in the plant, designed to produce more than 1,200GWh of electricity every year.
At 388MW of the total 475MW, most of the plant's supply is contracted to a pool of distribution firms, via 20-year PPAs Enel won at Brazil's renewable auction of December 2017.
The remaining 87MW, Enel explained last October, will be provided on a free-market basis.
Soltec's largest Brazilian deal to date
Héctor Sánchez, Soltec's sales manager for Brazil, told the Spanish press São Gonçalo marks the firm's largest deal to date in Brazil.
"We have been working on projects since 2015 and, as of today, we have projects for more than 2,145GW," Sánchez added.
The SF7 milestones in Brazil emerge after Soltec was chosen last February to install the technology at Israel's first bifacial utility-scale project.
With headquarters in Molina de Segura, southern Spain, the firm secured last year credits of €100 million (around US$113 million, based on current rates) it said it would dedicate to projects in Brazil, Egypt and Spain.
The news around the 475MW São Gonçalo project adds to the bullish mood music in Brazilian PV, which has seen sharp growth in recent times and is now gearing up for up to six auctions until 2021.
For Enel, the progress with the Piauí scheme follows its BRL2.9 billion (US$776 million) sale to China's CGNEI this January of a 540MW renewable portfolio, including 292MW Nova Olinda and 158MW Lapa.