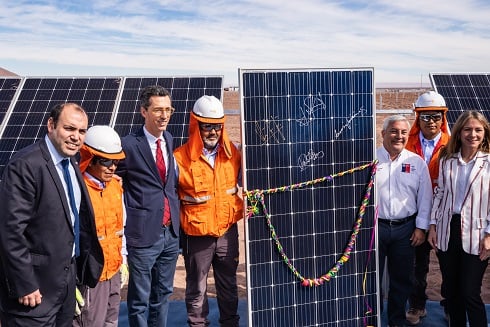 Sonnedix is amongst the developers making recent strides with Chilean projects, reaching financial close for a utility-scale scheme in the Atacama Desert.
The IPP's 171MW Atacama Solar project will be backed with US$99 million in non-recourse project finance, a package finalised in recent days.
Funding from Latin American development bank CAF as well as Banco BICE and Banco Security will support the project in the Pica district, billed as Chile's second PV largest to date.
Since entering Chile in 2015, Sonnedix has grown to develop and operate a 400MW PV pipeline. The IPP, active in part through a stake it owns in Cox Energy Chile, is set next year to start building a 138MW project it bought last July near the capital Santiago.
Ministerial backing for Solarpack's 123MW
Solarpack is another player to have marked recent milestones in Chile, a country where IRENA found PV capacity doubled between 2016 (1.12GW) and 2018 (2.13GW).
Chilean Energy minister Susana Jiménez was among those attending the recent ground-breaking ceremony of Solarpack's La Granja, also in Atacama.
The first panels of the 123MW plant were laid out at a site in the Tarapacá Region, where the scheme is scheduled to go operational by the end of the year.
The project, set to supply Chilean distributors under a 25-year PPA, will require US$114 million in funding; up to US$91 million will come from KfW IPEX-Bank.
Having expanded to Chile in 2008, Solarpack has since developed various projects for mining firms and sold a 45MW pipeline to a Cap Vert Energie subsidiary.