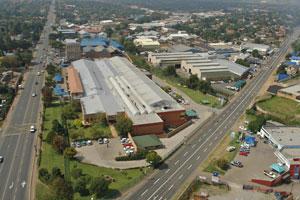 EPC firm SOVENTIX and Nigerian renewable energy company Gentec announced that they have formed a joint venture to expand solar energy in Nigeria.
The joint venture, SOVENTIX Hybrid Limited, will focus on the development of hybrid PV systems within the country.
Demand for renewable energy solutions in Nigeria is very high, with the country's current energy production of 4GW unable to meet the demands of around 180 million inhabitants.
Deepak Khilnani, Gentec's CEO, said: "We are very pleased to be partnering with SOVENTIX. Gentec is constantly looking for co-operation partners to make the power supply in Nigeria cheaper, safer and more innovative. The reliability, experience and long-term track record of the management team convinced us of SOVENTIX as a project partner for solar solutions."
The SOVENTIX Hybrid joint venture will revolve around the installation of photovoltaic systems on roofs of companies with diesel generators or other power plants. Once these systems are installed, they will feed energy into the Nigerian power grid.
With a fixed feed-in tariff over a period of 20 years, solar energy in Nigeria is particularly attractive for investors. However, according to projections from the United States Department for International Development (USAID), 95 million people in Nigeria have no access to the public electricity grid.
Thorsten Preugschas, CEO of SOVENTIX, said: "A secure energy supply through the integration of renewable energy is becoming increasingly important in African countries, especially in Nigeria, because renewable energies are becoming increasingly important for Africa, and the economic and ecological arguments for renewable energies are also making solar energy more and more important for Nigeria.
"We are convinced that our partnership with Gentec EPC will help us to realize this potential by combining the market expertise and the local network of Gentec EPC with the experience and know-how of SOVENTIX in the realization of solar projects."