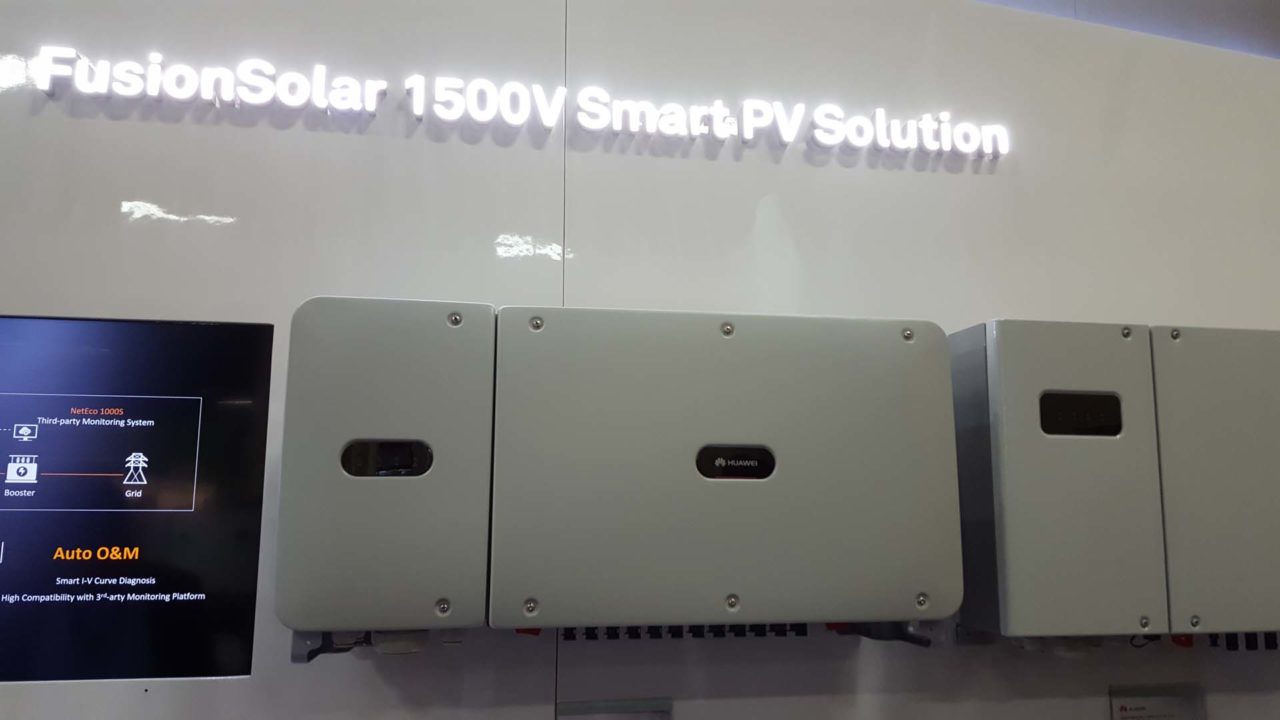 Sungrow's 1500V 125kW inverter now UL 1741-SA certified
Major PV inverter manufacturer Sungrow is displaying its SG125HV and the SG2500U systems at SPI 2017. The company has just received its long-anticipated UL 1741-SA certification for the SG125HV, which is one of Sungrow's flagship products with a 125kW power output rating-the highest rating in the world for any string inverter.
The company has intensified its focus on global markets and international expansion with exports expected to grow exponentially, and North America remains a high target for the company. With the SG2500U central inverter also receiving the UL 1741-SA certification, Sungrow has become the first provider that has 1500Vdc inverters of both types receiving the stringent certifications required for North American projects.
"The UL 1741-SA certification is a new requirement for grid-connected inverters in North America, and also one of the most stringent and difficult to obtain. We are excited that our products are up-to-date with the latest industry requirements and standards. Sungrow remains steadfast in its mission to power the world on cleaner energy," said Professor Renxian Cao, President of Sungrow.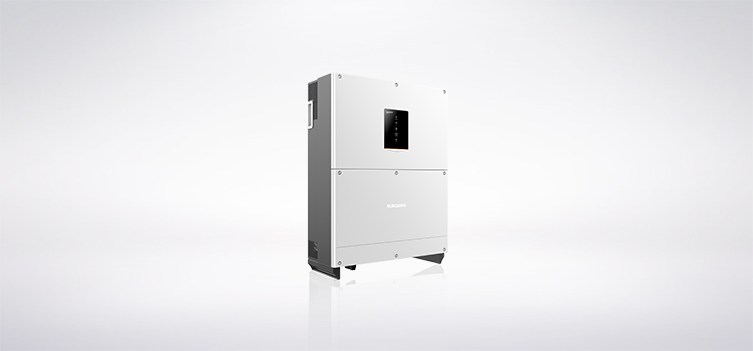 Huawei unveil 1500V string inverter for utility-scale projects
Leading PV inverter manufacturer Huawei Smart PV Solution has unveiled their latest utility scale solar inverter, SUN2000-95KTL-US at SPI
The 95 KTL 1500 VDC smart interactive string is said to be offering the highest power-to-weight ratio in the industry for ease of install. The 95 KTL utilizes an 800 VAC output stage to minimize AC losses.
To improve string flexibility and maximize yield compared to traditional string or central inverters, the 95 KTL includes six MPPTs and twelve directly connected string inputs. As with Huawei's other inverters it uses natural cooling technology with no external fans, no filters requiring cleaning or exchanging, and no DC fuses.
The 95 KTL builds on the proven value of the Huawei 45 KTL string inverter with simplified installation and drastically reduced O&M cost and inverter replacement reserves, according to the company.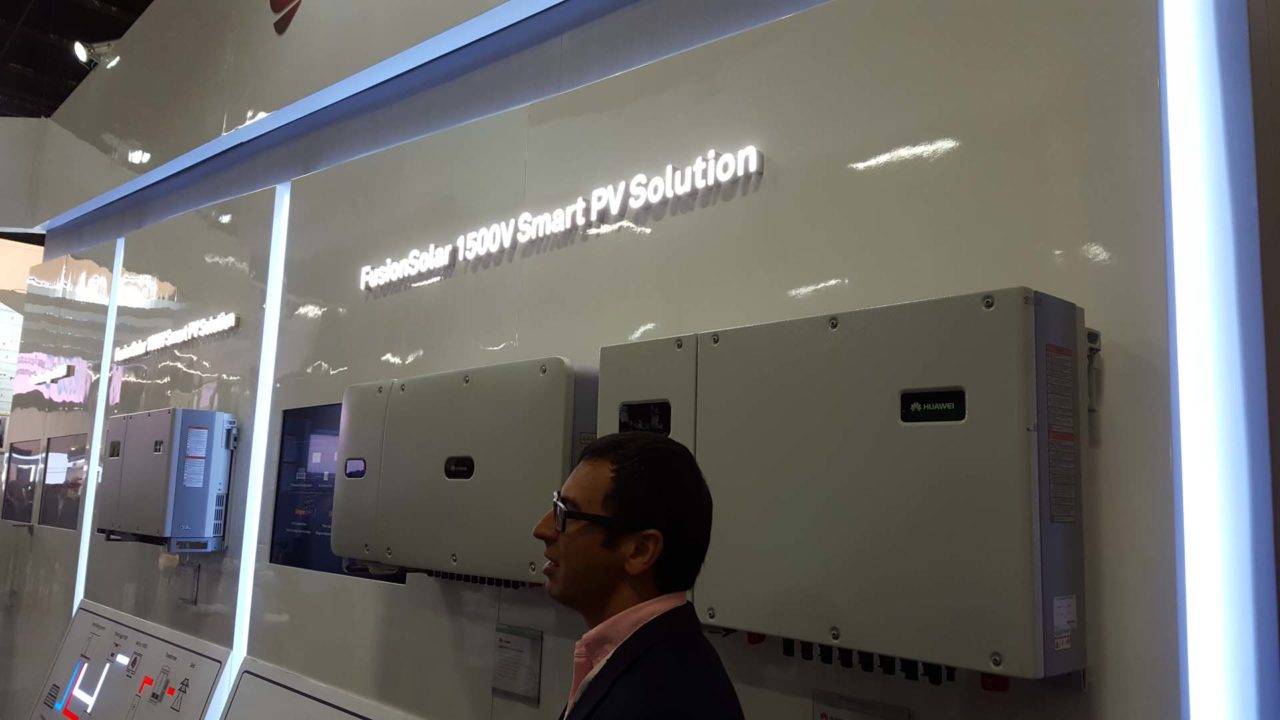 SolarEdge meets larger rooftop install demand with HD-Wave inverter of up to 11.4kW
SolarEdge Technologies is increasing its PV inverter product portfolio and showcasing its new high-power residential inverter with HD-Wave technology as well as an extended range of commercial inverters and the world's first inverter-integrated EV-charger.
SolarEdge's theme at SPI would seem to be "larger" as it introduces a single-phase HD-Wave inverter of up to 11.4kW in order to support larger installations. As part of its residential offering, SolarEdge has a new inverter-integrated EV Charger with HD-Wave technology, which is designed to reduce installation costs but provides increased charging power with a solar boost mode. The system is integrated into the SolarEdge monitoring platform. The new inverter can be purchased as an EV-ready HD-Wave in either 3800 or 7600 watt power ratings.
This is also true with its commercial offering of a larger-capacity, three-phase inverter that ranges from 66.6kW up to 100kW for the North American market.
Yaskawa Solectria Solar is aiming at quality and reliability
US commercial PV inverter manufacturer Yaskawa Solectria Solar is launching its new Solectria SLX line of American made inverters for commercial and utility-scale applications at SPI.
The SLX 1000 inverters are offered in 60 and 65 kilowatt (kW) power levels and the SLX 1500 inverters are offered in 125 and 166 kilowatt (kW) power levels. They offer wireless HMI and connectivity, reducing the cost of installation and commissioning. Various options for the integrated combiner include fused or un-fused inputs as well as PV connectors.
However, the PV inverter manufacturer is grabbing attention for focusing on quality and reliability, claiming that each individual component of the inverter is carefully selected and tested to perform reliably beyond the expected 20-year life of the inverters.
"Yaskawa's quality and reliability testing are unlike anything the PV industry has ever seen," noted said Phil Vyhanek, President of Yaskawa Solectria Solar. Since Solectria Renewables was acquired by Yaskawa America in 2014, we have incorporated Yaskawa's quality methodologies into our PV inverter design and production processes. The SLX 1000 and SLX 1500 have endured testing to ensure that each individual component as well as the finished product will last beyond 20 years. PV project developers, owners, and EPCs will appreciate the new level of inverter reliability and durability, which drastically lowers the cost of installation and O&M, while increasing power production."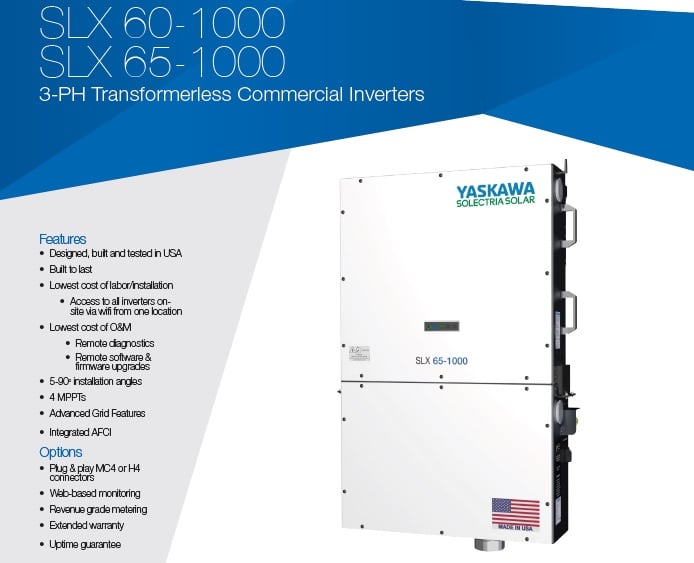 Delta launches hybrid E-Series inverter for greater energy independence
Electronics firm Delta E-Series hybrid inverter and all-in-one solar energy storage solution will be showcased for the first time at SPI.
The E-Series (E6, E8, E10) line is targeting the US residential solar power backup market. To help homes reach energy independence from the grid, Delta has also created an all-in-one solution that features an E7U hybrid inverter, lithium-ion external battery cabinet, smart monitor and control system, and power meter.
Based on Delta's transformer-less (TL) solar inverter series, the residential E-Series consists of the E6, E8 and E10 models, which have maximum output power levels of 6,000 VA, 8,000 VA and 10,000 VA. It also the ability to support a wide variety battery backup systems and predefined energy management applications and able to effectively operate in the smart grid environment, due to compliance with UL1741SA testing to HECO and California Rule 21 conditions.
Delta's all-in-one energy storage solution consists of a 7kW hybrid inverter E7U; external battery cabinet equipped with a high capacity BX_6.0 6kWh lithium-ion battery; R4 smart monitor and control system; and power meter.
The E7U hybrid inverter integrates with the BX6.0 battery in a compact, flexible solution that can be detached as needed. It features three Maximum Power Point Tracking (MPPT) standalone functions and a high charging efficiency of up to 97%.
Ginlong highlights tough testing by DNV GL PVEL for its inverters
Ginlong is showcasing at SPI its bankable, reliable and innovative string inverter technologies under its Solis brand for residential, commercial, industrial and light utility scale solar markets in North America.
"Ginlong Solis inverters were the first inverters 3rd party tested by DNV GL PVEL," noted Tara Doyle, director of DNV GL, Global independent testing, certification and advisory company.
Ginlong's Solis inverters passed the very tough DNV GL 3rd party reliability testing which included, Damp Heat (DH1000) stress testing, which exposed the Solis inverter to a harsh environment consisting of 85°C and 85% relative humidity; Humidity Freeze (HF10) exposed the Solis inverter to a high operating temperature and high humidity before taking it to -40°C for ten (10) times and Thermal Cycling (TC200) with temperature cycled between -40°C and 85°C a total of two-hundred (200) times.