Demand for glass/glass PV module construction is growing due to the inherent benefits that allow both the back and front panel of the module to produce electricity. This is especially true in highly reflective environments like deserts, near water, rooftops, and above parking lots. According to the International Technology Roadmap for Photovoltaics (ITRPV), glass used as the back-side cover material will increase in the next decade, with roughly 25% of all c-Si modules produced with glass/glass construction by 2024. While more expensive than modules produced with plastic backsheet construction, glass/glass costs can be offset due to increased power output and predicted longer service life. These improvements, plus factors like reliability and durability, become important considerations when looking at overall lower levelized cost of electricity (LCOE) over the lifetime of the module.
With all this in mind, choices for encapsulant film layers have become increasingly important in supporting glass/glass module growth. EVA-based encapsulant films have long been used in several types of PV modules. In constructions that contain glass fronts and plastic backsheets, some of the corrosive acetic acid produced from EVA can pass through the plastic backsheet. However, in glass/glass constructions, all acetic acid that is generated is trapped between layers of glass and can cause corrosion that negatively impacts module performance.
Polyolefin elastomer-based encapsulant films, like those made with 'ENGAGE PV POE' from Dow, do not produce corrosive elements like acetic acid. In fact, POE-based encapsulant films exhibit virtually zero potential induced degradation (PID). Encapsulant material resistance to PID takes on more importance in the field as solar cells under high voltage stress can degrade significantly within a short amount of time. Higher levels of PID resistance result in sustained levels of module efficiency.
Detailed PID tests conducted in 2013 by the Fraunhofer Center for Silicon Photovoltaics CSP compared modules using ENGAGE PV POE-based encapsulant film to modules using EVA-based film. Testing shows that power degradation in modules using EVA-based encapsulant films is far more likely and will occur much more rapidly than in modules using film made with ENGAGE PV POEs. See Figure 1 below.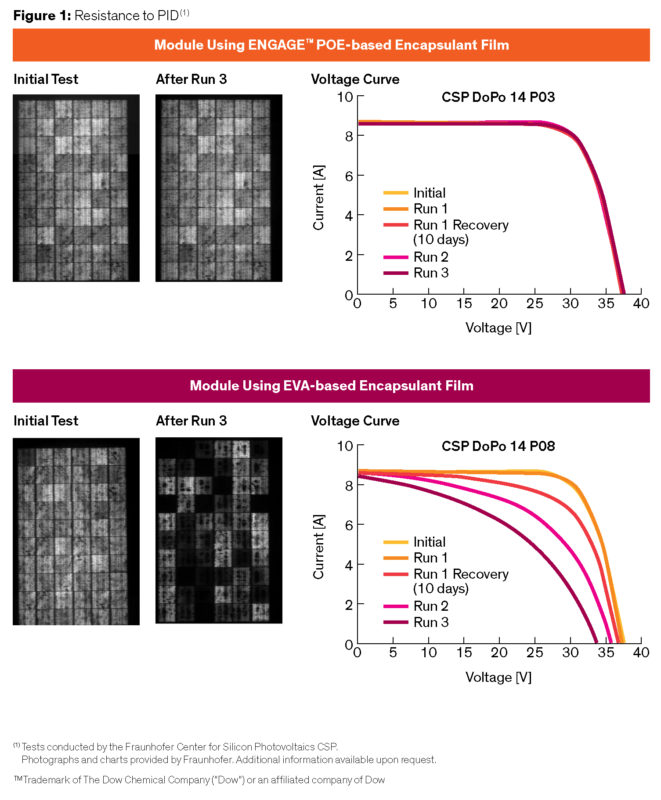 Further, modules made with POE-based encapsulant films outperform those made with EVA in these other critical areas:
Volume resistivity and leakage current
Water vapor transmission rate (WVTR)
Dielectric strength
Optical transmission/yellowing
UV and weather resistance
Energy output, operating efficiency, reliability
Service life (including LCOE/total lifetime system costs)
Therefore, significant increases in module efficiency, reliability and life expectancy is anticipated in all module types in which POE-based encapsulants are used, including glass/glass. This all results in projected power output using POE-based encapsulant films that far outpaces modules produced with EVA-based films. See Figure 2.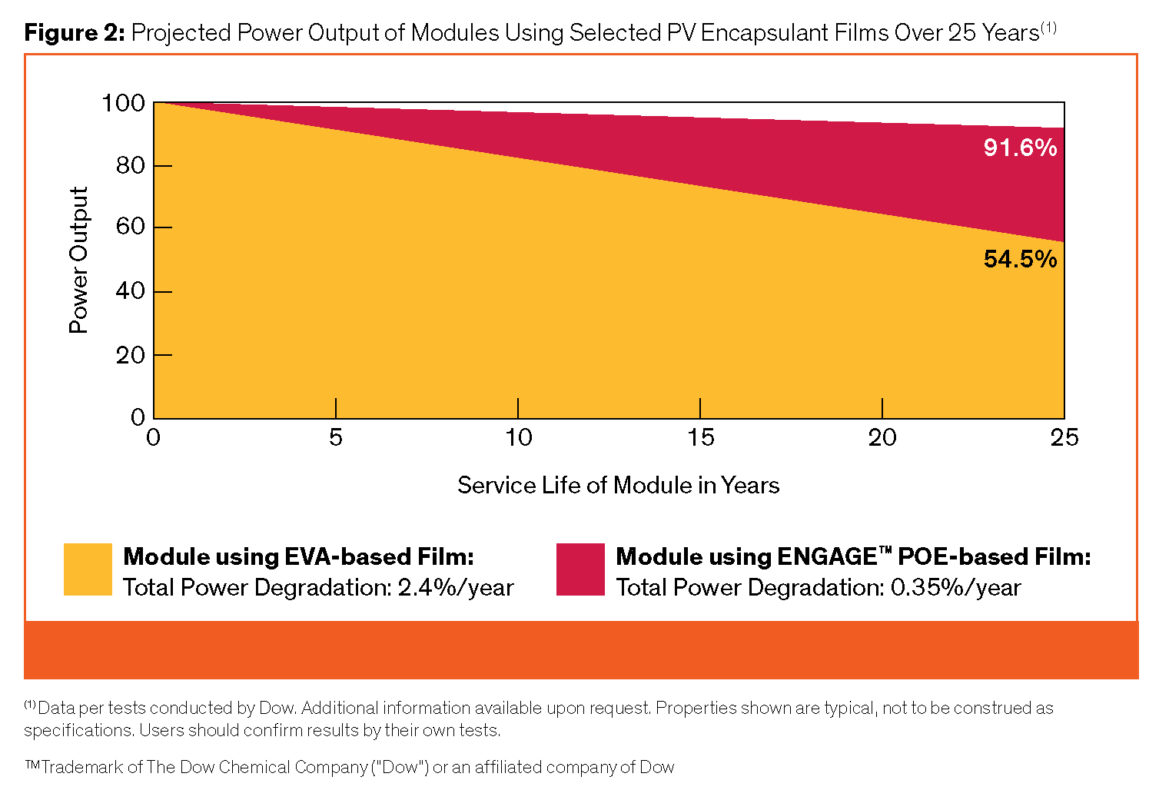 With glass/glass module demand clearly on the rise, material selection for module construction has an increasing degree of impact. POE-based encapsulant films, like those made with ENGAGE PV POEs, become a much clearer choice when considering module and system performance, longevity, reliability and long-service life. Learn more.