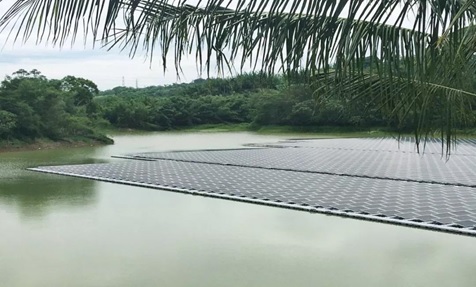 Major PV inverter manufacturer Sungrow Power Supply Co said that a 1.9MW floating solar (FPV) plant in southern Taiwan had experienced extreme environmental conditions through a dry season and then a typhoon season that caused some unique issues but survived relatively unscathed.
The 1.9MW FPV plant in southern Taiwan had been built and commissioned in April, 2018 but subsequently experienced a rare drought, which had a significant impact on the water level with parts of the lake bed exposed to the sun and dried-out.
Sungrow noted that due to the uneven lake bed, the floating matrix appeared to deform, while one of the main floating bodies was pierced by a tree stump. Fortunately, the distorted floating body and matrix did recover and was said to have operated well after the lakes water level rose after raining.
However, soon after on July 10th, the super typhoon Maria hit the region of the FPV, creating wind speeds near typhoon centre of 30m/s, subsequently the water level in the lake increased rapidly in a very short time.
Sungrow said that the FPV had been specifically designed with an anchoring system that could cope with the local seasonal weather conditions of strong wind and waves as well as the huge difference in water levels.

In addition, Sungrow said that it had conducted a number of tests to enhance the reliability of the FPV plant, which include a bending fatigue test as well as a strain relief test and an environmental stress crack resistance test of the system design and modules. This was said to also be part of studies being undertaken on FPV plants for locating in offshore and high typhoon areas in general.
Sungrow had been a key colaborator on the largest FPV system to be built in 2017, a 40MW system on a former flooded coal mining region in Huainan, south Anhui province, China.