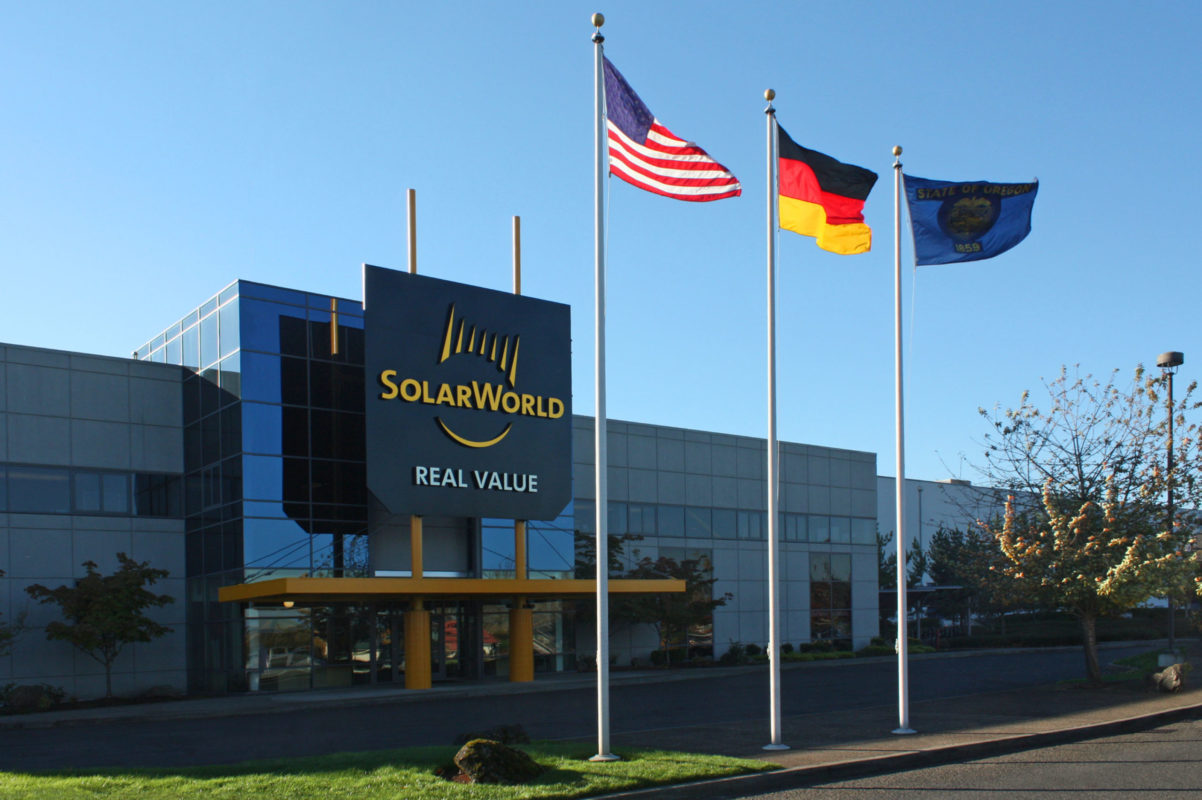 Updated: So technically, subject to approvals, California-headquartered SunPower Corp has acquired Hillsboro, Oregon-based PV manufacturer, SolarWorld Americas, yet typically there are many known unknowns regarding the acquisition.
Other than the "100%" acquisition being definitive in SunPower's press release and our story and context, what is really going on?
Between a rock and a hard place
SunPower had nowhere to go after President Trump imposed sweeping import tariffs on virtually all countries capable of importing solar modules into the country, after the SECTION 201 case was concluded.
Other than an R&D pilot line installed last year at SunPower's headquarters, the company manufactures cells in the Philippines and Malaysia, with module assembly production being undertaken primarily in Mexico and when required, in France.
Despite petitioning for exemption from the Section 201 tariffs because the company deemed its N-type IBC (Interdigitated Back Contact) cell technology to be rather special (highest conversion efficiencies) in the world of mainstream P-type monocrystalline and P-type multicrystalline Back-side Field (BSF) and Passivated Emitter Rear Cell (PERC) technology, SunPower management were obviously not convinced they would obtain an exemption, therefore opted to acquire the distressed assets of SolarWorld Americas before an exemption decision had been made.
Think of legendary vehicle manufacturer Ford and its pre-presidential election announcement to move some manufacturing from the US to Mexico and import those products with the loss of many US jobs. Think about the decision post US election of Ford to cancel that manufacturing move. Think multi-billion dollar Ford and compare to SunPower's US$1.87 billion revenue in 2017 and no manufacturing jobs in the US.
Also think that SunPower is in the solar industry, not the automotive industry and things didn't look good for a positive exemption decision.
Indeed, it was not too difficult to add two and two together when SolarWorld Americas added further commentary to its statements on the Section 201 tariff exemption cases by recommending SunPower's technology be excluded for exactly the same reasons SunPower had presented in detail.
That would be deemed very strange from many corners, especially considering SolarWorld Americas joined bankrupt Suniva as a petitioner in the Section 201 case.
But it was not just SunPower that found itself between a rock and a hard place as SolarWorld Americas was up for sale since its German parent company, SolarWorld AG started insolvency proceedings in 2017.
Having subsequently been bailed out by its founder and the Qatar Foundation, a major investor in SolarWorld AG through Qatar Solar, general thinking was it would be only a matter of time that the newly formed SolarWorld Industries would purchase SolarWorld Americas.
Move forward many months of relative public inaction and it made sense that with President Trump handed the Section 201 case conclusions and remedial actions, SolarWorld Industries was better served to wait for tariffs to be set before pouncing.
That did not happen and raised secondary issues over SolarWorld Industries financial position and financial arrangements with its major co-investor. Two months after the US tariffs were imposed, SolarWorld Industries returned to the bankruptcy court.
Where did that leave SolarWorld Americas? Yes, between a rock and a hard place.
The reality was that post the Section 201 case and further drama at its former parent company, SolarWorld Industries only option was to find a buyer, sooner rather than later, especially considering the widely known reluctance of investors in the US wanting to fund manufacturing in the US.
Known Unknowns
Below in bullet point format are the most obvious known unknowns over the SunPower acquisition of SolarWorld Industries.
• How much did it cost SunPower to acquire SolarWorld Industries from German insolvency administrators?
• Has the Bonn, Germany court approved the deal?
• Does SolarWorld Americas have legal rights over SolarWorld Industries PERC and Bifacial cell and module technology?
• Is SunPower buying a licence for access to SolarWorld Industries PERC and Bifacial cell and module technology?
• Will there be any solar cell production at the Oregon facilities once take-over happens?
• Is SunPower simply going to import P-type mono PERC cells from China JV partners?
• What does SolarWorld Industries "legacy products" really mean?
• Will SunPower be purchasing new manufacturing equipment for its shingle stacked multi-cut cells to be assembled at the Oregon facility?
• Will SunPower take some existing manufacturing equipment for its shingle stacked multi-cut cells from its plant in Mexico and retrofit at Oregon?
• How much capital expenditure will SunPower allocate to the Oregon plant?
• How long before SunPower is producing P-Series modules at the Oregon plant?
• How cost competitive will P-Series modules be when made at the Oregon plant?
• How commercially viable will the Oregon plant be after tariffs expire?
• Will the acquisition directly result in SunPower returning to profitability in 2019?
• Will the acquisition directly result in SunPower continuing to make losses in 2019 and beyond?
• Will SunPower hold back US$100 million capex at Fab 4 in Malaysia for its 100MW 'NGT' pilot production line?
Updates
• Will SunPower still go ahead with the SolarWorld Americas purchase if it fails to get its IBC cells and modules exempt from Section 201 tariffs?