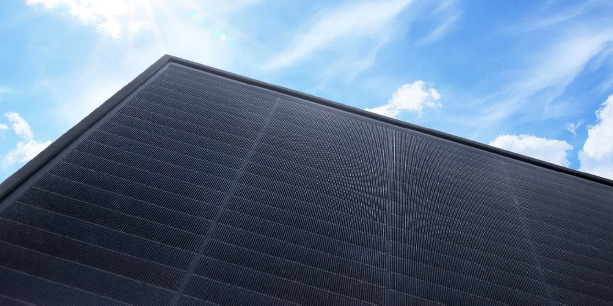 Updated: Major PV energy provider SunPower is to ramp Cogenra Solar's module technology to 2GW by 2020 and only a further 800MW of its 'Maxeon' solar cell technology at its new facility, Fab 5 that it expects to ramp in early 2019.
SunPower said that it would be offering a new 'Performance' (P) Series module developed by US-based Cogenra Solar, which it said it acquired earlier in 2015.
Cogenra Solar developed its Dense Cell Interconnect (DCI) technology, originally designed for low-cost CPV technology but further developed the technology for connecting conventional cell/modules, which is claimed to eliminate electrical losses from cell to cell.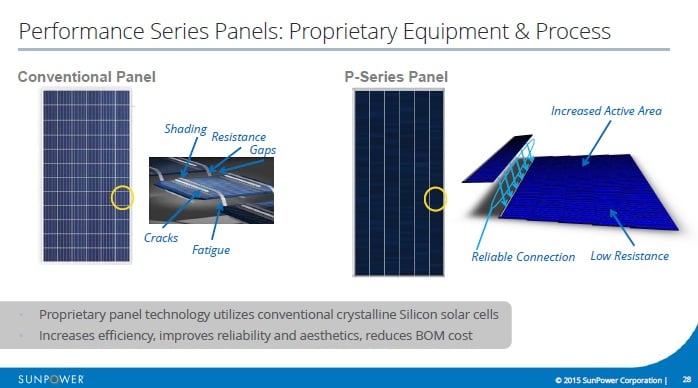 Updated: The company had previously touted that the the DCI technology enabled a 60-cell n-type mono front contact module to generate 334W, while a 60-cell p-type mono module was said to generate 301W and a 60-cell p-type multicrystalline cell was said to generate 288W.
"Our new line of Performance Series products continue the SunPower tradition of higher efficiency, superior reliability and enhanced aesthetics compared with conventional panels, all in a lower priced product configuration," said Tom Werner, president and CEO of SunPower. "Together with our best-in-class E-Series and X-Series back-contact panels, we are expanding our product line to offer customers a wider range of product choice and increase our reach to additional markets, further enhancing company growth."
SunPower said that it would ramp the Cogenra Solar module technology to 2GW by 2020, which would enable the company to purchase solar cells from the merchant market.
The company expects to only have first silicon out of Fab 5, already earmarked for its IBC cell technology under the 'Maxeon' brand, in 2019, with a nameplate capacity of only 800MW, exactly the same capacity as previously planned.
Details regarding its C7 low concentrated CPV system capacity, which uses its IBC cells, was not covered in a presentation for its annual analyst day event today.
At its 2014 analyst day, the C7 technology was earmarked to account for half of project completions and manufacturing capacity.
Overall, SunPower expects to ramp PV module capacity to 4GW by 2019.
Capital expenditures in 2016 were guided in the range of US$210 million to US$240 million and deployed module production in the range of 1.7GW to 2.0GW.
Updates from SunPower's annual analyst day
Thomas Werner, CEO noted that the P Series modules would play a role in increasing its project business in China as well as further expected growth of its C7 technology already reaching 400MW of product in projects under construction in the worlds largest downstream market.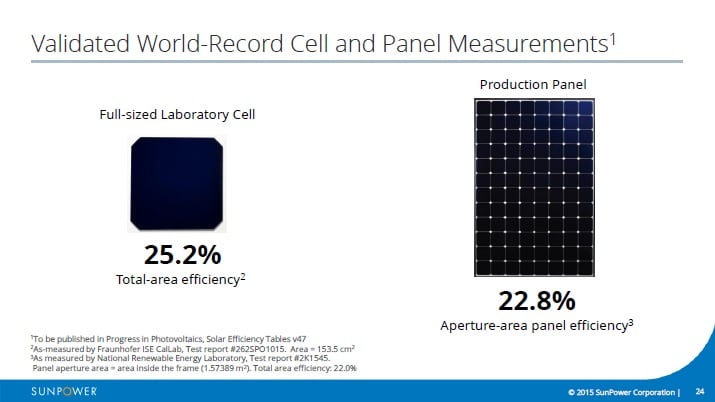 World record cell and module efficiencies are to be verified soon at 25.2% (total area efficiency) and 22.8% (aperture-area), respectively.
Werner noted that the IBC cell was produced at its lab in San Jose, while the module was produced at a module assembly line. The module with these efficiencies was said to be available today.
The SunPower CEO noted that the company expects to ship 1.6GW of modules with an average conversion efficiency of 21.5% in 2016.
Werner clarrified Fab 5 IBC cell facility would ramp in early 2019. Slides had just showed 2019 as the ramp timeframe.
The capex cost of the P Series module production capacity expansion was claimed to be US$0.10/W, while its next-gen IBC solar cell capex per watt would be 30% lower than its previous generation high-performance cell.
Oasis utility-scale BOS cost reductions are expected to be reduced incrementally by 20% to 30% through 2018. The company guided the same range of cost reductions in the commercial rooftop space with its recently introduced 'Helix' complete system.
Digital (online) direction for residential will lower customer acquisition costs over time of as much as 35% through 2018.
SunPower said it was targeting 1 million residential customers by 2020.
Q&A session
The MW deployment and manufacturing profile is shifting.
P Series modules to be used for complete solutions in international market growth strategy in post ITC climate in 2017 onwards and would provide 'more profit per watt' with those modules and complete solutions.
To double market share, company said it needed broader module product portfolio. 2017 will have 400MW of extra capacity from P Series not allocated to projects to give greater sales flexibility.
SunPower has still not announced the location of its Fab 5 cell plant, but Werner said it would be a 'minimum' of 800MW.