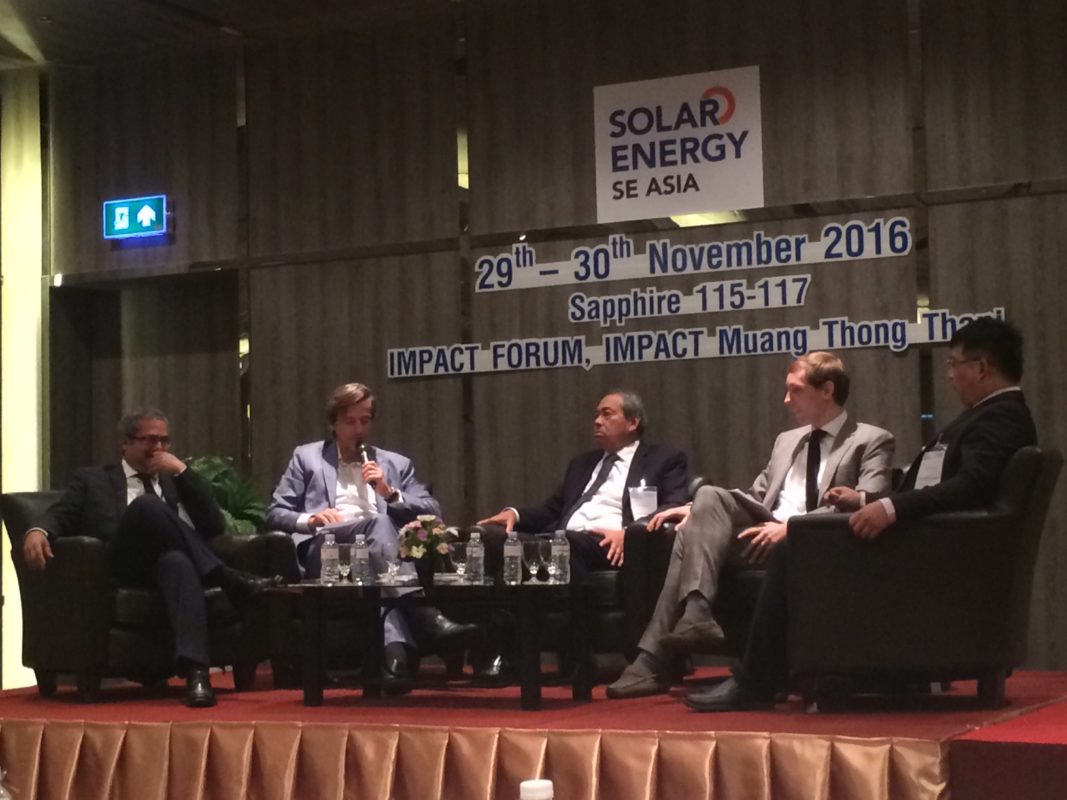 Political changes over the last four years and the recent death of King Bhumibol has brought some inertia to the Thailand market, but industry members expect the market will return to strong growth in the second half of 2017.
Speaking at Solar & Off-Grid Renewables Southeast Asia in Bangkok, Franck Constant, co-founder Sonnedix Group, said it has not been easy to develop policy in the current climate following a constitutional referendum in August, which has made foreign investors hesitate. Far less capacity has come online compared to the 2010/11 period.
Constant added: "The country is mourning the late King and there will be a natural slow down situation for a few months. I think that will extend into early next year."
Despite a level of "inertia", Constant noted that Thailand is still leading the pack in Southeast Asia with more than 3GW of operating solar PV installations; far more than Malaysia, Indonesia, Laos and Myanmar, although the Philippines is catching up quickly. Regulations in the Philippines and Thailand have been more stable than other countries and they have a more level playing field in their regulatory frameworks.
Referring to Thailand, Constant added: "I believe the new ministry of finance, the new leadership in the government, is going to very aggressively push for infrastructure implementation from the second half of next year. They want to do green bonds and other interesting things so watch this space on Thailand."
Florian Bennhold, managing director, Symbior Energy, said that the last year has actually seen an easing of inertia with 1GW installed, although this has been mainly from postponed PPAs that were applied for in 2010/11. He said the really dry spot for the country was between 2011 and 2015.
Bennhold said there has a been a steady supply of quotas being allocated although often with breaks of six months to one year at a time, and therefore it is "quite likely there will be long dry spells again".
Nevertheless given the number of Thai and foreign companies in joint ventures invested in the supply chain and the market reaching maturity, Bennhold was confident that the market will continue to progress.
Athough the Energy Regulatory Commission (ERC) has been successful in streamlining the development process, Bennhold pointed to complications in Thailand's policy making. This includes the only capacity being worked on at present, which is a total of 800MW specifically to be developed jointly by agricultural co-operatives and government agencies. Bennhold said this specification had "little value" and is likely to add to costs.
The next allocation out of these 800MW, which is widely expected to come in the first quarter 2017, is also slated for around 500MW. However, the Electricity Generating Authority of Thailand (EGAT) has not said in what locations that capacity can be added, which will make it difficult to find suitable sites and conduct the required grid studies in the short time periods available. EGAT has also historically excluded large parts of the country, such as the entire northeast in the previous round.
Bennhold added: "This is very un-transparent and unpredictable process. […] That remains one of the key challenges."
Quotas and tariffs are also being adjusted on a "relatively arbitrary" basis and frequency, making it difficult to invest in the long-term, he said.
End of subsidy
On a positive note, Bennhold said: "In the end, what I think is really changing the game right now is moving away from the subsidy. The feed-in tariff (FiT) of THB4.12/kWh (US$0.1157) that has been announced is basically the same as the peak, and solar generates roughly 70% of the time during the peak.
"We are very close at least to the wholesale rate and moving closer to the generation rate, especially if you have some view that fossil-based power is probably at a low right now and likely to increase in the coming years."
In support of both Constant and Bennhold's expectations for next year, a recent report from Bangkok-based law firm Pugnatorius, forecast that 2017 will be Thailand's "second solar gold rush" after a successful year in 2015 was dampened by several delays and uncertainties in 2016.
Yesterday in Bangkok, Wandee Khunchornyakong Juljarern, chairwoman and chief executive, SPCG, the largest solar installer in Thailand, called for a focus on quality to keep solar sustainable across Southeast Asia at an early stage.