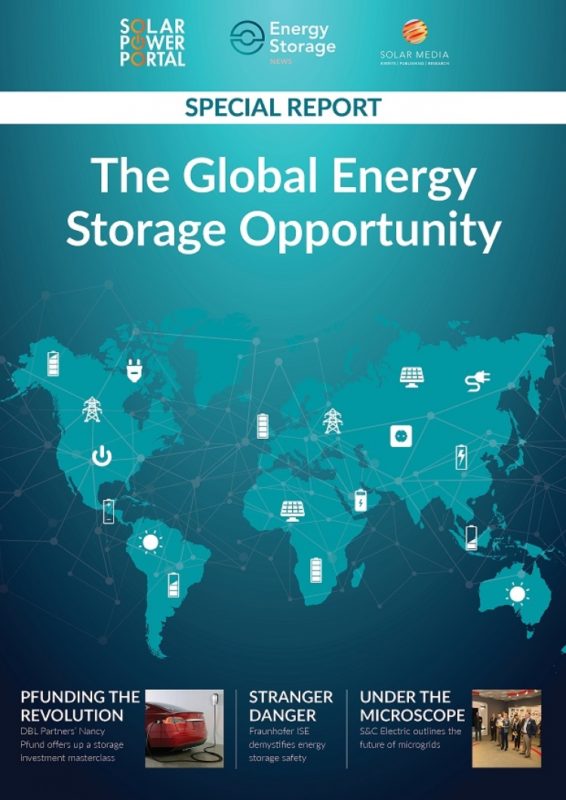 From PV-Tech's publisher comes The Global Energy Storage Opportunity, a special online-only supplement magazine that looks at some of the exciting recent developments in all segments from microgrids and residential to grid-scale and commercial.
Free to download, The Global Energy Storage Opportunity comes from the Solar Media editorial team and a stellar range of guest contributors, including Fraunhofer ISE, Navigant Research and S&C Electric.
It looks at 15 different products from big names like sonnen, Samsung SDI, Mercedez-Benz Energy and of course the ubiquitous Tesla, taken from the news pages of Energy-Storage.News, technologies including vehicle-to-grid, energy storage software and bromine flow batteries.
For the financially-minded, there's a feature on why some big solar investors are so far holding back from plunging into energy storage, despite an obvious desire to do so and a fascinating in-depth Q&A with Nancy Pfund of DBL Partners, who probably isn't yet tired of being described as one of Tesla's earliest backers – and SolarCity too. Speaking of Tesla (again), there's also a look at how the first Powerpack project in Europe was financed and developed.
In all, there's a wealth of material on offer and in addition to informing we hope it will also serve to whet the appetite of those of you who will be joining us at the Energy Storage Summit, in London on 28 February and 1 March.
To download the special report for free, click here.