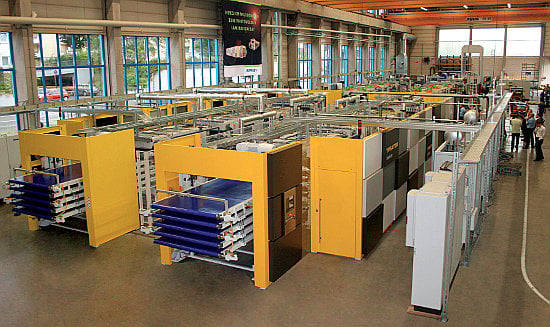 PV module lamination equipment specialist Bürkle has secured an order from India-based PV module manufacturer and project developer, Emmvee Photovoltaic Power for two of its high-volume multi-opening Ypsator 2022-6 SL laminators.
The two tools were said to provide Emmvee with a module capacity of 350MW and represent the first equipment sale by Bürkle in India.
Michael Essich, sales director PV at Bürkle said: "We have seen that customer[s] like the idea for using the maximum output solution on a limited floor space or even replacing a 50MW line with a three times or even higher capacity. This helps the customer for expansion without building new factories, this can save time and costs."
A single multi-opening Ypsator 2022-6 SL laminator has six openings and can process 2 x 60-cell and 2 x 72-cell solar modules per opening, resulting in a capacity of 12 modules per cycle, according to Bürkle.
According to PV Tech's ongoing analysis of PV manufacturing capacity expansion announcements, India was responsible for over 6GW of planned expansions in 2015, from both domestic and foreign companies.
Recently, M10 Industries said it would supply two of its 'Kubus' stringer tools to Emmvee, which are able to solder three times as many cells as conventional systems, thereby replacing several stringers at once on a minimum surface area. The machine also has the ability to process three, four and five-busbar cells.