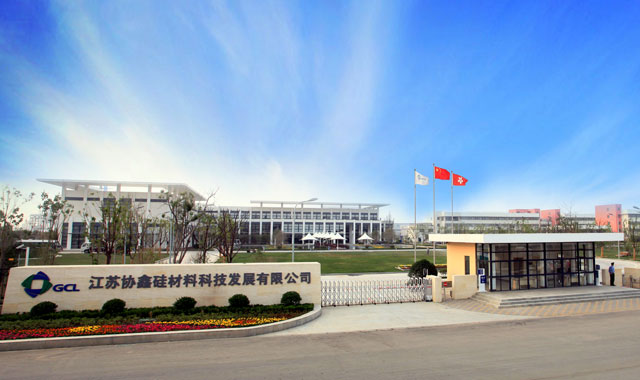 Solar PV manufacturing in 2016 has seen the highest capex (capital expenditure) levels for years, and a return to capacity expansion plans. Furthermore, many of the companies announcing the capacity expansions are doing so for the first time, especially at the cell and module stage.
This blog takes a close look at solar PV manufacturing and technology, as the industry moves into the third quarter of 2016, assessing the possible impact of the capacity expansions underway and whether the technologies being deployed represent new trends or are simply more-of-the-same.
The analysis, data and methodology underpinning the findings here are taken directly from the work undertaken by our in-house research team and are contained in full as part of our new PV Manufacturing & Technology Quarterly report release of July 2016.
Assessing the big movers in 2016
Recently, we introduced a new method of comparing solar companies active in the upstream segment, regardless of whether they were manufacturing at just one part of the value chain (for example, ingot pulling) or were active across different parts (for example, cell and module production, and module shipment to the end-market that could include downstream project development).
With all the in-house production and technologies mapped out (and forecast) for the leading solar PV manufacturers, through to the end of 2017 at the quarterly level, we have updated the rankings process to see which companies are the big movers in 2016.
Actually, to do this we compare the weighted rankings for all the PV manufacturers between 2014 and 2017. The reason we go back to 2014 is to provide a reasonable time frame, based on plans for polysilicon taking years to come to fruition. 2017 (and not 2016) is used because much of the capacity added in 2016 will not reach full capacity or utilization until 2017.
There are many examples of companies whose relative strength (or impact on the PV industry) has been in decline over the past few years, or at best remained static. The graph below extracts ten companies whose market-strength has increased the most, and are probably the most important companies to be analysing in terms of changes in technology and manufacturing.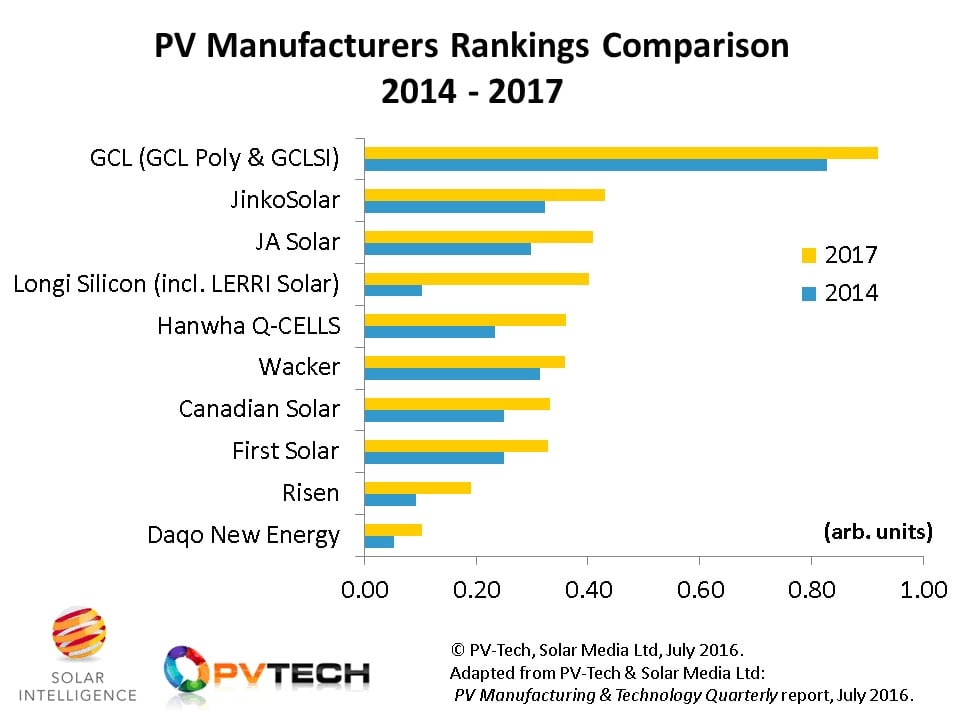 With this methodology, a number of companies emerge that historically would have gone un-noticed by other metrics while some well known companies, simply lack the market-strength growth of others and therefore do not appear in the rankings.

The top-10 companies that have made the strongest moves in the past few years in PV manufacturing cover a wide range of activities from pure-play polysilicon suppliers (Wacker) to the dominant thin-film company in the industry today (First Solar).
The companies are covered in terms of strength factor value forecast for 2017, with GCL (including GCL Poly and GCL Systems Integration) at the top by some margin.
Few would have placed Longi Silicon (including LERRI Solar) within the possible top-5 movers-and-shakers of the PV industry some years ago, but the speed at which the company has been moving up the rankings in the past few years is almost unique: more on this below.
The sections below deal with each company in summary only. Our complete company strategy and forecasting is outlined in detail within the PV Manufacturing & Technology Quarterly report.
GCL (including GCL Poly and GCL Systems Integration)
Even downgrading the plans of GCL (which are often highly ambitious), the company is simply the most important in the PV industry today.
But to say that GCL had the wisdom of foresight some years back, to end up in the position it occupies today, would be somewhat misleading. The reality is that external events have played a massive part in GCL being in the position it occupies today.
The decline in fortunes of previous wafer giant LDK Solar, coupled with the European and US based import restrictions (that allowed wafer production to be sustained within China), and the emergence of the Chinese end-market as the driving force in global PV demand, have collectively helped to create an empire that controls the benchmark for cost and ASPs for polysilicon and wafers.
However, it is GCL's role in midstream production (cells and modules) – and module supply from GCL Systems Integration – that forms the new push in GCL's overall industry aspirations.
Whereas adding polysilicon and ingot/wafer capacity for GCL in the past was a relatively low-risk and prescriptive exercise, making the move to multi-GW status for cells and modules is a different challenge.
In this respect, there are more questions than answers today and going into 2017, with GCL's midstream strategy. Was it necessary to move from cell-making novice to heterojunction-champion so quickly? Should the company be adding so much capacity in China, while having global aspirations? Is the focus on India as a key overseas manufacturing location the best option?
One should never discount GCL, based on its track-record, but many have tried to shift across the value-chain and failed, and the perennial challenges of moving from China-dominant to global brand-recognized are issues not confined to solar and permeate across other consumer-based electronics and displays segments also.
JinkoSolar
Of all the members of the Silicon Module Super League (SMSL), JinkoSolar has been the most aggressive in terms of module shipment targets, in what would appear to be a move to claim the number 1 shipment badge by year end.
This is supported by a 3X growth in capex between 2014 and 2016, and – similar to other Chinese and Taiwanese midstream producers – having capacity located offshore in Southeast Asia.
Capacity expansions aside, JinkoSolar remains heavily dependent on third-party supply of cells and modules, if module shipment targets for 2016 are to be realised. Adding to this concern is the level of module shipments forecast from two countries, each with second half uncertainty; 2016 targets are dependent on shipping over 60% to end-markets in China and the US, with China also being the focus for downstream projects.
JA Solar
Multi-GW expansions remain planned for 2016, spread largely across China and Southeast Asia, with capex guided well above US$300 million, putting JA Solar in the top bracket for equipment spending.
In contrast to JinkoSolar, JA Solar's growth plans have the scope to impact on technology changes in a more profound way. This is due to the company being one of the main drivers in advanced cell technology, such as PERC, but also as an early mover in shifting from wet-etch to dry-etch for front-end texturing during cell processing: more on this as we reveal the agenda shortly for the PV CellTech 2017 conference in Penang, Malaysia, 14-15 March 2017.
However, more than JinkoSolar and some other leading Chinese module suppliers, JA Solar is potentially at risk from any downturn in 2H'16 coming from weakness in its domestic market. The lack of strong market-share in the US and Europe during 1H'16 may simply leave India as the low-cost overflow channel for China produced cells and modules over the next few months, something that will only drive down blended ASPs.
Longi Silicon (including LERRI Solar)
As we alluded to above, perhaps the main company to watch in the whole upstream supply-chain this year is Longi (including cell and module activity from its subsidiary LERRI).
What has been striking about Longi's move today is not simply the multi-GW expansion plans across the whole ingot-to-module stages, but the dedicated focus on p-type mono production.
This commitment to p-type mono is almost unique in the industry, with many of the leading cell makers in Asia remaining focused on p-type multi. Indeed, Longi is almost setting itself up as the benchmark for mono costs across the whole value-chain.
The move is certainly a bold one, as the company is still heavily dependent on midstream competitors (mainly at the cell level) buying the surplus of mono wafers produced. Here, the company is then pitching itself against the multi wafer and cell producers' roadmaps.
Indeed, the mono dynamic goes further. With the requirement to ship about 70% of its in-house wafer supply at the 10GW-level to third-party cell makers in 2017, this alone could sustain a market oversupply of mono wafers, bringing ASPs for mono closer to multi in a somewhat artificial situation.
The drive by Longi is actually keeping the whole mono-versus-multi debate (for p-type) a fast-moving dynamic, and one that will likely still have its share of opposing opinions going forward, but will hopefully see clarity revealed in Penang at the forthcoming PV CellTech event in March 2017.
From a module supply perspective, Longi was recently added to the SMSL, with plans to be a key player on the global stage evident to see.
Hanwha Q CELLS
Another regular SMSL member, Hanwha Q CELLS has been undergoing one of the largest capacity expansions in Southeast Asia in the past 12 months, with Hanwha proceeding with its 2015 plans that were announced during the realignment and rebranding phase when company operations were folded under Hanwha Q CELLS.
Similar to JA Solar, Hanwha's equipment spending in the past couple of years has been in the top tier of the industry, driven in part by the requirement to further expand capacity outside China.
As a company setting the benchmark for advanced cell processing on P-type substrates, Hanwha Q CELLS has the potential to shape technology roadmaps and cell substrate and process flow trends. Perhaps however, the first true indicator of this will be when the company fully transfers know-how and manufacturing upgrades to Hanwha's own former Solarfun operations in China.
Wacker Chemie
Viewing Wacker's strategy and market-share to the PV industry is a fascinating case-study, and has no equal across the industry; not simply confined to comparisons with other pure-play polysilicon producers.
While the rest of the pure-play polysilicon industry (outside China) continues to suffer under the weight of low market ASPs (that tempt when rebounding temporarily by 5-10%) and the barriers in place related to importing into China, Wacker is almost operating in a different world, characterized by the new plant ramp-up in the US.
In fact, there is every possibility that Wacker will regain the number 1 polysilicon supplier status in 2017 based on shipments to the solar industry, according the research included in the latest release of our PV Manufacturing & Technology Quarterly report.
Canadian Solar
What separates Canadian Solar from its domestic peers is mostly driven by a downstream project business segment that must be the envy of all other legacy ingot-to-module suppliers that sought to copy the company's move to diversify its revenue stream outside of pure-play manufacturing.
Manufacturing capex in 2016 is guided to be well above US$300 million with no shortage of overseas capacity additions, still however weighted mainly to modules. In this respect, Canadian Solar's recent moves are less likely to be impactful at the technology side, confirmed further by the company still having to outsource more than 1GW of cells and modules, simply to hit module shipment targets.
First Solar
Looking at First Solar's manufacturing strategy today is also of significant interest. Indeed, the plaudits on offer to First Solar's R&D team cannot be understated.
Aside from the capex and R&D assigned to technology roadmap plans, perhaps the most relevant achievement by First Solar in the past few years is putting the champion panel improvement directly into mass production lines. Few companies in the solar industry have managed this once, let alone on multiple occasions.
Including First Solar in the top-10-movers graphic above is in part due to the above, but also from the company's decision to retain its focus on thin-film and to re-instate mothballed capacity (fully upgraded to current state-of-the-art fleet specifications). Each of these is behind the company's plans to have module shipment levels next year approaching the 4GW level.
While the industry waits to see if large panel CdTe deposition is just a matter of increasing deposition uniformity on larger glass panel sizes, few should be betting against First Solar coming good with this chosen path. But until the panels are coming out of production with the same manufacturing metrics as the current panel size standard, there will always be questions as to whether this move is one too many on an aggressive roadmap that has yet to disappoint.
Risen Energy
Risen Energy (Risen Solar Technology or Risen) is another inclusion in the top-10 list that has an almost unique strategy, compared to the other grouping entrants.
Risen has a history that mimics many of the Chinese companies that were romanced by the European solar boom of yesteryear, and seeing an overseas market opportunity in Spain, Italy and Germany that was presumed to last forever.
Being one of the survivors in China-solar at the midstream manufacturing stage, Risen has been adding significant capacity in recent years, coupled with a strong growth rate in module shipment levels. And for this reason, Risen is included in the rankings list shown above.
In fact, recent updated research – undertaken by our in-house market team at Solar Media and PV-Tech – can now reveal exclusively that Risen's module shipment volumes for 2015 and 2016 place the company firmly in the top-10 of module suppliers to the industry.
Daqo New Energy
The inclusion of Dago reveals a range of issues that are currently driving polysilicon supply to the industry as a whole.
Daqo is one of several polysilicon producers in China that has been able to reset its operations, benefiting from low electricity costs, a captive wafer supply in China and by expanding its plant capacity levels without any significant capex requirements.
Indeed, Daqo's capacity (and production) increases in the past few years (that merit its inclusion in the table above) have come largely from optimizing plant productivity and debottlenecking capacity on hand.
In this respect, as we look in detail at polysilicon needed by the solar industry in 2016 and 2017, the topic of debottlenecking is of paramount importance.
Debottlenecking of polysilicon plants is currently the major source of increased productivity, eliminating the need for Siemens-based producers to break ground on new sites. Furthermore, this focus on existing capacity optimization is also serving to negate the requirement for any new capacity plans to come online during 2017.
The companies at most risk from this would appear to be those that have been hoping the market would need new polysilicon plants to meet end-market demand projections. And these would seem to be entirely concentrated on FBR announcements coming from REC Silicon (through its China based JV efforts), GCL Poly (motivated by technology differentiation), and the ever-dwindling SunEdison (through its South Korea JV aspirations).
So while the endeavours of Daqo are not seeking directly to abort competitors' FBR plans for new polysilicon plants, the industry-wide focus on debottlenecking is certainly shifting the boundary conditions for non-Chinese polysilicon suppliers, in a way that the industry has not seen before.
Whereas, it is perhaps easy to eliminate the reality of FBR expansions coming from GCL-Poly and SunEdison (in Korea), the spotlight would appear to fall entirely on REC Silicon and whether its JV plans in China are needed by the market until 2019, or will simply add to oversupply in 2018 (if the site comes to fruition).
Final observations
With continued confusion related to p-type mono and multi supply to the market, and whether all the n-type and heterojunction announcements are merely distractions, it remains critical to be tracking the leading companies that may shed light on near-term market-share and technology related trends.
In this respect, the individual plans from upstream manufacturers are clearly important – especially from the top-10 companies reviewed above – but the collective impact of other PV manufacturers is possible of greater significance.
Production and supply through the value-chain is still the sum of many parts, with several hundred companies still seeking to have a meaningful and growing market-share contribution. And of all the stages of the value-chain, it is the cell stage that remains the most fragmented, creating the challenges that persist in respect of PV technology roadmap progression.
Ultimately, if end-market growth is to continue with annual double-digit growth, there could still be room for all to co-exist within an expanding served market opportunity. However, any downturn or slowness in end-market forecast projections could finally stimulate a greater degree of consolidation required in the past.
To many companies driving industry technology and supply today, this scenario would not be entirely problematic; especially if the end-goal is to reduce competitive threats ahead of a rebound in annual demand that sees them having a greater market share allocation.
Whether these companies can survive however in the low-cost environment that would ensue due to this is simply one of the pending industry questions that may not play out until sometime in 2018.
Details on the PV Manufacturing & Technology Quarterly report can be found here, and similarly for PV CellTech 2017 event in Penang, Malaysia 14-15 March 2017 through this link.