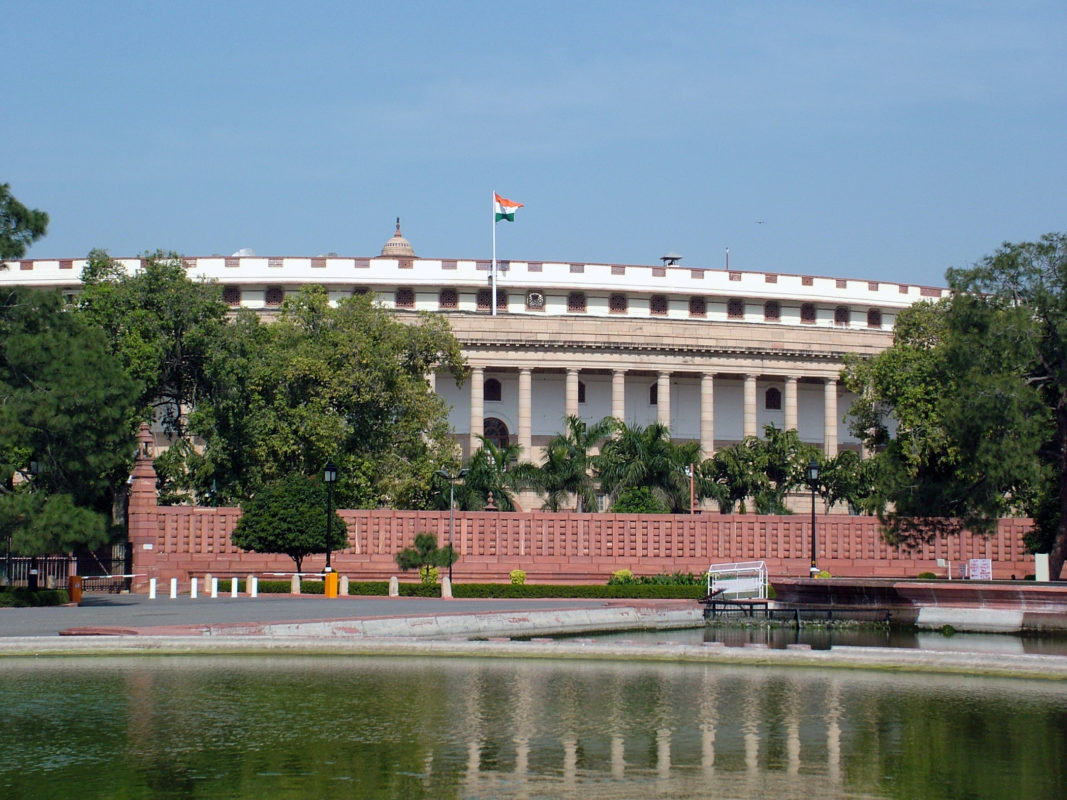 If India's anti-dumping duty petition results in the introduction of trade barriers without other policy level reforms, it will fail to achieve its original goal of supporting domestic manufacturers, according to a report by consultancy firm Bridge to India.
Instead, the consultancy said duties alone are unlikely to have any enduring benefits for domestic manufacturing "beyond throwing a financial lifeline to existing manufacturers". It also questioned the ability of duties to prevent Chinese manufacturers, who dominate Indian module supply, to circumvent duties by settting up manufacturing in other countries.
However, the potential of provisional safeguard duties, which are geographically agnostic, could hinder circumvention.
There has been talk of allocating multi-gigawatts of Central Public Sector Undertaking (CPSU) solar projects to domestic manufacturers, but the sector is still awaiting a clear policy, beyond duties, that can drive the local industry.
In any case, Bridge to India said the petition has created "huge uncertainty for the entire solar sector" and comes at time when an "already reeling" downstream industry is facing extra costs from the Goods and Services Tax (GST), a slowdown in tender activity and an increase in module prices.
The firm modelled the effects of various duty levels on projects earning 10%, 8% or 6% unlevered project IRR: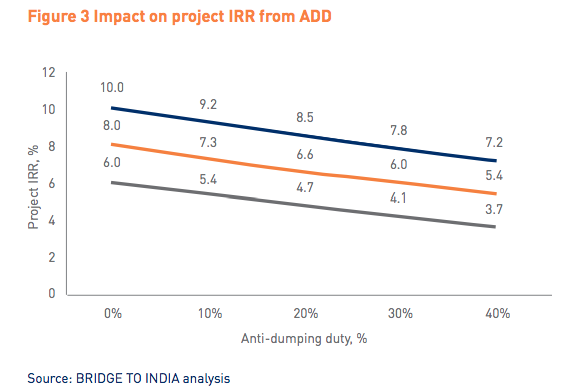 Noting a 3% fall in project returns if a 30% duty level were imposed, Bridge to India said: "The petition is a major risk to the viability of all pipeline projects, where modules have not yet arrived on site."
Meanwhile, if provisional duties were imposed with no recourse for developers, they would also raise the risk not just of project completion delays but even of abandonment.
In event of duties coming in, Bridge to India said the best scenario would be if projects auctioned before the petition in July 2017 are grandfathered or if their extra costs are compensated for by the central government. However, the firm said the probability of such an outcome is "at best 50%".
Projects auctioned while the decision is still pending will also be affected as developers face the challenge of correctly pricing risk. They have to decide between continuing overly aggressive bids just to win capacity or bidding for higher tariffs and causing the distribution companies (Discoms) to reel at the higher power costs and possibly to refuse to sign PPAs – a Discom tactic that has already been employed in many tenders of late.
Timelines
Bridge to India said there was a "very strong buzz" in the industry that a duty announcement is due anytime now, and given how much pressure the government is under over its ailing 'Make in India' scheme, the consultancy said an imminent decision is possible.
If not immediate, then DGAD is required to conclude the investigation and give its recommendation to the Ministry of Finance within 12 months, subject to a 6-month extension in certain cases, with the final decision to be taken by the Ministry of Finance. After analysing previous cases, Bridge to India estimated that the final decision on anti-dumping duty on import of PV cells and modules could be expected by October 2018.
Simultaneously, many in the sector believe there is also a threat of provisional duties, which the consultancy said could be announced by February next year.
Pipeline threat
There was a 10,842MW utility-scale solar pipeline in India as of 30 September 2017 and Bridge to India said: "All these projects face threat of provisional or anti-dumping duty depending on when the decision is announced".
The following graph shows how the timing of the anti-dumping decision has a role to play in which allocated projects are affected.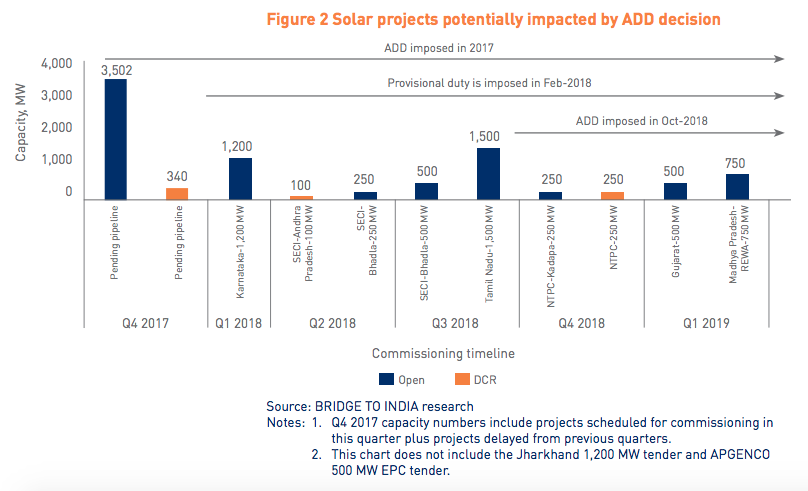 One would expect Domestic Content Requirement (DCR) projects, which use locally sourced PV equipment, to go on unharmed, but Bridge to India noted that such projects would also face cost increases as domestic module manufacturers would immediately raise prices if duties were imposed.
Ultimately, the consultancy said the Indian government faces a tough decision in trying to strike a balance between the needs of both the local manufacturers and project development activity.
PV Tech gathered industry views on the anti-dumping saga back in September.
Article updated to include the CPSU policy proposal.