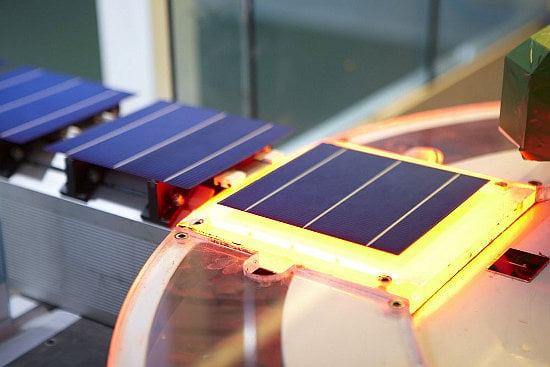 Updated: Leading PV manufacturer Trina Solar has set a new world record conversion efficiency for p-type multicrystalline silicon (mc-Si) solar cells.
Developed and produced at its State Key Laboratory of PV Science and Technology of China, Trina Solar said that the record total-area efficiency of 21.25% on standard 156×156mm substrates was achieved using advanced 'Honey Plus' processing technologies including back surface passivation and local back surface field on volume production equipment.
Dr. Pierre Verlinden, vice president and chief scientist of Trina Solar said: "To the best of our knowledge, this is the first time ever that a multicrystalline silicon solar cell has been able to achieve a conversion efficiency of over 21%. This exciting result shows that the development path toward higher efficiencies continues to be bright, even for silicon. Our aim is to continuously integrate innovative technological developments to improve the efficiency and lower the cost of our PV products. This technology advancement in efficiency will strengthen our leadership in the PV industry and allow us to continue providing affordable solar power to the world."
Trina Solar noted that the record cell efficiences had been independently confirmed by the Fraunhofer ISE CalLab in Germany.
The company had previously set the record at 20.76% in late 2014.
Finlay Colville, head of Solar Intelligence at PV Tech's publisher Solar Media commented: "The continued efficiency gains being made by p-type multi cells are potentially moving the industry into a different regime when contrasting the end-market possibilities for n-type and p-type mono and multi.
Several years ago, many industry observers were citing the commercial efficiency limits of p-type multi being well below the 20% level. While the transition from R&D to mass production and high yield remains a different challenge, Trina is coming at the efficiency announcement angle already having multi GW of p-type cell capacity. This suggests the R&D announcements from Trina are potentially of more significant than those reported from the likes of SolarCity for n-type in the past few weeks," added Colville.
According to Colville, underpinning the new record for p-type multicrystalline solar cells has been the continued quality improvements of multicrystalline wafers that have helped pushed standard 60-cell multicrystalline panels from 240W to 260W in recent years.
"Ultimately, the key indicator for Trina will not emerge for another twelve months, and will be evident through its module offerings, when using in-house cell supply as a benchmark. Beyond this, future evolution of p-type multi may come back to cost reduction and not efficiency improvements, similar to SunPower's technology evolution in the past ten years. When this starts to impact on p-type multi in volume manufacturing, it could in fact signify the long awaiting shift to 100 micron wafers, but this is probably still 3-5 years out for p-type producers like Trina," noted Colville.