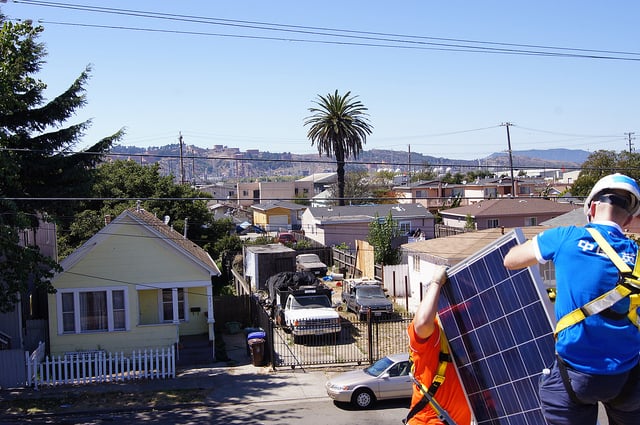 Community solar in the US could be a market worth as much as US$2.5 billion in revenues by 2020, but accommodating it will require a rethink of utility business models, a new report by Navigant Research claims.
According to the report, by the end of 2015 around 88.6MW of community solar, in other words PV installed on behalf of households that lack suitable rooftop space to host their own array, was deployed in the US.
Drivers including falling costs, the use of virtual net metering and relative ease of development – most community programmes take less than a year to deploy, the report said – are combining with continuing demand for clean energy at residential and commercial level.
This could take the market from a value of US$175 million in revenues from community solar installations in 2015 to the high 2020 estimate, when there could be 1.5GW installed.
Costs have declined by around 12% a year for the last five years, Navigant said, while virtual net metering allows community solar owners to be credited for the amount of solar their shared array puts into the grid, making the development a relatively easy one for stakeholders to understand.
While the emergence of community solar presents challenges for utilities, Navigant also pointed it out as an opportunity for power retailers to capture a share of the residential and commercial rooftop solar markets, which they have traditionally found difficult to get a foothold in.
A GTM Research report from the end of last year predicted a higher installed base of 1.8GW by 2020, while a guest blog from Amit Ronen of the GW Solar Institute last November for PV Tech said community solar could "fuel new business models that will empower many more Americans to access solar who are effectively shut out of the market today".