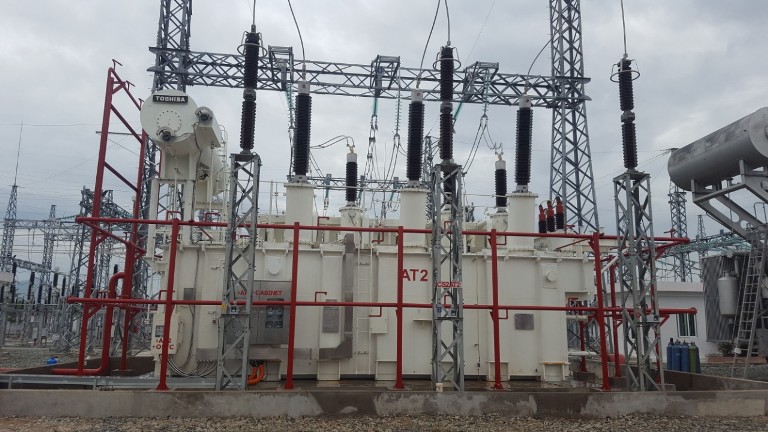 Vietnam's government has boasted of a number of grid upgrades have been completed by monopoly utility EVN ahead of schedule, but the transmission network still has a long way to go to catch up with renewable energy additions.
Members of the legal and financial sectors have told PV Tech that while the speed of work is to be lauded, positivity should not be exaggerated given the number of necessary upgrades that remain incomplete so far.
The provinces of Bình Thuận and Ninh Thuận have been swamped with solar power developers due to the excellent irradiation available in the areas, but this – combined with wind energy additions – has put pressure on grid integration. The Ministry of Industry and Trade (MOIT) said that of the 4.6GW of renewable energy capacity with planning approvals in the two provinces, there are already 2,140MW operational, spread across 41 plants.
The pace of change can be seen in how Vietnam, despite only introducing a solar subsidy in April 2017, has already leapfrogged Australia, one of the world's oldest running PV markets. The country officially overtook Australia in solar additions during the year running up to June 2019.
As the reality of forthcoming grid constraints emerged, the Prime Minister approved a major push for expanding transmission infrastructure at the end of 2018, with a particular focus on the two heavily affected provinces.
The upgrades
A MOIT release this week stated: "Updated information so far shows that the power transmission works supplemented with this plan are expected to be achieved and exceeded the initial plan."
These included:
Raising the capacity of 220kV Thap Cham station from 2x125MVA to 2x250MVA
Adding a second transformer at Ham Tan 220kV station
Investing in building Phan k 220KV station (2x250MVA) and connecting lines
Investing in building 220kV Ninh Phuoc station (2x250MVA) and road
Connecting wires and raising capacity of 500kV Vinh Tan and Di Linh stations
Work on the Thap Cham substation and investment in transformers were completed a year earlier than scheduled, while work at Ham Tan was finished two months ahead of schedule.
Bigger challenges ahead
"This issue is of intense interest to local and international investors and it is superb news that EVN is making rapid progress," said Gavin Smith, vice chairman of Eurocham's Green Growth Committee.
Smith cited the goal of the EVN CEO Tran Dinh Nhan, who committed to no solar power plants operating under capacity by 2020, according to local news sources back in July
However, Smith added: "The Thap Cham, Ninh Phuoc, Pham Ri line is the immediate problem and further substation upgrades will be needed before this job is finished. Looking ahead, a recent MOIT analysis indicates that a further three 500KV lines to Ho Chi Minh City will be needed.
"There are even bigger challenges ahead," he warned.
Indeed, MOIT noted that the works completed were correlated with the capacity of PV plants that had been planned as of August 2018 and did not include several more large-scale clean energy projects that had been added since then in the FiT deadline rush, causing overloading of some 110kV lines and regional 220kV substations.
With this in mind, EVN compiled a report asking MOIT to communicate the issue to the Prime Minister in order to strengthen grid capacity. In response, the government approved further upgrades, listed at the end of MOIT's release here.
Fred Burke, managing partner – Vietnam, Baker & Mckenzie, said that while the grid is progressing and EVN is "working hard on it", only two substations were completed ahead of schedule.
He then pointed to MOIT's Report No. 7069/BCT-DL, dated 24 September 2019, where it notes that there is a "very high" investment demand in the transmission power grid, which is not being met by the State Budget and the various transmission projects invested in by EVN and its National Power Transmission Corporation (NPT).
Thus, Burke said that in addition to many more works to be done by EVN, the government should consider further promoting private sector investments in transmission power grids to gradually meet the demand. He also suggested completing the necessary legal mechanisms and implementation guidelines as soon as possible.
Other recent Vietnam solar news includes plans to reduce feed-in tariff (FiT) rates for ground-mount and floating PV, while a Wood Mackenzie report forecasted that almost half of Southeast Asia's solar installations this year will be in Vietnam.