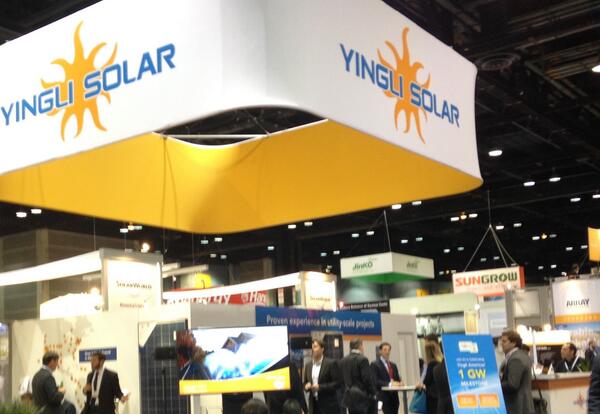 Struggling China-based PV manufacturer Yingli Green Energy reported a full-year 2016 net loss of US$293.6 million with the majority of losses attributed to manufacturing impairment and supplier bad debt provisions incurred in the fourth quarter of 2016.
As of December 31, 2016, the company had a total debts of US$2.2 billion and a deficit in working capital of US$1.1 billion, which Yingli Green noted had continued to raise substantial doubt about its ability to continue as a going concern.
Yingli Green noted it US$73.0 million in cash and cash equivalents and US$52.1 million in restricted cash as of September 30, 2016. The company also has a bond issued through a subsidiary that matures in May, 2017, said be around US$43.58 million. The company has already partially defaulted on previous bonds from subsidiaries in China, which have remained unsettled for several years.
Results
Yingli Green reported total net revenues in 2016 of US$1,206.4 million, compared to US$1,538.5 million in 2015. The decline in revenue was due to lower PV module shipments and declining ASP's.
Total PV module shipments in 2016 were 2,170.4MW, compared to 2,447.0MW in 2015.
Yingli Green reported a gross profit and gross margin in 2016 of US$165.9 million and 13.8%. Operating expenses in 2016 were US$400.1 million.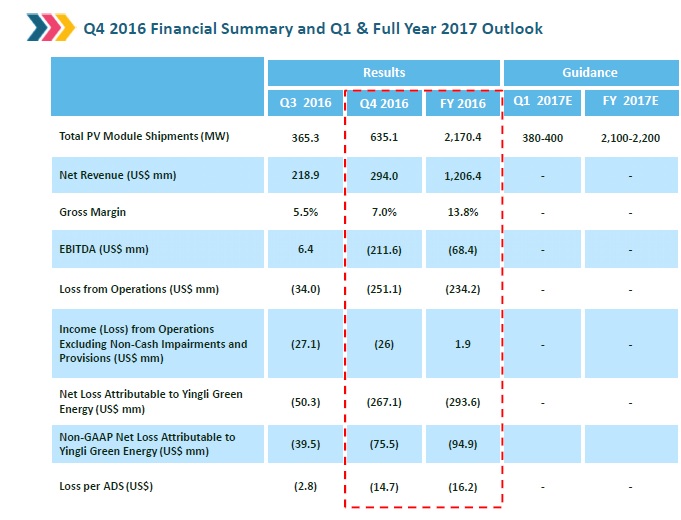 The company guided PV module shipments in 2017 to be in the range of 2.1GW to 2.2GW, inline with previously lowered guidance range for 2016.
The company did not provide information in releases financial results as to possibility of major restructuring program to be implemented, due to the expectation of continued losses in 2017 and its ability to retain adequate operating cash flow through the year.
"Primarily due to the increased demand from China and Japan, I'm pleased to announce that the Company's PV module shipments in the fourth quarter of 2016 significantly increased by 74% quarter over quarter to 635.1MW, concluding the full year 2016 with a total PV module shipments of 2.2GW, which is in line with our previous guidance. In addition, our total revenues in the fourth quarter of 2016 significantly increased by 40% compared to the third quarter of 2016," commented Mr. Liansheng Miao, Chairman and Chief Executive Officer of Yingli Green Energy.
"Geographically, China and Japan continued to see strong demands in the quarter and remained as the two largest markets for us. Our PV module shipments to China in the fourth quarter more than doubled compared to previous quarter and accounted for 75% of our total PV module shipments in the quarter. Our PV module shipments to Japan in the fourth quarter increased by 11% compared to the third quarter and accounted for 20% of our total shipments in the quarter. Also in this quarter, we started to deliver approximately 115MW of PV modules for Japan's largest solar plant with a total capacity of 230MW and the delivery is expected to be completed in the second quarter of 2017."
Yingli Green said it expected PV module shipments in the first quarter of 2017 would be in the range of 380MW to 400MW.
"Looking forward into 2017, we anticipate that China and Japan will continue to be two important markets for the Company. In China, the Company will continue to actively participate in the 'Top Runner' projects, and will pay more attention to distributed generation projects given the robust growth of the segment. In Japan, the Company is shifting to low wattage market with EPC solution due to decreasing number of mega solar projects and expects to continue to expand into the residential segment by signing residential partners across the country. In Americas, we have adjusted our marketing strategy to include the distributed generation sector which resulted in substantial growth and we have focused on building strategic partnerships with our OEM partners for the US and Latin America markets. In Europe, the Company is in the process of restructuring in order to save operation cost, maintain a healthy cash flow, and focus on the module sales business. In addition, the Company will continue to explore other international markets. For example, we are actively exploring potential business opportunities with customers across India, including a mix of small to large size EPC players, project developers and rooftop clients and have recently completed the delivery of 13.3 MW of 1500V multi-crystalline solar panels to a utility scale project in Australia," added Miao.